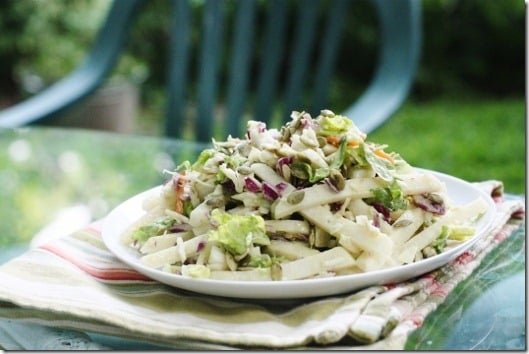 Needless to say, your responses to my last post were terrific. Thank you to everyone who contributed!
A few nights ago, M and I decided on a Mexican themed dinner. He actually did most of the work (with delicious results), but I played sous-chef, which really meant taking charge of our salad. Having fallen short on dressings for a few weeks, I was determined to make something special. I used my old favorite, avocado cumin dressing, as inspiration for this smoky avocado and cumin dressing, which I now prefer to my original. It's salty, smoky, and subtle (a rare quality for things that have been made with liquid smoke), and I can see it working nicely on many types of salads.
The base is a simple avocado, acid, and cumin blend, and liquid smoke is definitely the key ingredient here. I've written about liquid smoke recently, with my "up in smoke" hummus, but it's essentially a flavoring that's made from passing smoke through water. It creates the "smokiness" that some diners associate with bacon or other pig parts without any animal products at all, and so it's very useful in things like tempeh bacon, vegan split pea soup, and even a big pot of chili.
Or, you can be creative, and flavor your salad with the stuff.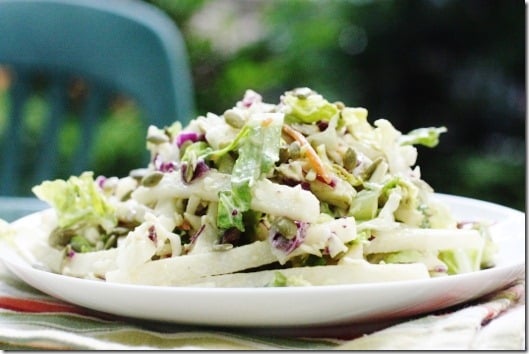 Smoky Avocado and Cumin Dressing (vegan, mostly raw, soy free and GF)
Yields 1 1/4 cups
1 small avocado
1 tbsp cumin powder
Juice of 2 limes
Few shakes liquid smoke (it's strong, so stop and taste after a few drops)
1 cup water
1/4 tsp salt
Dash cayenne pepper
1 tbsp olive oil
1) Blend all ingredients together in a blender or processor till smooth.
2) Add olive oil in a thin stream (with machine running) till dressing is creamy.
Suggested serving:
1 1/2 cups shredded cabbage
1 shredded carrot
5 large leaves romaine, cut into a chiffonade
1/2 small jicama, sliced into mathsticks
1 tbsp toasted pumpkin seeds
Pour dressing over this salad, and toss.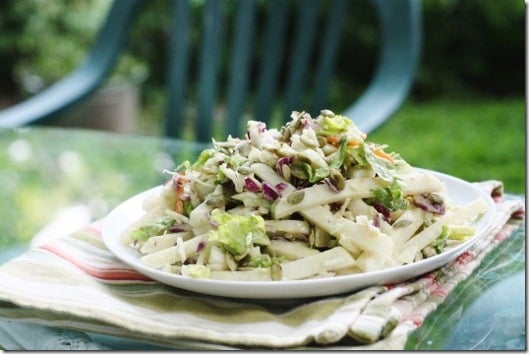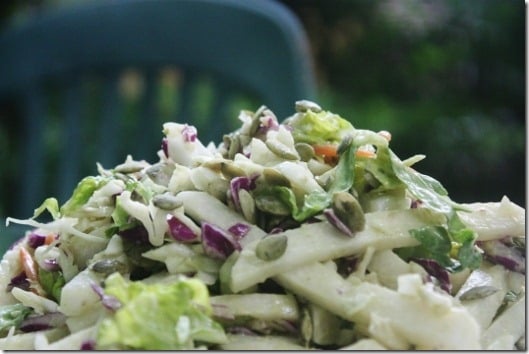 This is a versatile and easy summer salad, and there's no reason whatsoever why you should feel compelled to serve it with Mexican fare. It'll pair with any summery entrée well.
Speaking of dressings, the kind people at Zukay recently sent me samples of their new beet Kvass drinks to try, along with two of their salad dressings (sweet onion and cucumber mint). The beet drinks, while absolutely healthful, were a little too strong for me: I'm used to juices and drinks that are on the sweeter side, and these drinks aren't sweetened at all. They have a fermented taste that overwhelmed me a bit. I'd definitely drink them if I were on a low-sugar diet, but right now I'm actually brainstorming on ways I might use them in a soup or salad dressing, rather than as a beverage.
In the meantime, I was excited about the two dressings, which are flavored perfectly—even the onion dressing tastes great to me, and we know how I feel about raw onion!
The problem with both dressings, for me, was that they're fat free. This is great if you're on a low-fat diet, but to be totally frank, I like some fat in my salad dressing. It makes greens taste richer and often brings out flavor; it also helps the absorption of any fat soluble vitamins that might be in your food.
To satisfy my need for a little fat, I added some tahini and an extra tablespoon or two of tamari to the cucumber mint dressing last night. I wasn't sure it would work, but it did.
And in fact, what resulted was so totally tasty that I'm actually thinking I'll have to make my own version from scratch: cucumber mint tahini dressing. We'll put it at the top of my salad dressing agenda.
With that, I have a long day of class to get to. Before I go, please share: what are your favorite kinds of salad dressings? Do you find that a little fat goes a long way for you in terms of flavor and satiety, as it does for me?
xo