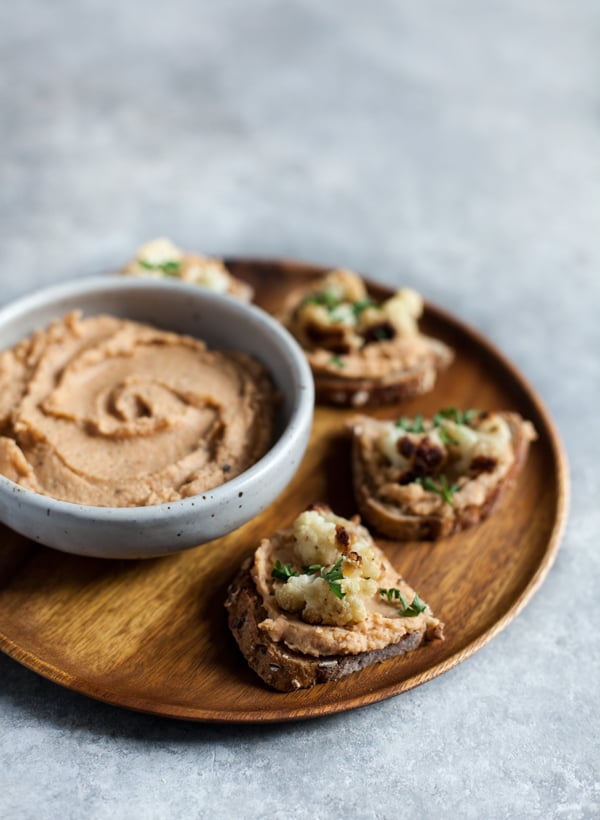 Happy Tuesday, all. It's a damp and drizzly morning here in New York, but the memory of these smoky cauliflower and white bean toasts–a perfect vegan holiday appetizer–is keeping me warm. And making me hungry.
The holiday season is officially underway, and these means plenty of festive gatherings. Most vegans (not to mention those who manage food allergies or intolerances) know what it's like to arrive at an office party or a gathering, only to find that there's nary a food option in sight. One solution to this dilemma is to stuff a baggie of trail mix or a snack bar into one's purse, and eat before or after you make merry at the party. Another option, if it's appropriate in context, is to offer to bring an appetizer, and then arrive with something so delicious that you manage not only to feed yourself, but also to win over the other partygoers with your dish.
These toasts are a perfect appetizer for vegans and vegetarians, but they're certain to win over non-plant-based eaters, too. They're topped with a flavorful puree of white beans, roasted cauliflower, roasted garlic, and smoked paprika, then garnished with extra roasted cauliflower pieces. They're hearty, filling, and wholesome, which isn't always the case with finger food.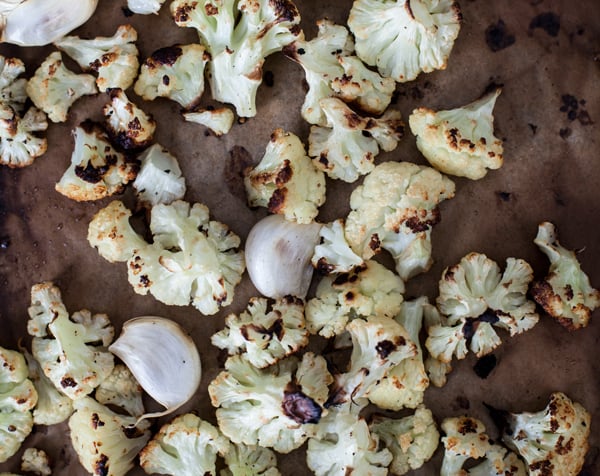 To prepare the dish, you start by roasting a pan of cauliflower and garlic cloves (whole cloves, right in the peels). About half of the roasted cauliflower gets blended into the light, flavorful dip, along with white beans, lemon, paprika, and the sweet roasted garlic cloves that emerge from the oven when the cauliflower is done cooking. The other half of the cauliflower is used as a topping for the toasts.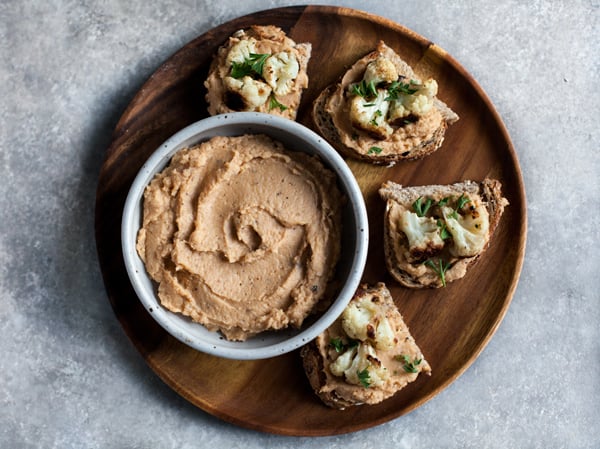 The result are mini-toasts that are full of texture, not to mention pretty to look at. You could most certainly use baguette here, to make these look like traditional crostini. But I really love the softness and rustic texture of using a whole grain loaf that's been cut into halves. Crackers will also work as a vehicle for the dip, as would veggies, such as lettuce cups or endive leaves.
The dip, meanwhile, is heavenly–a smoky, lemony, garlicky mixture that's a wonderful alternative to traditional hummus. Whether you create an appetizer out of it or not, I can't recommend it enough. Here's the recipe.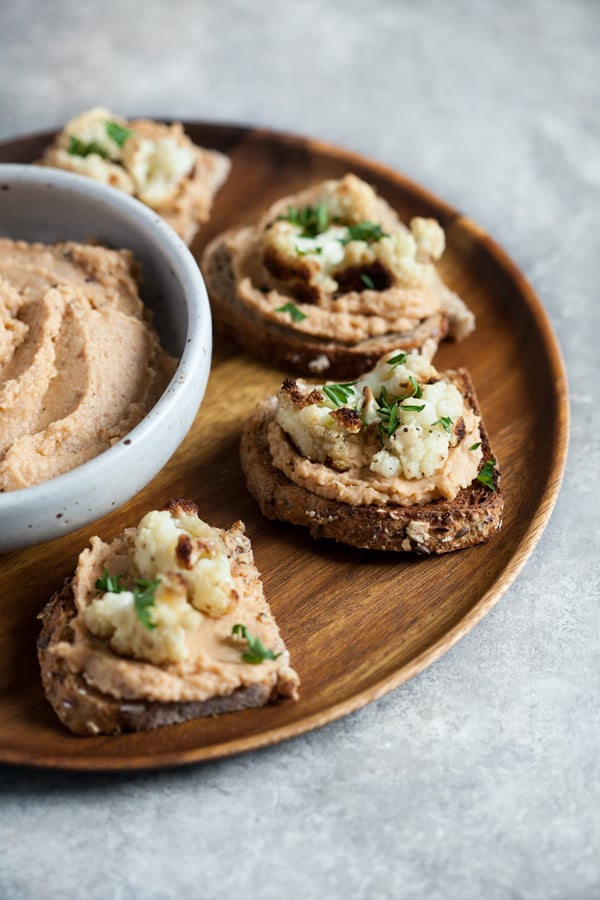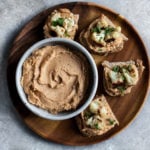 Smoky Cauliflower and White Bean Toasts
Author -
Yields:
1
1/2 cups dip; 12 toast halves
1

medium head cauliflower

stem removed and broken into small florets (about 1 1/2 pounds after preparation)

1

tablespoon

grapeseed or safflower oil

Coarse or kosher salt and black pepper

6

large

unpeeled garlic cloves

1 1/2

cups

cooked cannellini or great northern beans

or 1 can cannellini or great northern beans, drained and rinsed

1/2

teaspoon

sea salt

1/4

teaspoon

smoked paprika

2

tablespoons

lemon juice

2

tablespoons

extra virgin olive oil

6

slices

of toasted

crusty whole grain bread, cut into halves

1/2

cup

finely chopped parsley leaves

optional, for garnish
Preheat oven to 400F. Toss the cauliflower florets in the grapeseed or safflower oil and spread onto two parchment or foil-lined baking sheets. Nestle the garlic cloves in between the cauliflower and sprinkle it all with coarse/kosher salt and black pepper. Roast for 25-30 minutes, or until the cauliflower is gently browning, stirring once halfway through. Allow the cauliflower to cool for 10 minutes.

Place the beans, sea salt, paprika, and lemon juice in a food processor fitted with the S blade. Add 1 heaping cup of the roasted cauliflower (you should have another heaping cup left--that's for garnishing the toasts!). Take the garlic cloves, which should be soft now, and squeeze in the roasted garlic, discarding the peels.

Pulse everything a few times to break it down, and then process it until relatively smooth, stopping once or twice to scrape the bowl down. With the motor running, drizzle in the olive oil. Continue processing the mixture until it's smooth and even (though you'll retain some texture no matter what -- it won't look like super smooth hummus!).

Spread two tablespoons of the spread onto each toast half. Top them with the remaining roasted cauliflower florets and a sprinkle of parsley leaves, if desired. Serve.
Leftover dip will keep in an airtight container in the fridge for up to four days.
Feel free to get a little fancy with the toasts, sprinkling them with some toasted nuts or seeds as a final flourish. Or, try drizzling them with balsamic vinegar or balsamic reduction for even more flavor.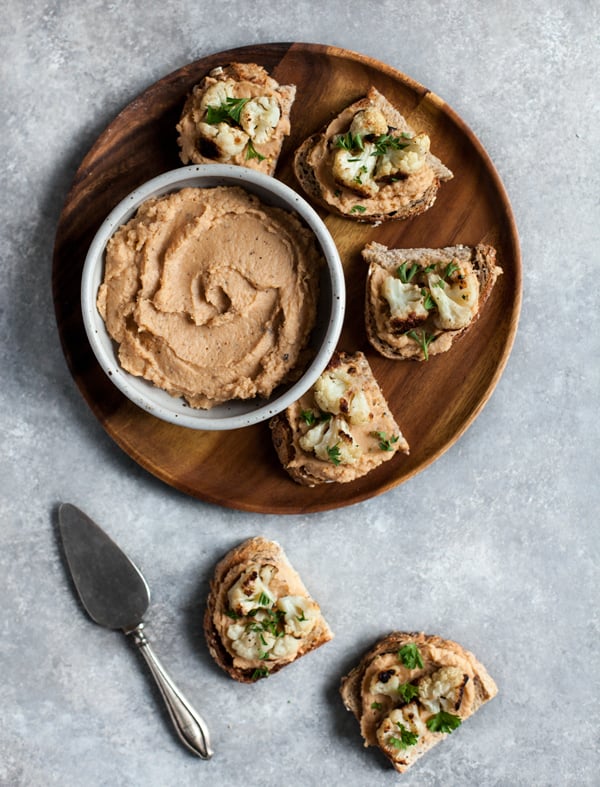 Or you can simply allow these hearty and vibrant bites of food to speak for themselves. Hopefully they'll speak to you–and to anyone you share them with this season.
Hope you enjoy the recipe. Coming up later this week, I have a super festive, meal-sized kale salad for you. And on Friday, I'm featuring a cool new vegan handbag brand, complete with a holiday giveaway! Hope to see you soon.
xo