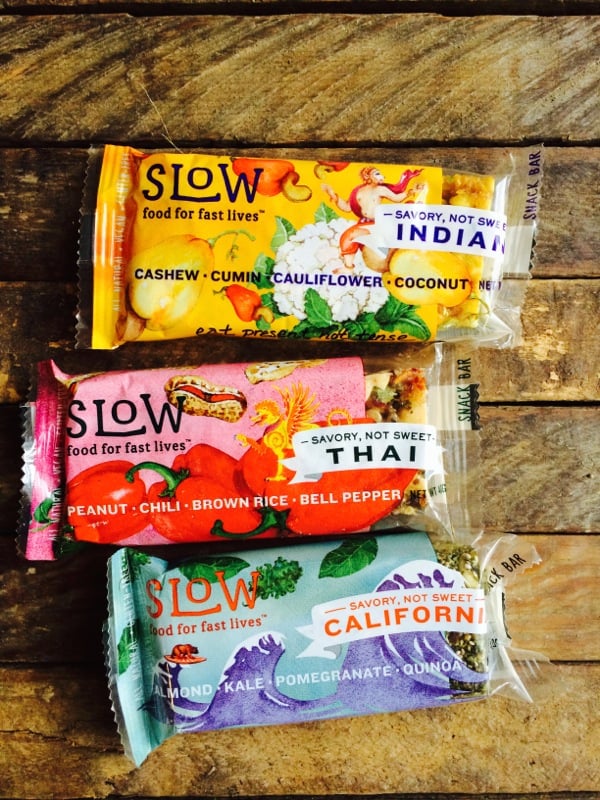 It is no exaggeration to say that I've been dreaming about a savory vegan snack bar for years now. I love sweet bars , don't get me wrong: dried fruit and nut bars are a staple of my diet. But I also love salty things, and crunchy things. And the unfortunate fact is that a lot of savory/salty snacks just aren't as convenient or as easy to pack as sweet ones. When you've already got a packed lunch, books, a laptop, and a host of other stuff in your bag, the last thing you want to do is also pack up hummus and veggies, or toast and avocado (as if that's easily packable to begin with). Bars are just easy. But vegan bars are often pretty one-note: dates & nuts. Rinse. Repeat.
I've tried my hand at a savory snack bar, and it was good, but it was also a little crumbly. And part of the fun and convenience of snack bars is, let's face it, the fact that you can purchase them and throw them into your bag. That's why I'm so excited to have sampled savory snack bars from Slow Food for Fast Lives. This new line features four bars that feature savory flavor profiles and a modest amount of sweetener. They're creative, they're healthy, and they're really, really good.
The premise behind these bars is, of course, the fact that the bar market is extremely saturated with sweet bars, but not many (or any) savory ones that are also plant based (I've seen paleo bars featuring dried meats, but those obviously aren't suitable for my diet). Each of the Slow Food for Fast Lives bars are made from vegetables, nuts, grains and seeds, and each offers 1-2 servings of vegetables per bar. The bars are also inspired by global flavors: Moroccan, Thai, Indian and Californian. Here's a list of the primary ingredients/flavors in each:
Moroccan: Pistachio • Currant • Carrot • Ginger
Thai: Peanut • Chili • Brown Rice • Bell Pepper
Indian: Cashew • Cumin • Cauliflower • Coconut
Californian: Almond • Kale • Pomegranate • Quinoa**
**Edited to add: Unfortunately the Californian bar contains honey. I didn't realize this until a reader pointed it out; I saw brown rice syrup near the top of the ingredients and failed to notice honey at the bottom, and the company didn't make me aware when the sent it. But the other three bars are totally vegan.**
Additional ingredients include cinnamon, turmeric, lentils, tahini, red pepper, and peas. These really are whole food bars, in every sense of the word. You can see some of the texture in the Thai bar, below: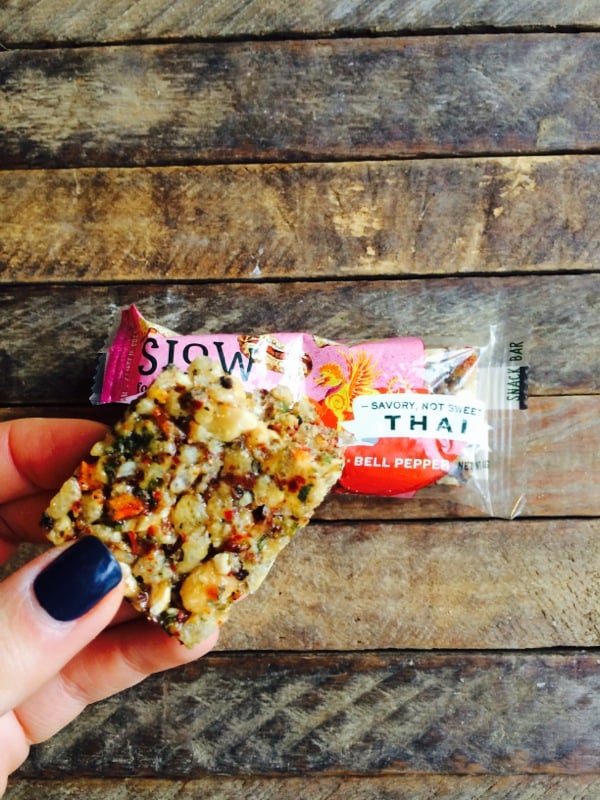 All of the ingredients in these bars are non-GMO, gluten free, dairy-free, kosher, and low glycemic. I've had a chance to get to know the bars since I received my samples, and I've been really impressed with the quality, and especially with the ingenuity and care that went into the bars' flavor profiles. Example: the Moroccan bar contains carrots, tahini, lentils, sesame seeds, lentils, currants, lemon, garlic, ginger, cinnamon, cumin, and turmeric. A lot of complexity, but it all works together beautifully. These happen to be flavors I love, so this bar was probably my favorite. Indian would be a second favorite among the vegan flavors, with it's cashew-cauliflower kick (I tried the Californian accidentally and really loved it, so hopefully there will soon be a variation of that flavor that's honey-free).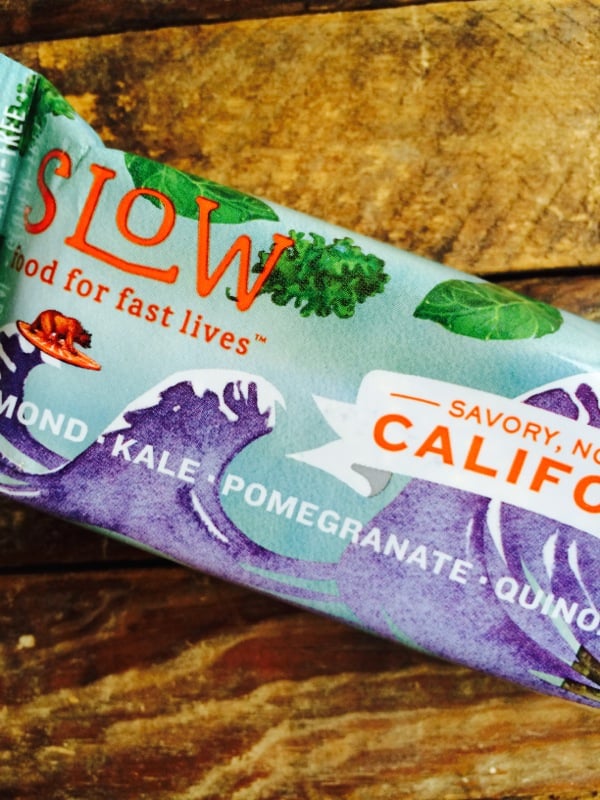 The Thai and the Indian bars are also really bold and flavorful. I will confess that the garlic in the Thai bar felt a bit prominent to me; if you're someone who loves garlic, then it won't be a problem. In general, these bars are not for folks who don't care for bold spices. They are heavily spiced and incredibly flavorful. But the flavor combinations work, and they do really evoke the cuisines that the bars are named after.
It's also worth noting that none of the bars are 100% un-sweet. In fact, "savory-sweet" would be my way of describing all of the bars. They contain some brown rice syrup, but the quantities are small, just enough to add a hint of sweetness, but not enough to mask the savory nature of the bars. As a lover of all things sweet and savory (it's probably my fave flavor profile), the bars were directly up my ally in this regard.
So sure, I'm a target consumer. But would I recommend the bars to pretty much anyone who's tired of the standard array of snack bars out there? Definitely. If only because they're creative, and it's nice to try new and interesting foods. I also think that the ingredient labels on these bars are pretty impressive, and that the ingredients are very nutrient dense.
Slow Food for Fast Lives bars can be found with the store locator on the company website, though for the time being the easiest way to get your hands on a box is to shop online. The bars retail for about $2.50 per bar ($29.99 per box). You can purchase a sample pack or shop for individual flavors. To hear more about how the brand grows (and more about where you can find the bars), you can check out the company's Twitter account or Facebook page. I hope you find this product as interesting as I do!
Speaking of products, I'll be featuring a new smoothie/milkshake on Friday that puts some of my fave protein powder from NuZest to use (but which you can make without protein if you wish to). It's tasty, and I hope you'll like it. Till then, I wish you a happy Wednesday.
xo
This review was sponsored by Slow Food for Fast Lives. All opinions expressed are my own.