As I mentioned in my last post, I'm home in New York for a few days, resting up after a academic marathon down in D.C. It has been wonderful to catch up on sleep and spend some quality time enjoying the sights, sounds, and the food here, along with some quality time with my Mom, who happens to be on spring break from teaching herself. I always come back to New York anticipating that I'll be out and about nonstop, but often the thing I want most of all is to lounge on my mom's sofa and snap pictures of Central Park with my iPhone. Which is just about exactly what I've been doing. Here are a couple of snapshots from the last two days.
(I'm never more at home than when a subway is whizzing behind me!)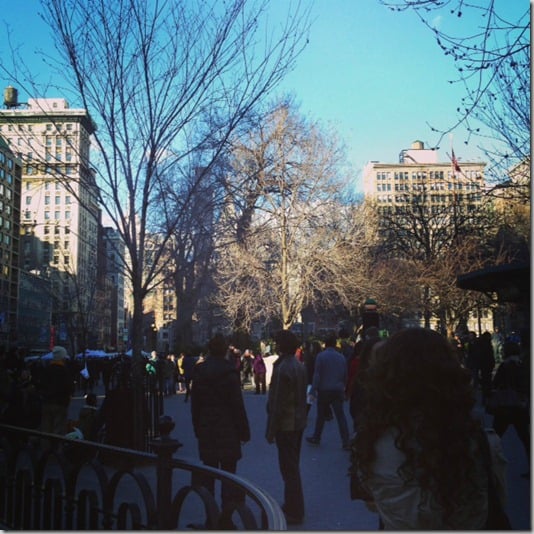 My old office used to be a block from where this last photo was taken. Union Square is a landmark to all New Yorkers, but for me, it's so evocative of a certain time in my life—my early twenties, which were characteristically tumultuous and exciting and confusing. I've been more than a little nostalgic for the publishing world lately.
One of the first things I did when I got home was to email Theodora and ask if she'd like to take a class at Laughing Lotus together. I actually met Theodora a few weeks ago in DC, where she ran a half marathon with my girl Anne. These two warrior women ran 13.1 miles and then suggested I join them for a power yoga class the following morning. A Sunday morning class at The Studio DC (my latest local yoga infatuation—reasonable student rates, sunny vibe, and super super sweaty classes) is workout quite enough for this girl, no racing included. I was very impressed with how ably Anne and Theodora made it through the class only a day after their race, and our instructor gave them a shout out for their effort, too!
After class, we hit up SweetGreen for a bite. I got a standard: romaine, kale, lentils, assorted veggies, avocado and almonds, extra lemon, tahini dressing. Yum.
And Anne caught me in the middle of snapping my photo. You know you're a blogger when…!
It was such a nice study break and meal. Theodora is smart, sassy, and hilarious. I can't believe this was our first time meeting!
We vowed to meet up for a class at Laughing Lotus on my next NYC visit. "The Lotus" happens to have been my first NYC yoga studio—it's where I learned, with some difficulty and resistance, to love yoga. Hard to believe that yoga is now the form of movement that gives me more joy than any other. I'm so glad that Theodora is now starting to love yoga too (it has also been a process for her—she just wrote a post about it here), and at the same studio where I went through a yoga transformation, no less!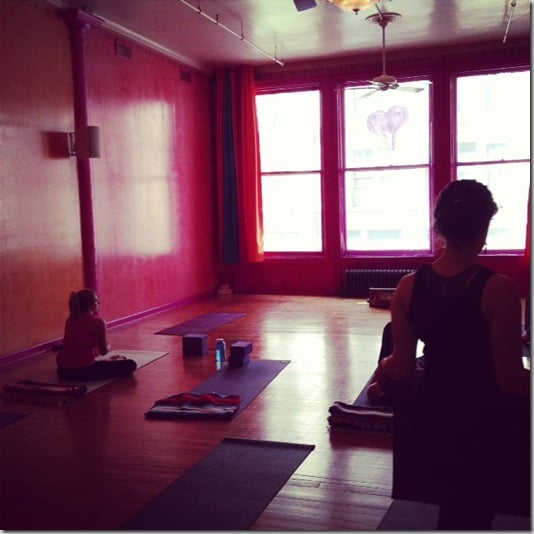 It was a great class. Mary Dana, one of the studio co-owners, was teaching, which is always a treat. The only bummer is that the student drop in rate is now a thing of the past, so the class was much more pricey than I expected it to be! I may need to stick to Yoga to the People (a perfect studio, all donation based, for all yogis on a budget) for all future NYC visits, but the community and spirit at LL definitely make it a worthwhile splurge now and then.
After lunch Theodora and I visited Dig Inn Market, formerly "The Pump" (which I wrote about ages ago) for a bite. Dig Inn has become even more focused on seasonal fare and on vegetables, which I love! The "market plate" consists of a base (greens or grains), a protein (flesh or tofu) and veggies, including legumes. I went for spinach as a base, tofu as a protein (of course) and carrots, lentils, and lots of kale. Plus a "serious green" juice with green veggies, lemon, and ginger. It was all extremely delicious!
And here's the lovely Theodora, photo bombing!
Dig Inn is a great option for seasonal fare that is both vegan and omni-accommodating, and I look forward to trying the summer menu when it's available. Thanks, Theodora, for a fun afternoon!
And that, for today, is all I've got. I hope you're enjoying good weeks, and will see you back here tomorrow.
xo