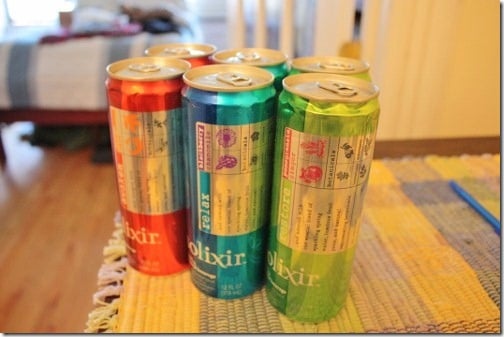 Yikes. That title sort of rhymed, and it was in some sort of meter. Not intentional, I swear.
A few months ago, the nice folks at Solixir asked me if I'd like to do a review of their all-natural, sparkling botanical beverages. I almost didn't say yes. This wasn't because I had any bias against the product, or because I wasn't pleased with the offer, but simply because I never really drink carbonated beverages. In fact, I've never regularly drank any beverage that isn't water, tea, coffee, or green juice. My friends like to joke that there's "never anything to drink" at my apartment, and they're not off the mark: there's not a bottled beverage to be seen in my fridge, unless I've been too busy to make almond milk, and I've bought some instead.
I didn't grow up drinking soda, and even in college, I never developed a taste for it. But when I started counseling, I was absolutely astounded by the number of self-proclaimed a) soda addicts, and b) diet soda addicts who came to me for help. Diet coke addiction seems to be especially rampant, and I think it's a problem for lots of reasons. The main ones are:
I don't trust aspartame as far as I can throw (and if you've ever watched me play softball, you know how true the idiom is for me)
Carbonation is bad news for women who are prone to abdominal bloating (that describes 70% of my clientele)
Artificial sugar has been proven in numerous studies to contribute to gas and bloating, too. So diet soda is a double whammy of digestive upset waiting to happen
I work hard to help my clients get over their soda fix: this can involve anything from pep talks to gentle encouragement to suggestions of hynotherapy, but the main thing I do is to help them find soda alternatives. And this is why I ultimately got so excited about trying Solixir: it was my hope that I could offer it as a soda alternative to the hooked. It's still carbonated, sure, but the natural sweetener used (juice concentrates) is about 1000x better for you than aspartame. This means that it's a lovely drink to enjoy when you're not hydrating with good ole H20, and it's a perfect drink to help soda addicts kick the habit.
Solixir sent me three flavors: orange mate, blackberry chamomile, and pomegranate ginger. (The flavors are infused with tea and fruit flavors, as you can see.)
I tried all of them, one by one. My favorite by far was pomegranate ginger: I'm not usually a fan of pomegranate flavoring, but I do love me some ginger, and this was gingery enough to win me over. Second fave was Blackberry, and trailing behind it was orange mate (I don't really care for the taste of mate unless I tamper with it quite a bit).
OK, honestly? I probably wouldn't just go out and buy any of these drinks. Not because they're not great for what they are—the flavors are solid, and while they do have some natural sugars, I found the nutrition panels pretty solid—but rather because they're just not my thing. For that reason, I gave a bunch to M, to see what he thought. At first, he wondered if there's a market for healthy drinks that are nevertheless on the sweeter side, but we both agreed that there is: Naked juices, Vitamin Water spinoffs, and even coconut water prove it. If that was the case, he said, he thought they were "delicious." And he enjoyed them for the remainder of the weekend.
M has a healthy, yet open-minded palate—I'd say he's a good barometer of how your average healthy eater and drinker might react to a product—so I suspect most people would think these are delicious, too. If you're looking for a new special drink to enjoy with meals, or you're battling an addiction to sodas, I highly recommend them! You can find Solixir beverages at Whole Foods or other healthy markets, and they're also at Amazon.
Spiralizer Trade?
Before I go, I'm curious: do any of my readers have an Annie Chun Salladacco spiralizer—or one like it?
This is the small, cheap model of spiralizer that I used to know. It made my zucchini pasta very thin, like angel hair:
Then I got rid of it and invested in a Paderno Spirooli, which is a bit fancier, and is strong enough to also spiralize carrots and sweet potatoes and celery root and turnips:
I know that it's a better spiralizer in many ways, and I'm supposed to prefer it to my old salladacco, but the thing is, I'm not sure I like how thick it makes my raw noodles—even on the thinner setting:
So here's what I'm wondering: does anyone want to trade spiralizers? If you're reading and you happen to have my old model of spiralizer, I can send you my spirooli, and you can send me your salladacco, and we'll both be happy. Just let me know by leaving a comment!
xo