On the second day of Christmas, my true love gave to me…sour cream and cherry muffins!
Specifically, vegan sour cream muffins with dried cherries and an oatmeal crumble topping. Not a bad way to celebrate the end of a long week, nor to welcome the Christmas season officially. These muffins are delicious, and easy, but they're also a wonderful idea for edible giving and festive brunch entertaining. Best of all, they're 100% vegan, and they're full of healthy little twists on traditional muffin recipes, starting here:
My favorite new flour: organic sprouted spelt flour from Shiloh Farms. I have no idea what the claim "digests as a vegetable" is supposed to mean, but regardless, I love this flour, which I found recently on sale at the Georgetown Dean & Deluca (to find anything on sale at the Dean & Deluca is fairly miraculous, let alone specialty flour). Spelt flour is a great alternative to whole wheat pastry flour (my norm): I particularly like the taste and texture of this flour, which is wholesome but delicate. It's fabulous for healthy baking, and no one will guess that it's whole grain unless you tell them.
This recipe, of course, must also feature a vegan spin on sour cream. I used my tofu sour cream, which is as simple as can be:
Tofu Sour Cream (vegan, gluten free)
Makes about 1 3/4 cup
12 oz silken, organic, non-GMO tofu
Juice of 1 large lemon
1/4 tsp salt
Blend all ingredients together in a food processor or blender till absolutely smooth and creamy. This should taste tangy and a little salty. Thin with water if yours is on the thick side (which happens to be how I like it!)
The muffins themselves use this wonderful sour cream substitute—which is also good on tacos, potatoes, and anything you'd normally garnish with sour cream—to create a moist texture the slightest hint of sour-sweet taste. You'll be amazed at how rich these muffins taste, in spite of the fact that the whole recipe calls for only 1/4 cup oil (and that could be reduced by 2 tbsp if you're on a lower-fat diet). No matter what, it's the dried cherries, with their bold and tangy sweetness, that will make this recipe sing!
Vegan Sour Cream and Cherry Muffins
Makes 8 large or 10 smaller muffins
2 cups spelt flour (or flour of choice — white, whole wheat, and GF mixes are all fine)
2 tsp baking powder
1 tsp baking soda
1 tbsp flax meal
1/2 tsp cinnamon
3/4 cup vegan sour cream (recipe above)
1/4 cup coconut oil (or canola oil, or safflower oil)
1/4 cup almond, rice, or soy milk
3/4 cup agave syrup or maple syrup
1 tsp vanilla
1 scant cup dried cherries
For the crumble topping:
2 tbsp earth balance OR solid coconut oil (kept cold)
1/4 cup cane sugar or demerara sugar
2 tbsp spelt flour (or flour of choice)
1/3 cup rolled oats
1) Preheat the oven to 350 degrees Farenheit.
2) Combine the flour, baking powder, baking soda, flax, and cinnamon in a large bowl.
3) In a mixing bowl, combine the sour cream, oil, milk, agave, and vanilla.
4) Pour the wet ingredients into the dry ingredients, and mix until just combined. Add the dried cherries, and mix to incorporate them.
5) Pour batter into 8-10 muffin tins (I like my muffins on the bigger side, so I would make 8).
6) To make the crumble topping, simply process the earth balance (or oil), sugar, flour and oats in a food processor till they're crumbly. Sprinkle on top of muffins, and bake them for about 18 minutes, or until they're golden brown and a toothpick inserted into the center of one comes out clean. Watch them carefully, as cooking time will depend entirely on how "hot" your oven runs.
7) Serve for breakfast, and smile.
These muffins are so, so moist and delicious! I love how the cherries add tartness while also adding sweetness. Much more interesting a flavor than dried cranberries, if you ask me.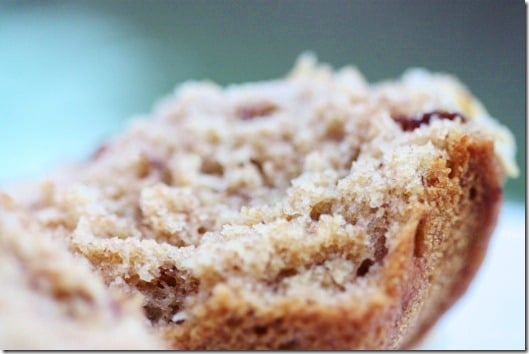 I believe that's what real bakers call an excellent "crumb."
I can't recommend these enough as a holiday treat—or a treat for any time of the year! Whether for a sweeter breakfast or as a mild dessert, these muffins are a joy.
Does any holiday cooking lie ahead for you this weekend? I'd love to hear about it. In the meantime, happy Friday.
xo