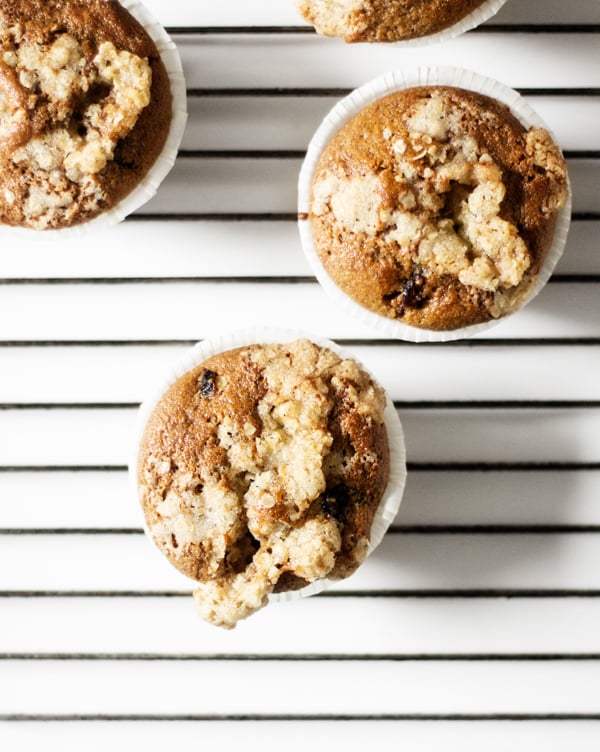 On the second day of Christmas, my true love gave to me…sour cream and cherry muffins!
Specifically, vegan sour cream muffins with dried cherries and an oatmeal crumble topping. Not a bad way to celebrate the end of a long week, nor to welcome the Christmas season officially. These muffins are delicious, and easy, but they're also a wonderful idea for edible giving and festive brunch entertaining. Best of all, they're 100% vegan, and they're full of healthy little twists on traditional muffin recipes, including the fact that I made them with spelt flour and cashew cream in place of dairy.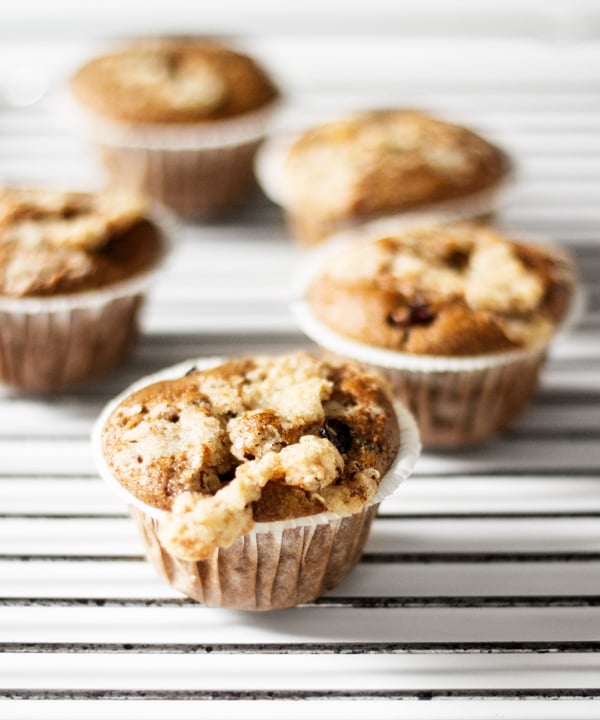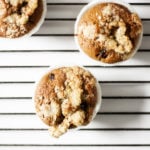 Sour Cream and Cherry Muffins
Author -
1 3/4

cups

light spelt or whole wheat pastry flour

1 1/2

teaspoons

baking powder

1

teaspoon

baking soda

1

tablespoon

flax meal

1/2

teaspoon

salt

1/2

teaspoon

cinnamon

3/4

cup

cashew cream or full-fat coconut milk

1

tablespoon

lemon juice

1/4

cup

neutral vegetable oil, such as safflower or grapeseed

1/4

cup

non-dairy milk of choice

3/4

cup

maple syrup

1

tsp

vanilla

1

scant cup dried cherries, roughly chopped

For the crumble topping:
Preheat the oven to 350F and line or lightly oil a muffin baking dish.

Combine the flour, baking powder, baking soda, flax, salt, and cinnamon in a large bowl.

In another bowl, stir together the cashew cream and lemon juice. Stir in the oil, milk, maple syrup, and vanilla. Pour these wet ingredients into the dry ingredients, and mix until just combined. Fold in the dried cherries.

Pour batter into the prepared muffin tin; I recommend making about 8-10 muffins, so that they're a good size.

To make the crumble topping, simply process the butter, sugar, flour and oats in a food processor till they're crumbly, or use your fingers to crumble them. Sprinkle on top of muffins, and bake them for about 18-22 minutes, or until they're golden brown and a toothpick inserted into the center of one comes out clean. Serve for breakfast, and smile.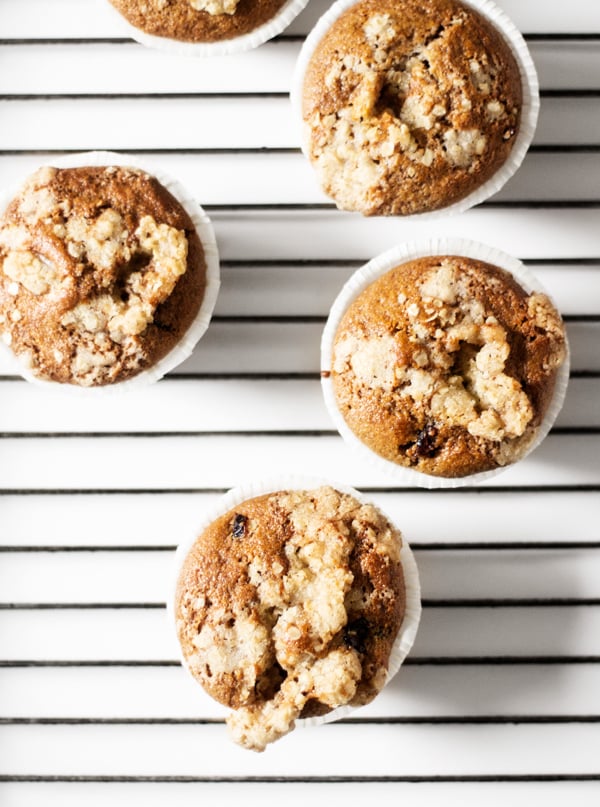 These muffins are so, so moist and delicious! I love how the cherries add tartness while also adding sweetness—it's a nice alternative to the more commonplace dried cranberries. I can't recommend these enough as a holiday treat—or a treat for any time of the year! Whether for a sweeter breakfast or as a mild dessert, these muffins are a joy.
Does any holiday cooking lie ahead for you this weekend? I'd love to hear about it. In the meantime, happy Friday.
xo