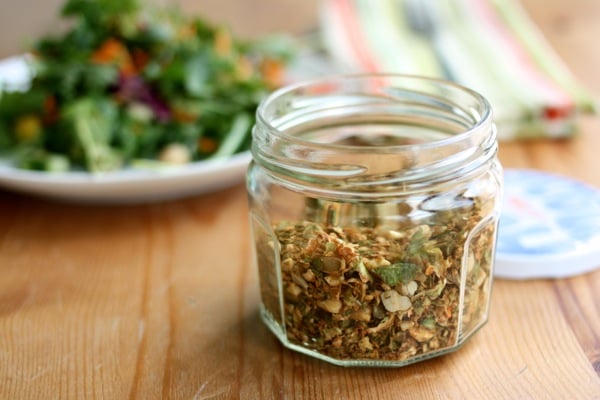 Have you guys come across Brussel Bytes? They're these delicious, dehydrated raw snacks made with shredded brussels sprouts, seeds, and seasonings (they're made by the same folks who make Coco-roons). They're a fun, creative alternative to kale chips, and they're super delicious. I discovered them at Expo East last year, and I loved them (no surprise there: salty, crunchy, and seasoned snacks get me every time). I've been thinking about them ever since, and a few weeks ago, I resolved to make some at home.
It was a #fail.
I'm not really sure where I went wrong; I think I probably needed to use more binder, more flax or more oil or more nuts. But I simply couldn't get that clumpy, chip texture that the Brussel Bytes have.
Fortunately, in spite of the fact that the "bytes" fell apart into tiny, crumbly pieces, and failed to cohere into anything resembling a bite at all, they tasted totally delicious. They were perfectly spiced, perfectly salty, and perfectly crunchy. I had a hunch that they'd make a very delicious topping for salads and grain bowls. And I'm pleased to say that I was right.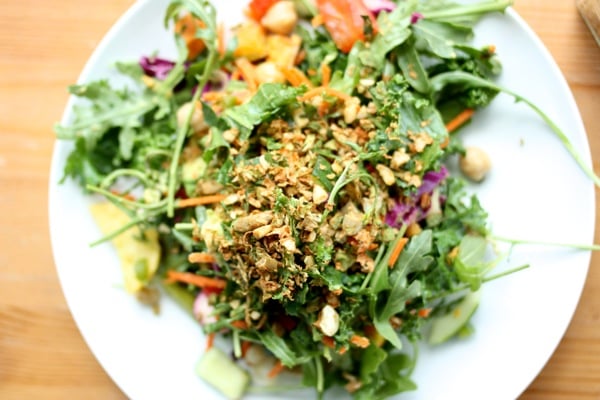 So, in the spirit of proving that kitchen failures can often turn out to be very happy accidents indeed, I'm sharing the recipe. Call it a topping, call it a crumble, call it what you will. Call it "crunchy/salty/spicy brussels sprout crumbly stuff." It's great.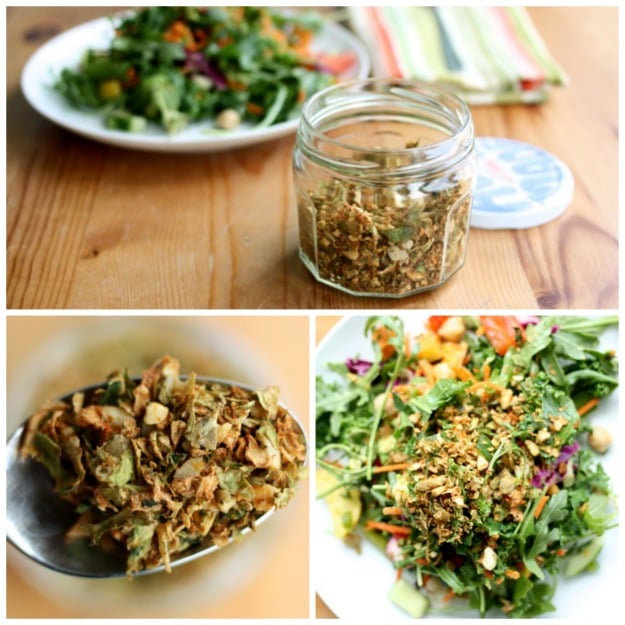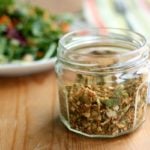 Chili Spiced Raw Brussels Sprout and Pumpkin Seed Topping
Author -
16

oz.

Brussels sprouts

washed and ends trimmed

1/2

cup

pumpkin seeds

1/2

cup

cashews

2

tablespoons

tamari

1/2

teaspoon

smoked paprika

1

teaspoon

chili powder

1 1/2

tablespoons

lime juice

1

tablespoon

olive oil

1/4

cup

nutritional yeast
Place the brussels sprouts in a food processor fitted with the "S" blade, and pulse them until they're loosely chopped up.

Add the pumpkin seeds, cashews, tamari, smoked paprika, chili, lime juice, olive oil, and nutritional yeast. Pulse again, until everything has been mixed up well.

Dehydrator option: Place the shredded brussels sprout mixture onto a dehydrator sheet. Dehydrate at 115 for 8-10 hours, or overnight. If you make them during the day, use a spatula to mix them around a bit halfway through dehydrating. Store in an airtight container for up to two weeks.

Oven option: Pre-heat your oven to 350. Bake the brussels sprouts till they're crisping up and the nuts/seeds are browning. Remove from heat and store in an airtight container for up to four days. (NB: these won't be crispy like the dehydrated version, but they'll taste great!)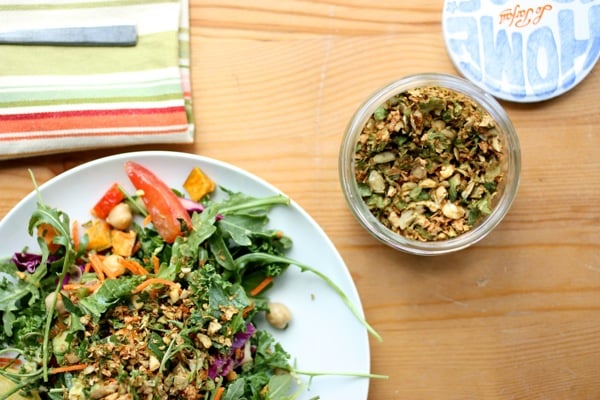 I think the topping would also be great over roasted vegetables, by the way; I haven't tried it yet, but I plan on it.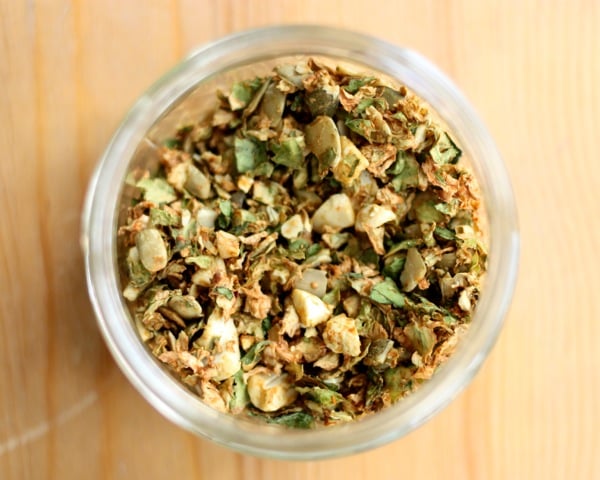 Feel free to mix up the nuts, seeds, and spices you use, and have fun with the recipe.
Book News
Before I go, I wanted to share some more wonderful press that the book has been receiving this week! First up, my friend Angela, who writes the blog Canned Time, reviewed the book and shared my recipe for raw peach cobbler.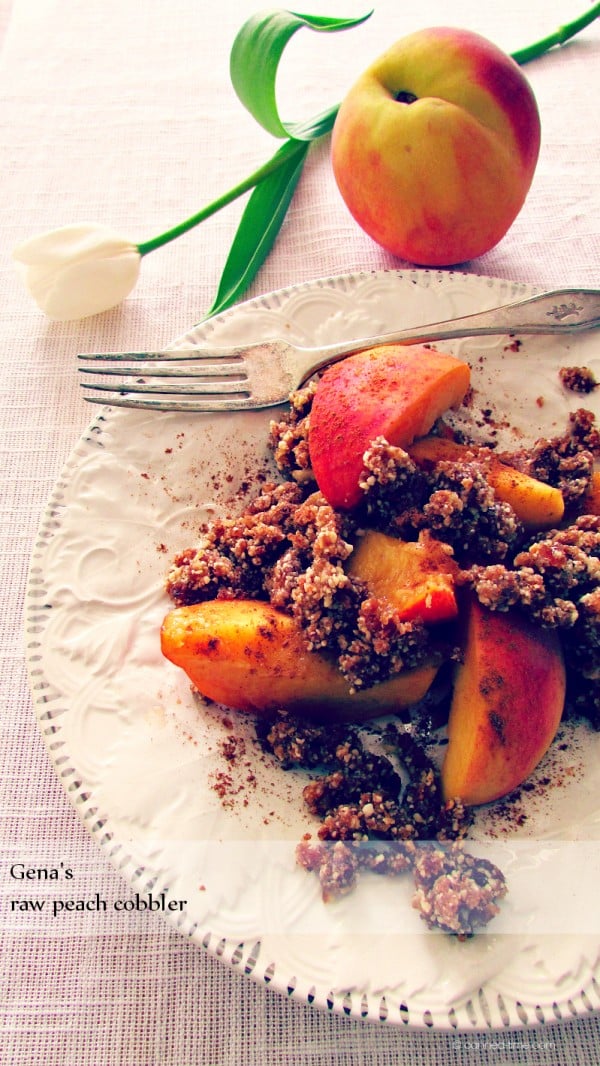 She's also running a giveaway for a copy of the book. Check out her blog review post for details!
A few days ago, the lovely Allyson Kramer shared my recipe for raw blueberry cheesecake:
One of my favorite websites/resources, Well and Good NYC, profiled the book last week, and shared my recipe for asparagus quinoa sushi rolls. The article said, "Hamshaw hopes to turn more people on to the awesomeness of raw food, without obsessing over the rules." Love it! Read the whole article here.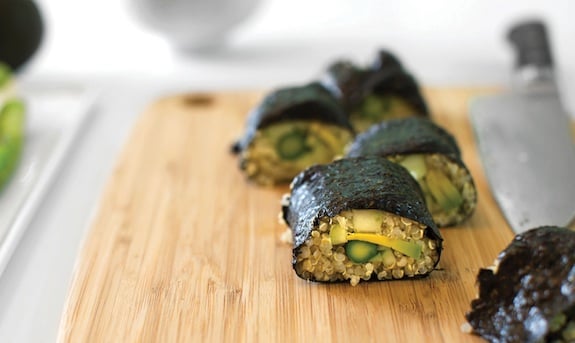 Style Bistro asked me to recap some of my major takeaways from the book, and they shared my recipe for raw carrot falafel. Read what I had to say, and grab the recipe here.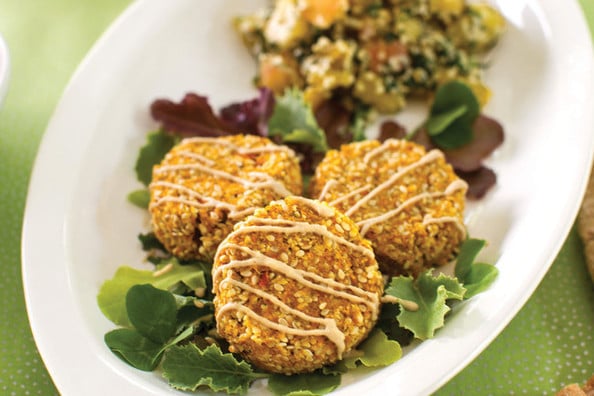 This morning, Vicky Hallett of the Washington Post did a fantastic, comprehensive profile of my blog and the book. I'm so pleased with the coverage, and so grateful!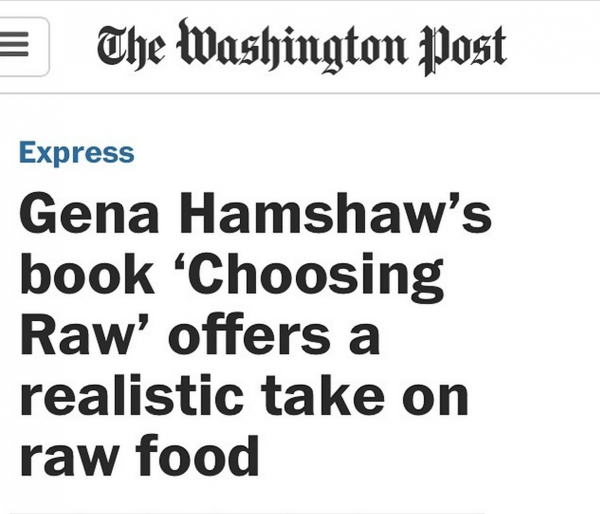 On Sunday, my wonderful and vivacious friend Tess Masters–whose own publication, The Blender Girl Cookbook, I reviewed earlier this spring–gave the book a glowing review on her blog, and generously shared my recipe for raw key lime pie. Yum!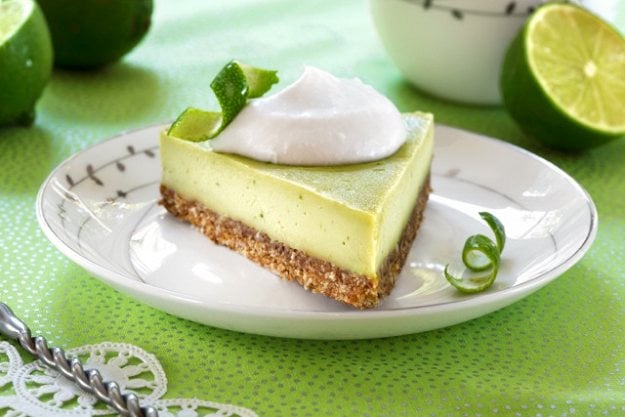 Finally! I recently had the immense pleasure of appearing on the Our Hen House TV show, co-produced by Brooklyn Independent Media. It's always an incredible pleasure to squawk with Jasmin and Mariann, but it was particularly fun to appear on camera with them! In the episode, I chat about the book, and I share my recipe for raw zucchini pasta with black bean, mango, and avocado salsa (one of my faves from the book).
You can check out the entire episode here!
Phew–that's a lot. As a reminder, you can order your own copy of the book now on Amazon, B&N.com, Indie Bound, Books-A-Million, or iBooks. I hope you love it!
xo