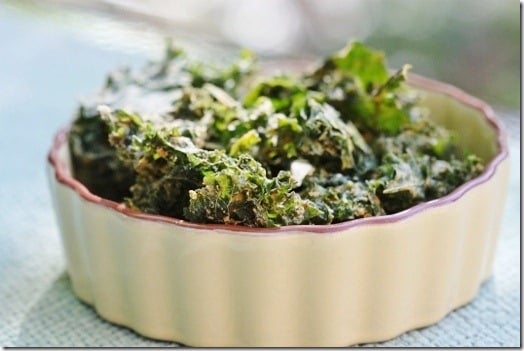 Happy Sunday, folks. Hope your weekends were full of double chocolate chunk cookies, banana chia oat muffins, and some of the other sweet treats we've been sharing here this week.
My weekend was full, but not full of deliciousness. It was full of studying. In fact, since I left you guys at 9 pm on Friday night, I've been at the med school library almost non-stop (I took breaks to sleep and exercise). The amazing part of this story is that in spite of my dedication, flash cards, and collegial study efforts, I feel totally unprepared for tomorrow's second Orgo exam. Go figure.
Anticipating a weekend on campus (and away from my cozy kitchen), I did make an effort to make some kale chips on Friday night, so that I'd have greens on the go for the next two days. I always say I'm going to make kale chips each week, and I rarely stick to the plan, but I should: it's the easiest way for me to transport greens around with me. I do pack a fair number of salads, but to be honest, the space they take up in my backpack and the fuss of eating them when I'm shuffling between classes kind of outweighs the pleasure of their taste. And food without pleasure is no food at all.
Kale chips aren't quite as varied or creative as my salads are, but they are very tasty, versatile, and easy to make. They, along with raw snack bars, collard wraps, trail mixes, raw nori cigars, all things hummus, and Ezekiel sandwiches save me from total culinary boredom between classes (and from paying too much for on-campus dining). This recipe is my latest creation: a warming, spicy blend for cooling autumnal weather. They're my new favorite, and as soon as this darned test is over and done with, I'll be making more.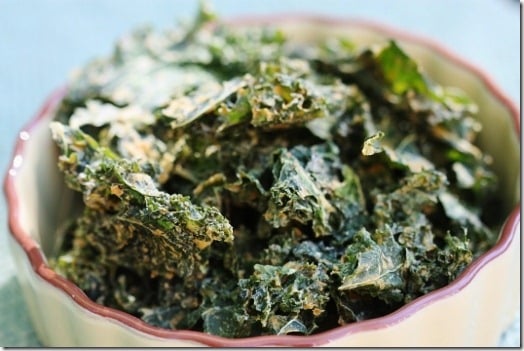 Spicy Curry Kale Chips (raw, vegan, gluten free)
Makes about 3-4 servings
1 head kale, destemmed, chopped, washed, and dried
1 cup cashews, soaked 1 hour or more
1 small bell pepper
1 tbsp tamari
Juice of 1 lemon
1/4 cup nutritional yeast
1/2 tsp turmeric
2-3 tsps curry powder (adjust to your level of spice)
Dash cayenne pepper
2 pitted dates
Water
1) Blend all of the ingredients except for the kale in a high speed blender (or food processor) on high. As you go, add water. The final mixture should be very thick, but not a paste (like nut pate). I'd say you're aiming for the texture of a thinner hummus.
2) Pour a good amount of the sauce over your kale, and begin massaging with hands. You won't use all of the sauce up (which is good, because it's a fabulous dip!) but you want the kale to be well coated: this is not the time to get skimpy!
3) Place kale chips on a dehydrator tray and dehydrate at 115 overnight. Alternately, you can bake these at 325 degrees for about twenty minutes, stopping when they're crispy.
Speaking of crispy: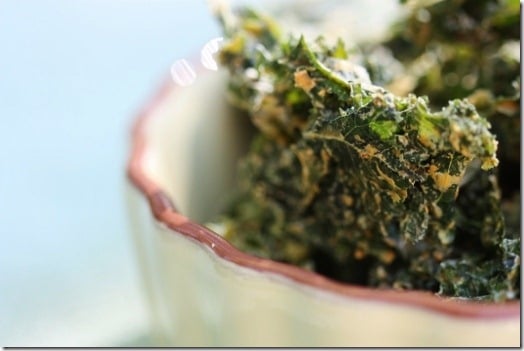 Check out all that delicious, spicy goodness.
These are a wonderful portable snack, but they're also great appetizers, and an ideal way to get non-veggie lovers into curly kale.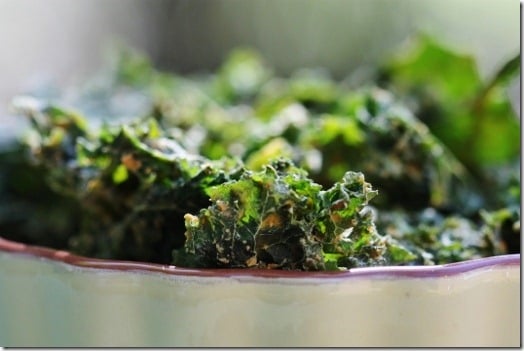 Today, in the middle of a study marathon, my two study buddies eyed me cautiously as I casually pulled these out of my backpack and started munching (too loudly, I'm sure, for a quiet study area). My friend Dave raised his eyebrow for a moment, and then, remembering the green chia pudding I ate every single morning for breakfast this summer simply shook his head and got back to studying.
Next time, I may need to bring enough for the group.
I'll be back here tomorrow with a short Halloween express post. In the meantime, happy pumpkin carving, decorating, lewd-costume making, or whatever else you're up to tonight.
xo