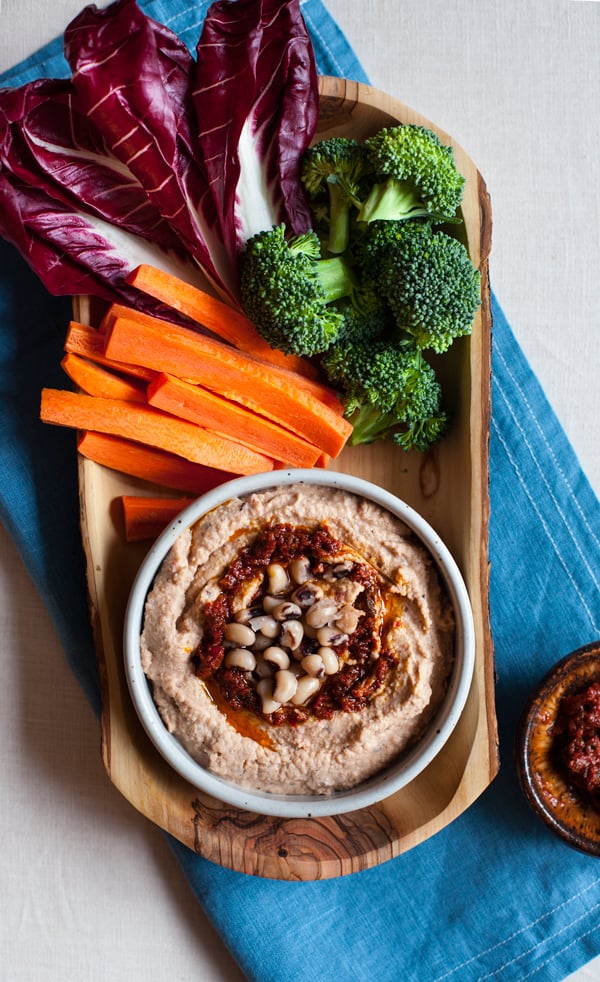 Black-eyed peas are thought to bestow luck and prosperity to those who eat them on New Year's Eve. In the American South, where black-eyed peas have been cultivated as early as the 17th century, they're often eaten with pork and greens, and at this time of year you'll see many recipes for Hoppin' John. I've experimented with vegan Hoppin' John and loved it, but this year, I'm trying a new black-eyed pea recipe: spicy harissa black-eyed pea dip.
This creamy, flavorful dip is a wonderful, seasonal alternative to hummus, proof that nearly any legume can be whipped into a satisfying spread.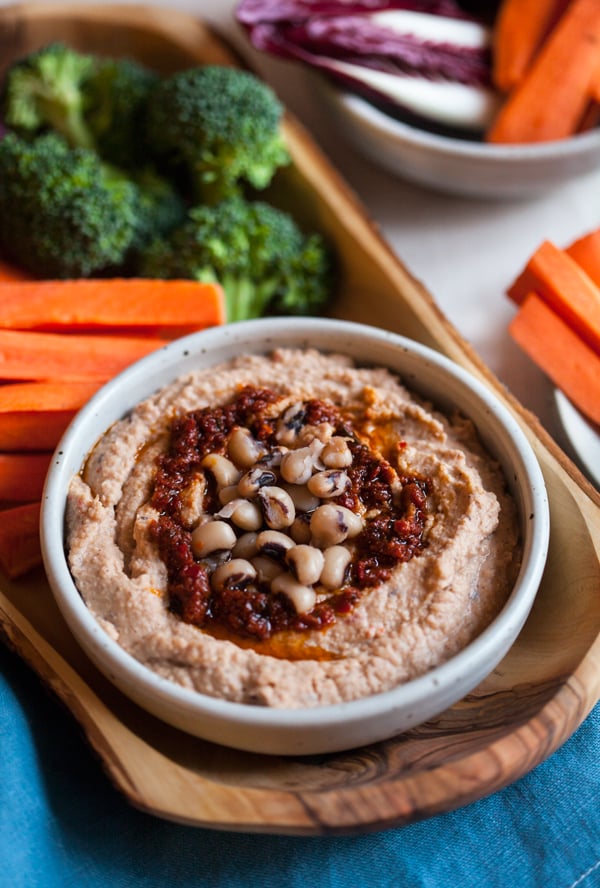 I've often wondered where black-eyed got their lucky reputation. Wikipedia cites several possible origins. One dates back to a tradition of eating black-eyed peas at Rosh Hashana, the Jewish New Year, as recorded in the Babylonian Talmud. It was believed that eating modest pulses signified humility before the gods. Southern lore suggests that black-eyed peas were one of the few foods left behind when Sherman's troops raided the South during the Civil War, as they were considered to be no better than animal feed. The beans subsequently became associated with good fortune.
Whatever the origin, black-eyed peas are a wonderful legume to play with. They cook relatively quickly, and they're great sources of folate, fiber, and Vitamin A, as well as calcium and magnesium. You can use them in almost any recipe that calls for navy beans, aduki beans, or another small/medium bean.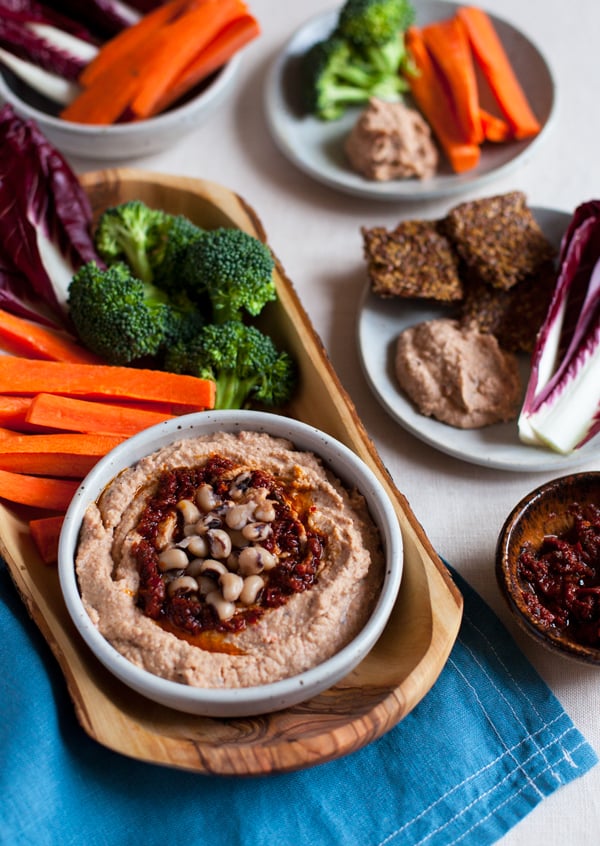 I think the creamy texture of black-eyed peas makes them especially great for a dip, but what makes this recipe stand out is the addition of smoked paprika and harissa paste. Harissa is a North African hot chili pepper paste, usually made with a variety of peppers as well as garlic, coriander, caraway, and oil. It adds spiciness and flavor to food, and it can sometimes be found in the form of a ground spice powder as well (I like to keep this in my pantry and whisk it into dressings and sauces when I don't have the paste, as with my harissa tahini dressing).
If you don't have harissa for this recipe, try using a tablespoon of chipotle in adobo or a teaspoon of ground chili powder, and then adding a generous dash of red pepper flakes to create the same mixture of spice+heat.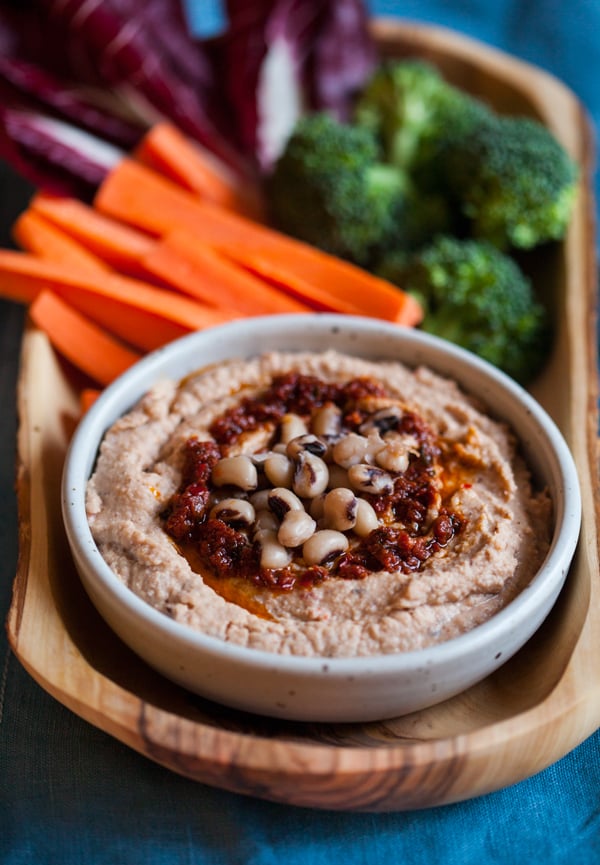 Spicy Harissa Black Eyed Pea Dip
Author -
Yields:
2
1/2 cups, or 10 servings
3

cups

cooked black eyed peas

1 heaping cup dry beans, or 2 cans, rinsed and drained

1/2

cup

cooking liquid

if you boil the beans from scratch or water

1

clove

garlic

crushed

3

tablespoons

tahini

3/4

teaspoon

salt

or to taste

1/2

teaspoon

smoked paprika

substitute sweet paprika

3

tablespoons

freshly squeezed lemon juice

1

tablespoon

Harissa paste

add more or less to taste or 1 teaspoon harissa powder

Chopped parsley

extra harissa paste, and extra paprika, for garnish
To prepare beans from scratch: Sort through the beans and place them in a large bowl overnight with enough water to cover them by 3-4 inches. The following day, rinse them and add them to a medium sized cooking pot with enough water to cover them by at least 2 inches, as well as 2 bay leaves (if you have them). Bring to a boil and reduce to a simmer. Cover and simmer for 30-45 minutes, or until the beans are tender but retain their shape. Drain them, reserving a half cup of the cooking liquid to make the dip.

To prepare the dip, place all ingredients except for the garnishes in a food processor fitted with the S blade. Process till smooth, scraping down the sides of the bowl a few times to make sure everything blends easily. Add a few extra tablespoons water if you like a thinner dip (keeping in mind that it will thicken up in the fridge), or slightly less than a half cup if you like a really thick dip. Serve, with garnishes.
Leftover dip will keep in an airtight container in the fridge for up to 5 days.
Of course you can kick up the spice however you like–those of you who love heat can add more harissa, while some of you may wish to start with 2 teaspoons and adjust from there.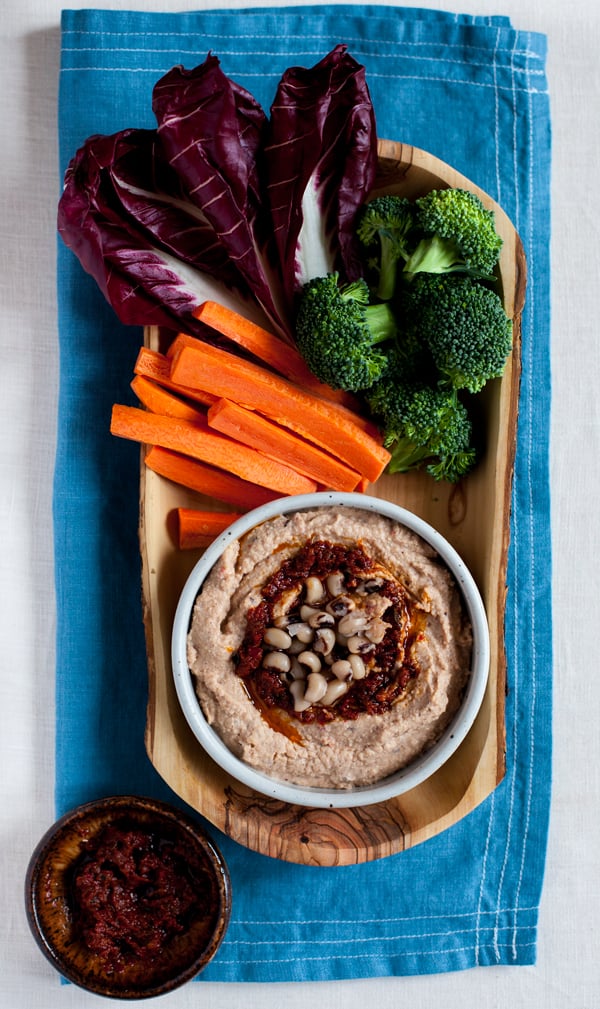 Additional garnishes could be chili or garlic oil, a squeeze of lemon juice on top, or whole black-eyed peas (which is how I served mine). And if you don't have peas, chickpeas will work just fine. Serve with veggies, flax crackers, toast–whatever you like. I hope you'll love the dip.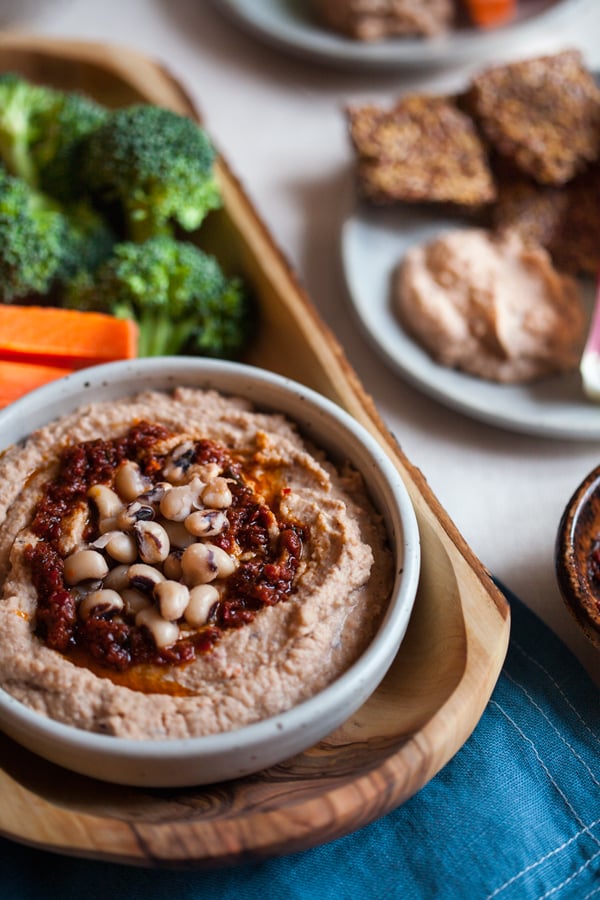 And amazingly, here we are at the turn of another new year. As longtime readers probably know, I'm not a big fan of new year's resolutions, but I do like to set intentions for the year ahead. In spite of this, I'm having a hard time thinking about what my 2016 intentions are, and I'm hoping that they'll materialize for me as the year actually gets underway. Last year, I celebrated the new year in Vieques, where I had traveled for a wedding, and I had lots of time and space to contemplate my goals. This year's holiday season has been a lot more hectic, so perhaps I simply haven't had the "space" to think about what I want for 2016.
When I survey 2015, the thing that stands out to me the most is how much pleasure and joy I've experienced with food this past year. Writing Food52 Vegan really marked a new chapter for me as a cook–I became better and stronger through compiling those recipes–and the name change of my blog has opened up more culinary space and creativity and freedom than I ever could have imagined. I don't think I fully appreciated the extent to which staying tied to the "raw" label had started to feel inauthentic, even a little stifling, but since I let go of that name, I've felt so inspired and excited about cooking. The last time I felt such excitement was when I first discovered plant-based eating, quite a while ago.
Notably, I haven't been thinking much about my eating disorder history lately, which is a first for me; even in the years since I've identified as "recovered," I've still defined my relationship to food in the context of my ED history. I realize as I write this post that I haven't thought much about my ED or its shadows lately, haven't been compelled to write about them. I certainly don't intend to stop "musing" about disordered eating or body image on this blog, but right now, I'm enjoying a period of culinary inspiration that is independent of my past. And it feels really lovely. So perhaps my intention for 2016 is just to enjoy this feeling, and to continue channeling it into my food.
On that note, friends, I wish you a great Tuesday. I'll be checking in on NYE with a new book review (and giveaway), so stay tuned–and if I don't catch you before NYE, I wish you a peaceful, joyous start to 2016.
xo