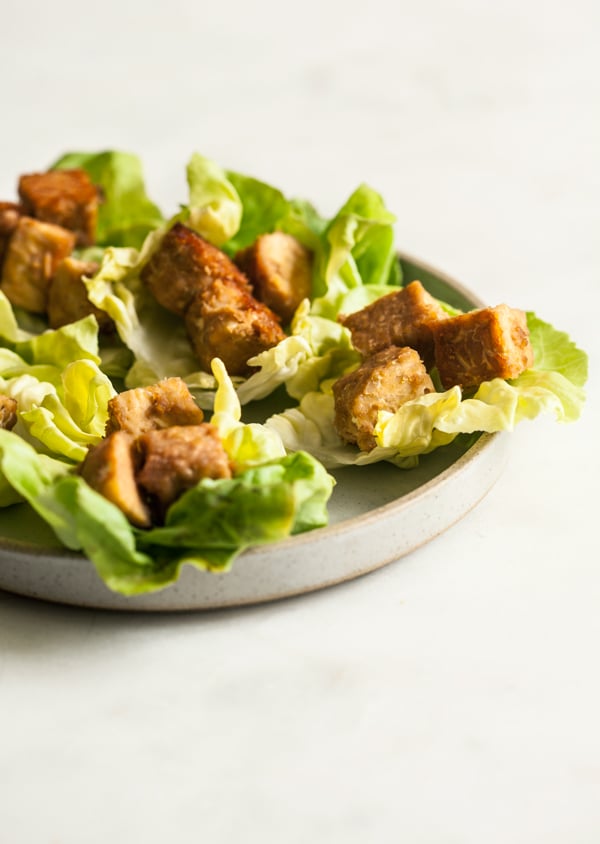 One of my professors recently asked me if I had some good ideas for vegan party appetizers. I piped up immediately that she could make hummus, or white bean dip, or roasted cauliflower dip, or smoked eggplant dip. And then I realized that, to hear me tell it, the only appetizers vegans eat or serve is some sort of dip.
Of course, there are plenty of other crowd-pleasing vegan hors d'oeuvres; I just don't seem to have written too much about them. And that's what inspired today's spicy peanut tempeh wraps, which are both a great option for serving as appetizers and also a healthy, tasty snack.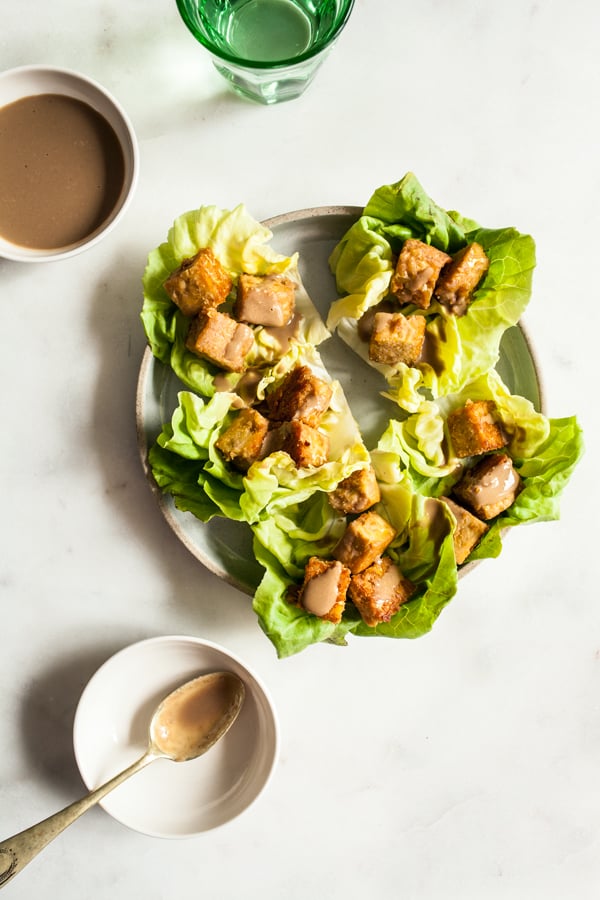 These wraps are as simple as they come, and that's really how they were intended to be. You can definitely enhance them or add to the wrap filling by throwing together a quick slaw, or by adding grated carrots or shredded red cabbage or what have you: there are so many possibilities for crispy vegetable fillings.
But keeping the filling simple makes these lettuce wraps easy (and not very messy) to eat, which isn't always the case with finger food. And it also allows the flavor of spicy peanut sauce and earthy cubes of tempeh to stand out completely. Dress these up, or leave them as is: they're flavorful, filling, and really delicious.
To prepare the tempeh cubes, I saute them lightly in sesame oil, then add my spicy peanut sauce to the skillet. This way, the cubes get crispy before being coated with the spicy sauce. It's the first time I prepared tempeh this way (I usually marinate and bake it), and it definitely won't be the last. It was quick and imparted so much flavor to the cubes.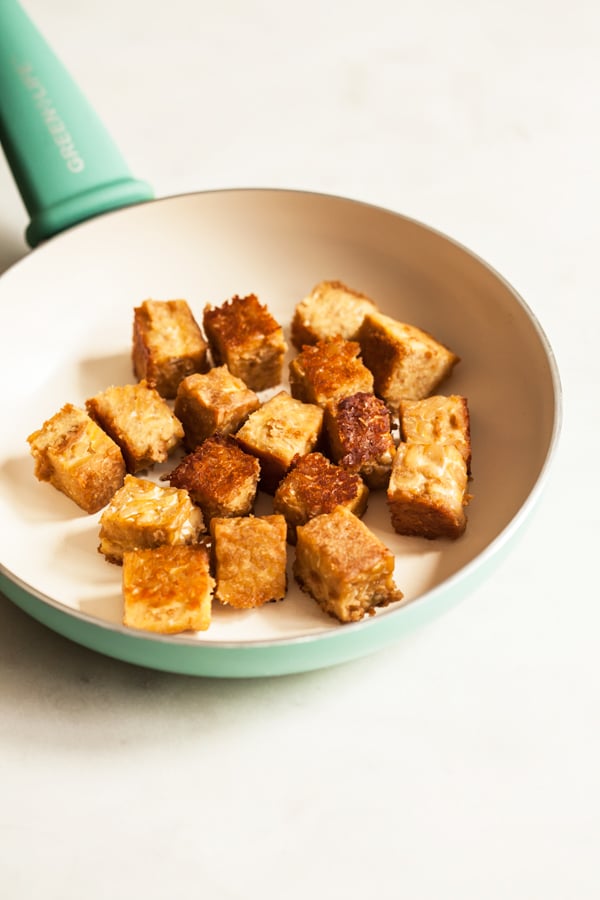 The process was made easier by using ceramic nonstick cookware from the GreenLife brand. I've been using and getting to know the whole GreenLife line of cookware and bakeware products this year, and I'm a huge fan. The company is pioneering safe, healthy cookware at an affordable price for home cooks everywhere. Using GreenLife products makes both cooking and cleaning easy, and it means being able to saute ingredients without too much added oil–and without the risk of sticking and burning. My tempeh cubes got perfectly crispy here with minimal sesame oil (just enough to add rich, toasted flavor) and cleanup, as always, was a snap.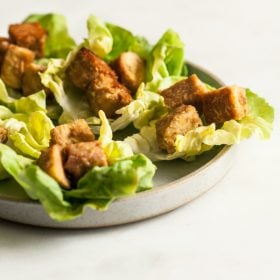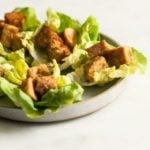 Spicy Peanut Tempeh Lettuce Wraps
Author -
For the spicy peanut sauce:
1/3

cup

peanut butter

1/4

cup

warm water

1-2

cloves

garlic

grated on a microplane or finely minced (adjust to taste)

2

teaspoons

finely minced ginger

or 1/2 teaspoon ginger powder

2

tablespoons

tamari

3

tablespoons

unseasoned rice vinegar

1

tablespoon

maple syrup or agave

1-2

tablespoons

sriracha

to taste (substitute crushed red pepper flakes to taste)
For the wraps:
For the wraps:

12

butter lettuce leaves

you can also use radicchio leaves, endives, cabbage leaves, or small collard leaves

1 8-

ounce

package tempeh

cut into about 3/4-inch cubes

1-2

teaspoons

toasted sesame oil

Optional toppings: Sriracha sauce

chopped green onions, grated carrots, shredded red cabbage, toasted sesame seeds
To prepare the sauce, whisk together the peanut butter and warm water. Add remaining ingredients and whisk till the sauce is smooth. Set aside half of it to serve with the wraps; you'll use the rest for sautéing the tempeh.

Heat the sesame oil, one teaspoon at a time, in a medium sized, nonstick skillet. Add the tempeh cubes and sauté until they're browning and just crispy (a minute or two on each side).

Add half of the peanut sauce to the pan and cook the tempeh cubes, stirring often, until the sauce is reduced and the cubes are nicely glazed. Pile about 3-4 cubes in each lettuce cup, then add toppings of choice. Dip the wraps in extra peanut sauce and enjoy.
Of course, you don't have to serve this super flavorful tempeh in the lettuce wraps. It would also be great in a bowl (the way I often serve my favorite lemon pepper tempeh cubes), thrown into a stir fry, or stuffed into a whole grain wrap. But the next time you have friends over, these satisfying wraps can be your answer to hummus as usual. (Or, since hummus is a food group, they can be served with hummus as usual.) They also make a stellar, high-protein snack.
I hope you'll enjoy them sometime this fall–with friends or family, or on your own.
xo
This post is sponsored by the GreenLife brand. All opinions are my own, and I love this nonstick cookware. You can learn more about GreenLife products, purchase online, or find GreenLife near you here. Thanks for your support!