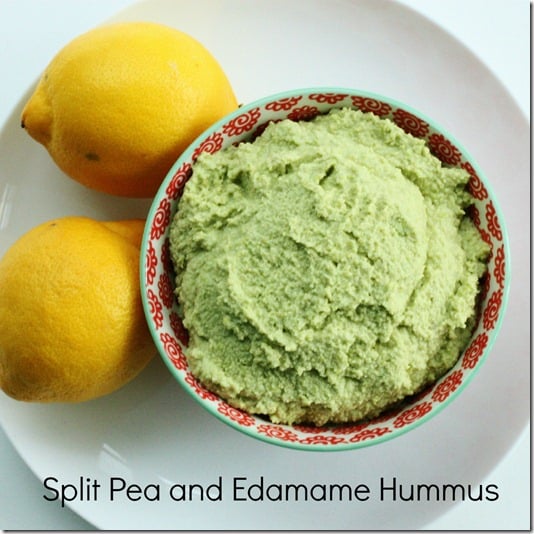 This one kind of came out of nowhere.
It had been a while since I'd made hummus, which is a bizarre anomaly in my otherwise hummus-filled routine. Yesterday, as I got around to making lunch, I realized that I was craving hummus, and badly. The problem was that I was that I had no chickpeas at the ready (shame on me: usually I'm good about soaking and cooking them every Sunday). What I did have was a bag of split peas from my friends at the Pacific Northwest Farmers' Cooperative, who were kind enough to send me a bunch of their non-GMO, heirloom legumes some time ago. And I also had some edamame in my freezer. I suspected that these two foods would combine beautifully in a simple hummus, and I was right.
This dish is greatly enhanced by the addition of fresh lemon juice and a touch of lemon zest. Lime would be interesting, too, though I haven't tried it. I like this recipe because, while it's highly reminiscent of traditional hummus, it's got a unique flavor of its own. It also boasts complete protein from the edamame, as well as fiber, potassium, and folate from the peas. Whether as part of a lunch—in a wrap or on a salad—or as a snack, this hummus is as unique as it is healthful.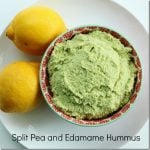 Split Pea and Edamame Hummus
Author -
2

cups

cooked split peas

1 1/2

cups

shelled edamame

boiled and drained

2

tbsp

tahini

2

tbsp

lemon juice

1/4

tsp

sea salt

2

tsp

lemon zest

1/2

cup

water

more as needed
Place the split peas and edamame in a food processor and pulse to combine.

Add the tahini, sea salt, and lemon juice and zest. With the motor running, drizzle in the water in a thin stream, till the hummus becomes creamy and has the texture you like. You may need extra water, depending on your tastes.
Enjoy!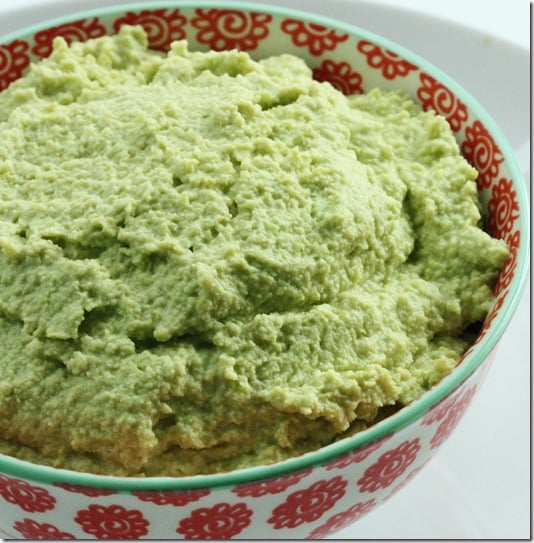 It's already a hectic week over here, but I'm looking forward to sharing some Valentine's Day themed, raw and vegan treats with you in the next few days. So stay tuned

xo