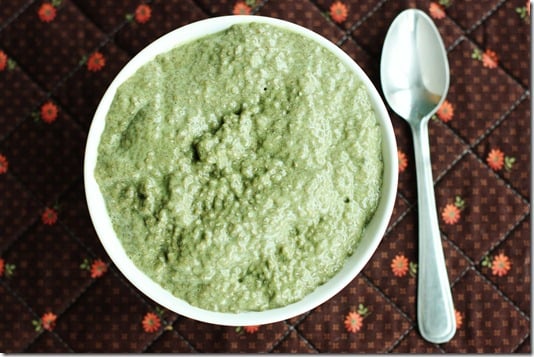 It's an appropriately gusty and rainy night for a spooky, Halloween-themed post; if you're anyplace along the East Coast, I hope you're staying safe and warm tonight. Classes are cancelled for two days, even though so far it hasn't been too terrible near me in DC, so I enjoyed the chance to catch up on my studies today. And make some chia pudding.
When I first got into raw foods, I had never tried wheatgrass. A little reading suggested to me that wheatgrass juice was the holy grail of healthy elixirs, so I immediately set about trying it for myself. Unfortunately, I gagged on my first shot, and have had the same reaction to nearly every shot of wheatgrass I've had since. There's something about the sweetness and the smell that just turns my stomach, no matter how much I want to like it.
I once read that, if wheatgrass tastes terrible to you, it's a sign that you're "toxic;" I doubt that, but I do think that a wheatgrass aversion keeps you from enjoying something that's rich in phytonutrients, Vitamin E, and amino acids. So what's a gal to do if she just doesn't love the taste? My latest solution is wheatgrass powder from Navitas Naturals. My friends at Navitas sent me some of the powder to sample recently, and I was delighted when I found it perfectly palatable—sweet, but without the grassy taste! The product is expensive, but a serving size is only 1/2 teaspoon, and there are 28 servings per package; this is quite a bit less than paying for fresh wheatgrass, shot by shot.
So far I've been enjoying the powder in my smoothies, but today I was in the mood for something a little different. Recently, a friend of mine went to a Halloween themed vegan potluck and brought chia pudding because it's a little "spooky" to start with—gooey, slippery, and slimy. I had this in mind when I set about making a green chia pudding, which is that much spookier for being the same shade of green you might find in face paint for a witch's costume!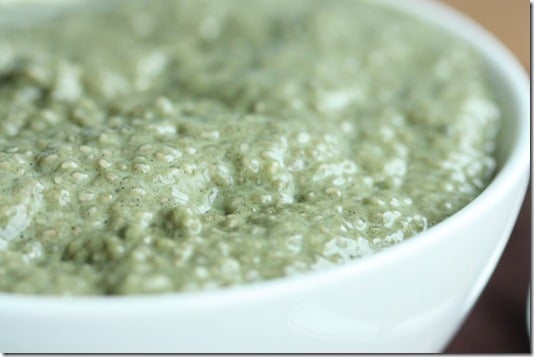 Spooky, maybe, but also rich in phytonutrients, protein, and calcium. That's a spooky and a healthy Halloween treat.
Spooky Green Chia Seed Pudding (raw, vegan, gluten free, soy free)
Serves 2-4
2 cups almond milk
2 pitted dates
1 1/2 tsp wheatgrass powder (substitute any favorite freeze dried green powder, or spirulina!)
3 tbsp hemp protein powder
6 tbsp chia seeds
1. Blend the milk, dates, and powders together in a blender till smooth. Add the chia seeds and, with the blender on a low setting (2-3 on a VitaMix), incorporate them well. This is a trick I learned from my friend (and CR regular) Elizabeth; it turns making chia pudding into quite an easy, one step process!
2. Transfer pudding to a container, and wait for seeds to plump up. Stir on occasion, and add a little more almond milk if it gets overly thick. Serve!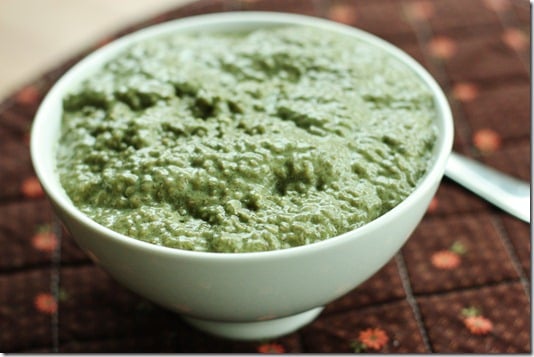 This is a very simple pudding, but you can certainly add some cinnamon or any other flavor you like to it. I've enjoyed it with a sprinkle of cacao nibs and with goji berries—the latter was particularly tasty!
This is a nice, easy snack or breakfast option for Halloween week. I hope you enjoy it, and that it inspires you to check out wheatgrass powder or another green mixture you like. Naturally, if you wanted to make this recipe with fresh wheatgrass shots, I'd say more power to you. And better you than me.
How do you all feel about wheatgrass? And do you have any special, seasonal chia puddings you've been experimenting with?
xo