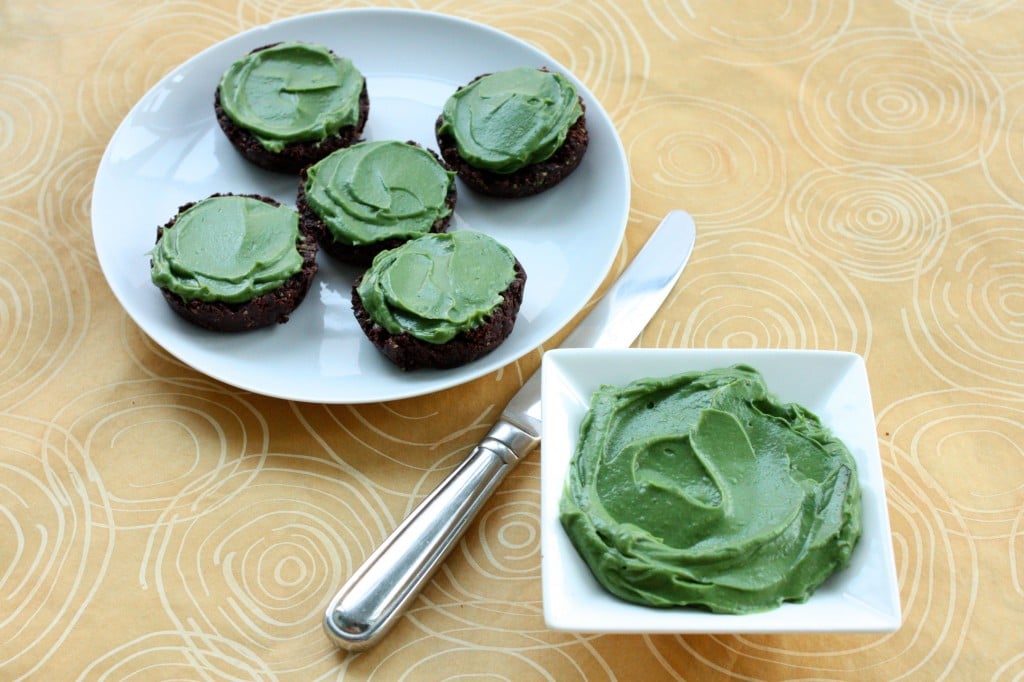 We're about two days from Halloween, which for whatever reason is one of my favorite yearly holidays. I love the weather, the eerie lights, the spookiness. The sight of kids getting really excited. The chocolate.
Last week, I shared my raw witch's finger cookies, a perfect treat for the season. Today, I'm here to share another Halloween themed goody, or two goodies really, because you can enjoy the  electric green spirulina pudding on its own or as frosting for an easy raw cupcake.
I'm not entirely sure what color I was going for here: the color of a spooky witch's brew? The color of the Wicked Witch of the West's skin? The color of a haunted swamp? Whatever the case, spirulina was of course a perfect ingredient to get that creepy hue. While avocado pudding on its own is pretty green, the algae certainly kicks things up a notch.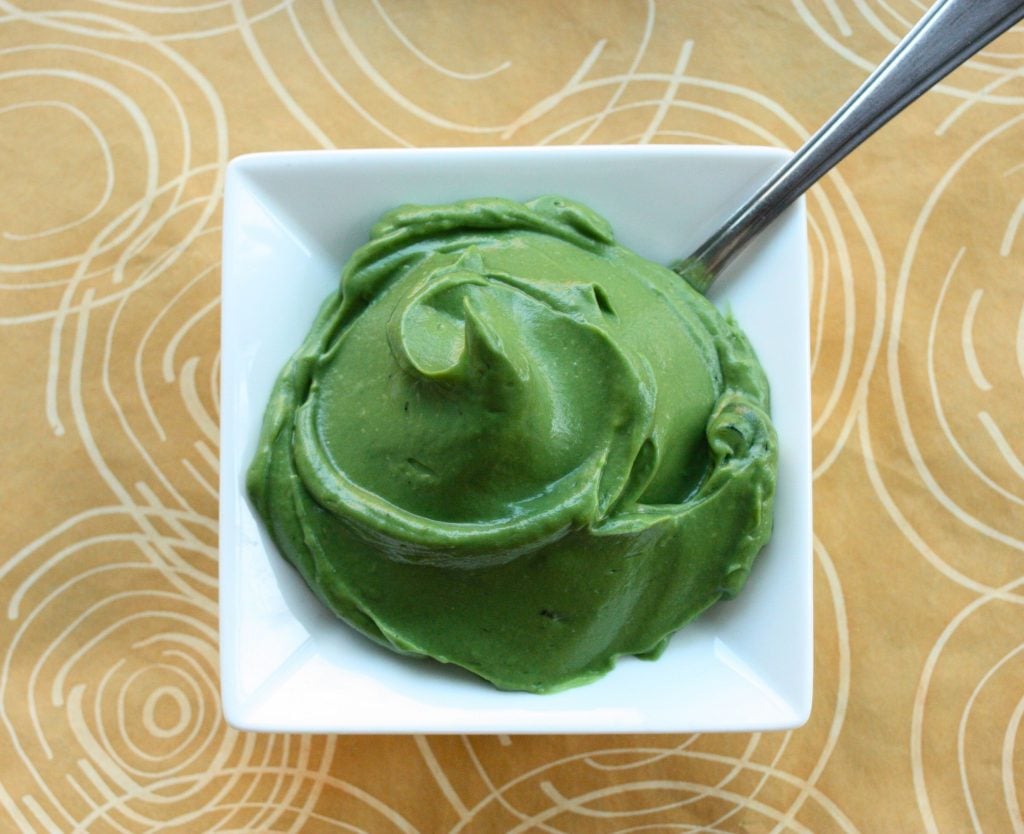 The avocado pudding itself couldn't be simpler. Five ingredients, and a quick spin in the food processor, and you're set.
| | | |
| --- | --- | --- |
| Spooky Spirulina Avocado Pudding | | Print |
Ingredients
2 ripe Haas avocados, pits removed and flesh scooped from skin
3-4 tablespoons agave nectar or maple syrup
Generous pinch sea salt
1 teaspoon vanilla
½ teaspoon spirulina powder
Instructions
Blend all ingredients in a food processor. As you go along, you may need to add a few tablespoons of water to get the right consistency. You can vary this based upon whether you'd like a thicker or a silkier pudding!
Makes 2 large or 4 small servings.
While this pudding would be a delicious dessert, a nice topper for sprouted bread, a groovy dip for banana or apple slices, or a sweet afternoon snack, it's also a terrific frosting.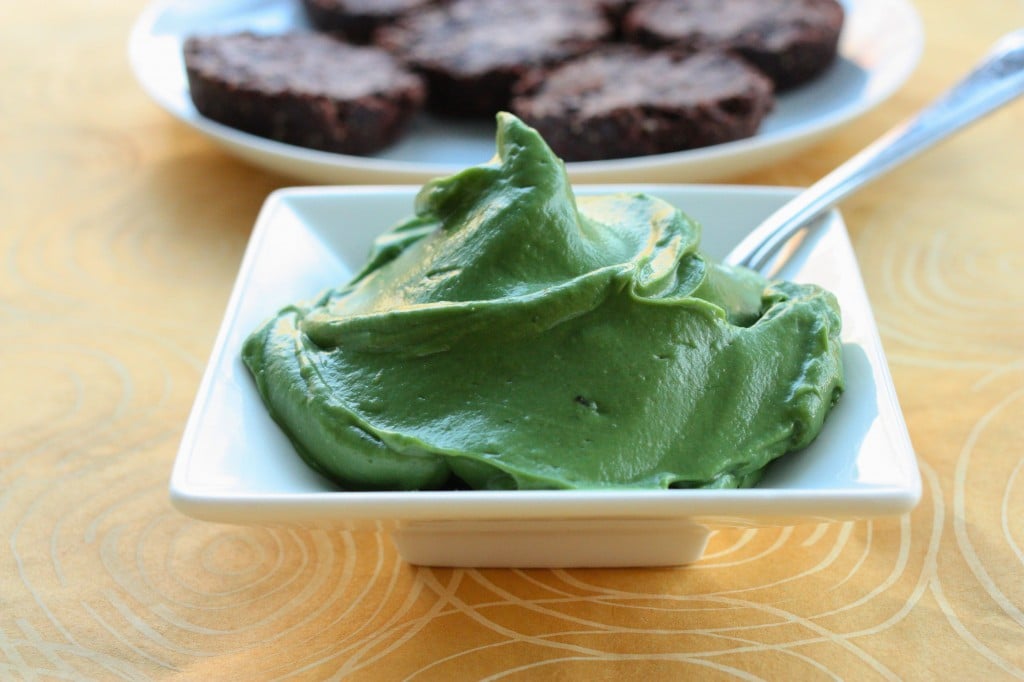 I cut the recipe in half and tested a thicker batch (meaning that I added as little water as possible while blending) on six raw "cupcakes." It had the perfect consistency for spreading. You'll want to keep anything you frost with it cold, but you should find that it holds its shape nicely if you do.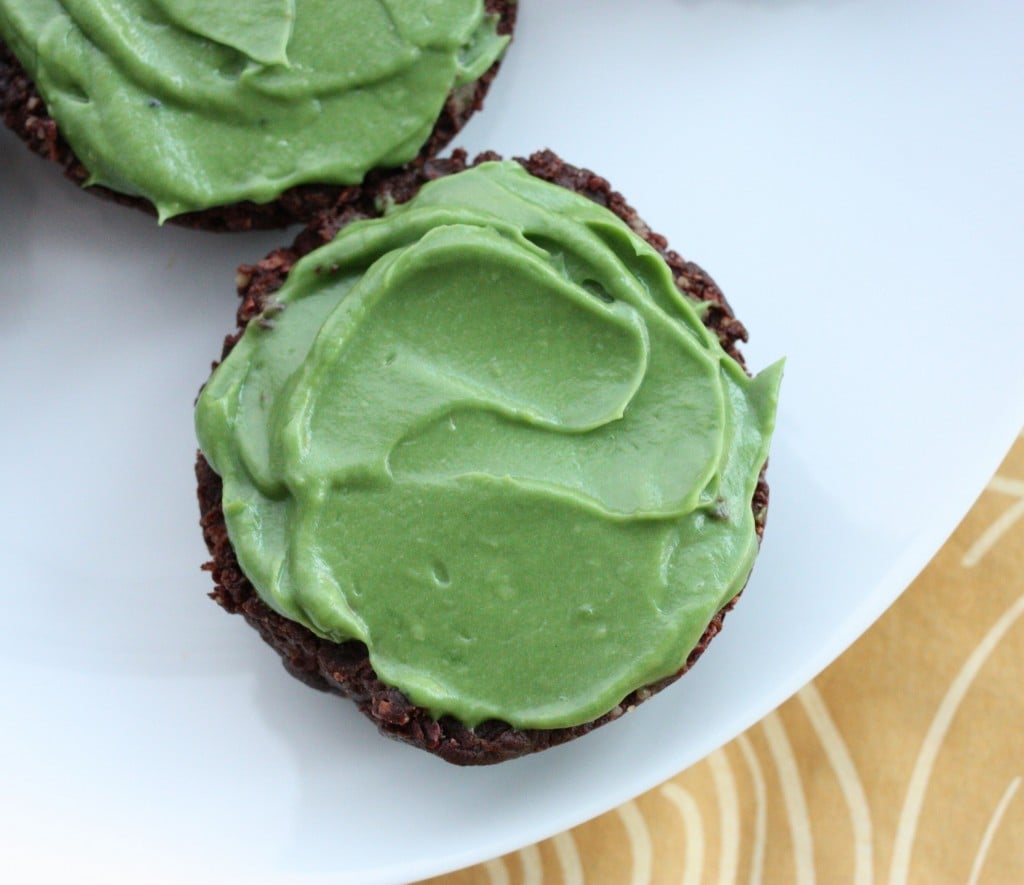 These cupcakes, by the way, are killer. So glad I made this recipe, which kind of came together on impulse. I'll be using it again for sure, possibly as cookies or even snack bites next time!
| | | |
| --- | --- | --- |
| Chocolate Cupcakes with Spooky Spirulina Frosting | | Print |
Ingredients
⅓ cup cacao nibs
Pinch sea salt
1 heaping cup raw walnuts
4 tbsp raw cacao or regular cocoa powder
1 heaping cup medjool dates, tightly packed and pitted
1 half recipe spooky spirulina pudding, above, prepared to be quite thick
Instructions
1. In a food processor fitted with the S blade, process the nibs, salt, walnuts, and powder till everything is quite well broken down (about 60-90 seconds).
2. Add the dates and continue processing till the mixture is starting to clump together (imagine you're making raw pie crust or cookies or snack bars).
3. Press the mixture evenly into 6 muffin/cupcake molds in a muffin tin. Let sit in the fridge for about 30 minutes.
4. Frost each cupcake with the spirulina pudding. Serve.
Makes 6 cupcakes.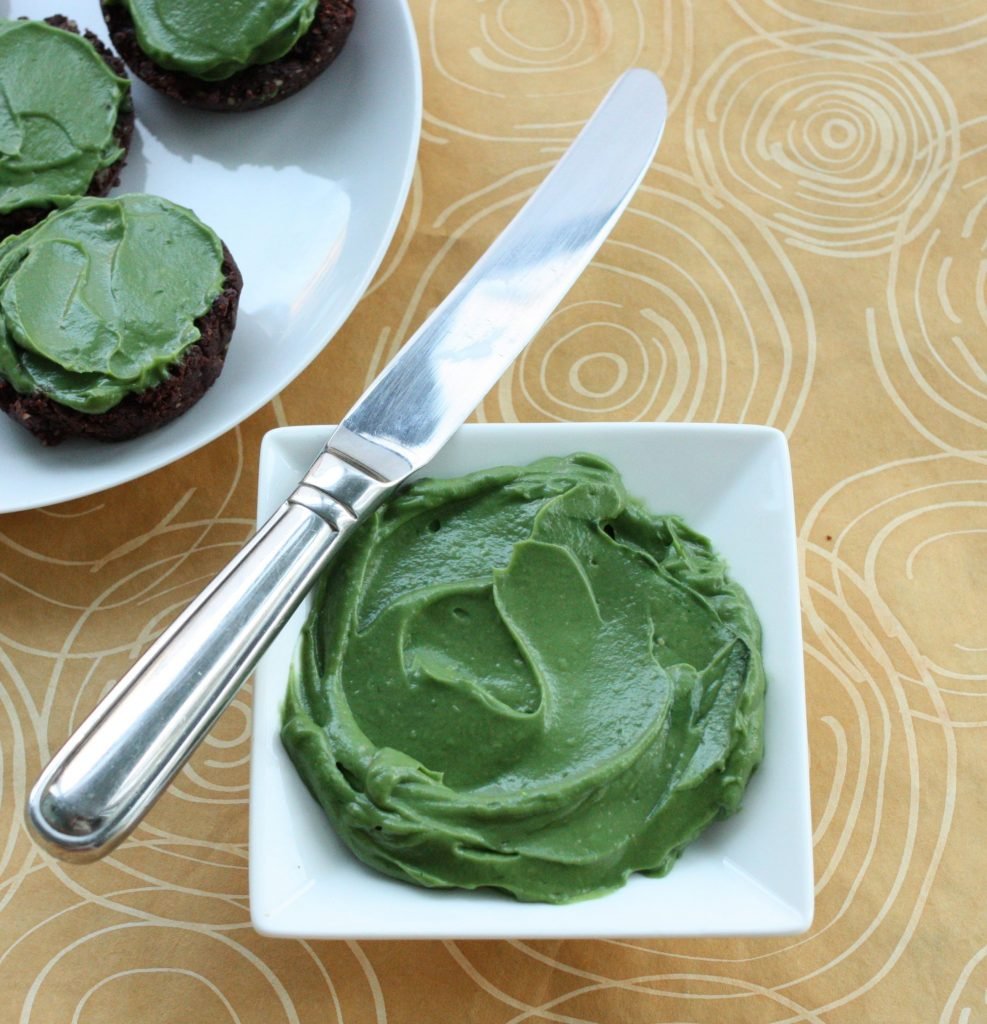 You can't be two sweet discoveries over the course of one single recipe excursion. I hope you'll be charmed by these cupcakes, whether you happen to make them for Halloween, or simply for fun!
xo