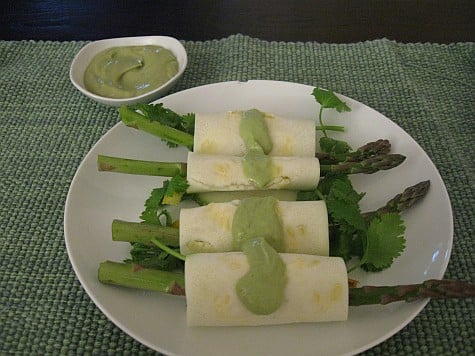 Hello friends!
Phew. I am so, so happy to report that I have just enjoyed a lazy Saturday. OK, well, sorta lazy: I did go for a run this morning and see a client. But otherwise? Nothing too ambitious: there's been some lying on my sofa, some cleaning of my kitchen, some reading, some shopping for groceries, some phone chatting, and, best of all, some time to uncook!
I confess: I don't deal well with a busy schedule. I can handle lots of work, but lots of social engagements tend to stress me out. I know, I know, this sounds totally ungrateful: how could I possibly complain about friends and work events and things to do? But the truth is, I'm a big fat homebody at heart. I'll almost always choose a homemade meal over restaurant fare, a quiet evening of movie renting over a cocktail party, or snuggling on the couch and gossiping with a friend over a big night out. So when I retreat from a busy week to a quiet weekend at home – even if I've got editing to do – it's with a sense of relief and delight.  And more than anything else, it's with tremendous anticipation to get back into my kitchen.
Today, I had some gorgeous late spring/early summer produce on hand from the farmer's market yesterday. It included:
•A fat, round-bottomed variety of summer squash
•Asparagus
•A bunch of tarragon
•A bunch of chives
•A bunch of spring lettuces
•Yellow pepper
The result? A light and tasty vegetable roll up.
This recipe was inspired by my friend Doris, a chef who makes tremendously tasty vegetable rolls with all sorts of ingredients. Tonight I used the round summer squash, sliced paper thin on a mandolin, as the roll "wrapper," just as I would use rice paper or nori. Here it is, ready to roll: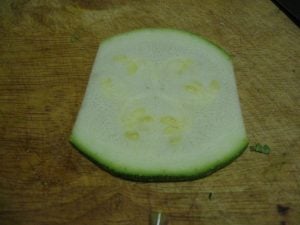 Next, I stuffed it with a single stalk of asparagus, a sprig of cilantro, a stalk of chive, and a slice of yellow bell pepper: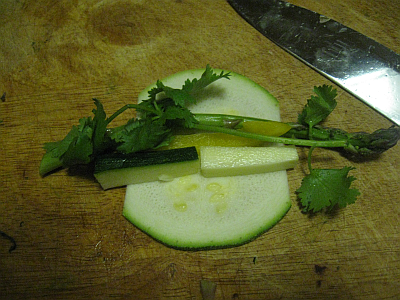 And rolled it up!
To serve it, I whipped up a clean spring dipping sauce. Avocado based, this is a tasty, lemony creation, delicately flavored with tarragon and chives. If you thin it with additional water, this would make a tasty salad dressing, too!
Tarragon Dipping Sauce (makes about  1 ½ cups)
Ingredients:
1 avocado
1-2 tbsp lemon juice
½ tsp salt
2 tbsp fresh tarragon, chopped
4 stalks chive, chopped
1 tbsp raw honey or agave
¾-1 cup water
¼ cup oil of choice
Procedure:
Blend all ingredients in a high-speed blender or food processor until smooth. Next, with motor running, drizzle oil in until mixture is creamy and emulsified.
To serve the rolls, drizzle them with the dipping sauce – and be sure to serve more alongside for the dipping action!
You could use many other veggies for the wrapper "rolls," naturally: cucumber, jicama, lettuces, collards, nori: there are endless possibilities.
Here they are, in all their glory: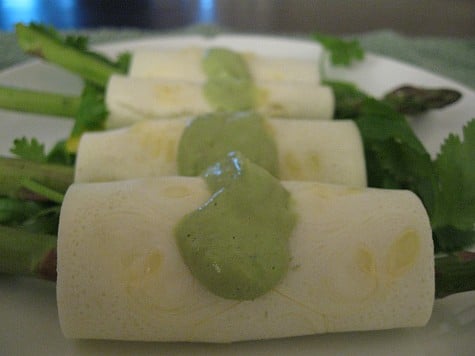 And here they are alongside my giant salad, which was a lovely combination of spring veggies, too: fresh lettuces, sliced zucchini, bell peppers, avocado, cilantro, chives, flax oil, and lemon.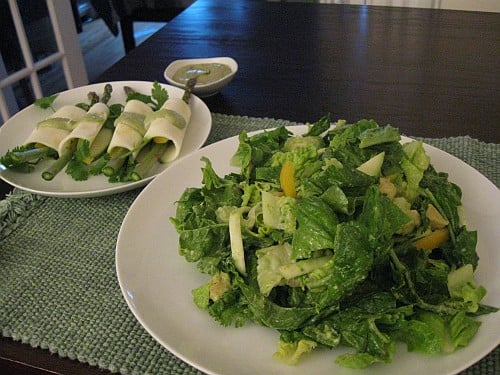 Yum.
I have some very exciting news to share with you all tonight! You may have already heard it from the lovely Gina, but here it is: a very special school is opening up in Oklahoma. It's an all-raw culinary institute! Founded by Matthew Kenney (of Pure Food and Wine fame) and Dara Prentice, 105 Degrees will be an oasis for the promotion of local, sustainable, and fresh ingredients. To learn more—or to enroll!!—visit the 105 degrees website. And check out the media coverage here.
I cannot tell you how exciting this news is! Raw foods are catching on, my friends. There are now 218 raw restaurants across the country, and now, with a culinary institute of this caliber to train aspiring raw chefs, there are sure to be many, many more!
On that note, I'm off to savor a quiet night at home. Ciao!
xo