Greetings, all!
I'm heading into a weekend of heavy exam prep, not to mention a bioinformatics project for my biochem class (if any of you happen to be experts on lysozyme, talk to me), so the next few days of eats—heck, quite possibly the next few weeks—will stay within our recent theme of fast, easy food.
Given that certain NY Times writers have recently been suggesting—a bit unfairly, if you ask me—that veganism is nothing but hardship, I hope these posts will feel like a timely alternative to that perspective. I hope they will remind you that a little enthusiasm and confidence can go a long way in inspiring others to respect and feel curious about veganism. I hope they will show you that even burnt out pre-med students and food bloggers who spend most of their time in the library can prepare healthy, beautiful, and flavorful vegan food in a flash. And I hope they will suggest to you that the challenges of transitioning to a vegan diet are rivaled–and hopefully surpassed–by the joys and pleasures of its food.
This tartine is incredibly easy to put together, but it looks and tastes sophisticated and special. I got the idea when Valerie told me that Le Pain Quotidien is now doing a pea hummus tartine; I've made pea hummus before (and loved it) but it never occurred to create a tartine from it.
Tartines, in case you aren't familiar, are simply open faced sandwiches with charming French names. They're the resident specialty at LPQ, and I often prefer them to sandwiches myself: they're prettier, for one thing, and they take long to eat, so I can savor them all the more. It is a fact of my ED history and recovery that I do enjoy savoring food slowly, and being a little ceremonious about it. Once upon a time, this felt like an extension of my obsessiveness, and on top of that I was creating elaborate games out of taking a long time to eat a very small amount of food. Nowadays, I'm eating quite a bit of food, and I'm no longer obsessing, but I am treating the act of eating with respect, consciousness, and gratitude.
But I digress. Tartines are fun, and this may be the first one I've posted here on the blog. For the bread, I used Ezekiel toast; as you know, this sprouted, yeast free, oil free, and added salt free (if you buy the low sodium variety) is my favorite bread. But you can use any bread you like: whole wheat bread from a local market; gluten free bread for my GF eaters, or one of my raw flatbread recipes will all be good.
The pea hummus, by the way, is a winner. I followed a very simple formula, not unlike any of my hummus recipes, but for some reason the peas add a magical sweetness, and they hint at springtime. Delicious.
Spring Tartine with Sweet Pea Hummus, Grilled Asparagus, and Lemon Zest (vegan, can be made gluten free, can be made soy free)
Serves 4
For the asparagus
1 small bunch asparagus, tough bottom ends chopped off
Coconut oil spray
Sea salt and black pepper
Prepare a grill or indoor griddle according to manufacturer's instructions. Grill asparagus for about 7-8 minutes, or until they're cooked through and have slight grill marks. Alternately, you can steam, bake, or sautee the asparagus according to your preferences.
For the sweet pea hummus:
2 cups garbanzo beans
1 1/2 cups green peas, lightly steamed (frozen is fine, but do steam them before using)
3 tbsp tahini
2-3 tbsp lemon juice (to taste)
1/2 tsp sea salt (less if either your beans or peas have been pre-salted; use judgment)
1 clove garlic
2 tbsp lemon zest
Water if needed, for blending
Optional: 2 tbsp chopped fresh herbs: parsley, dill, etc.
Using a food processor or high speed blender, blend all ingredients till creamy and smooth, using some water to assist in blending as needed. Taste, adjust seasonings, add herbs if you wish, and serve, topped with lemon zest!
For the tartine:
8 slices of Ezekiel (or other high quality, preferably sprouted) whole grain bread, toasted and edges chopped off if you want to be fancy
1) Spread about 2-3 tbsp hummus on each slice of bread.
2) Top each slice with a few pieces of asparagus.
3) Sprinkle each slice with lemon zest, and serve!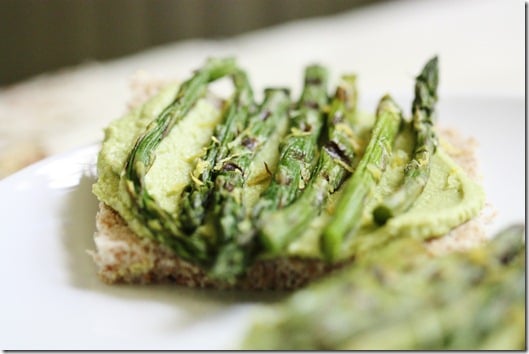 See? Easy peasy.
Sorry. Had to.
This recipe, like so many others, is a great example of how something elegant can come together with minimal fuss. If you're really pressed for time, make the hummus in advance, and on the day of preparing the dish, simply use a veggie that doesn't demand cooking, like cucumber slices, carrot slices, or red pepper slices, instead. The tartine will still be delicious, and it'll be all the faster to prepare.
I bid you go dive into a batch of new and exciting hummus. And good night!
xo