Welcome back from the long weekend!
In the last few weeks, a few of you have been kind enough to mention that you saw my new column in this month's VegNews magazine. Thanks for your support! The column, for those of you who didn't see it, was mischievously entitled "Steak and Potatoes." The "steak" in question was a juicy, marinated portobello, and the potatoes were whipped cauliflower and cashews. It's hardly a meal for a Peter Luger lover, but it is a savory, satisfying dinner. Best of all, it's simple. In the article, I point out the following:
"Most people approach their first all-raw meal the same way: they buy a fancy raw cookbook, purchase a ton of specialty products, spend hours prepping a meal, and think, 'I could never do this.' The trick to avoiding this commonplace scenario is to work intuitively. Focus on simple dishes that come naturally to you, like giant salads, blended vegetable soups, or nut pates. Work with flavors and textures that are familiar. Sure, sprouted quinoa and wheatgrass are lovely, but they're not necessarily the best place to begin."
This should sound like familiar advice by now: it's a point I try to make often here on the blog! But it's worth repeating, if only to persuade you all that eating raw foods–either frequently or once in a blue moon–shouldn't be too demanding. It should be fun, simple, and refreshing. Most of all, it shouldn't feel overly foreign; the key to transitioning into plant based foods (raw and cooked) is to evoke the qualities you've always loved in omnivorous cuisine, but with a herbivorous twist.
This "steak and potatoes" dinner is a perfect example of how simple it is for the newbie raw chef to bring to life some of the textures and tastes we associate with cooked food. It calls for easily obtained ingredients, and it takes no more than fifteen minutes of active prep time. I served the dish with some lightly steamed broccoli (which you could certainly top with some of Sunday's delicious cheese sauce), and I highly recommend you do the same!
Raw "Meat and Potatoes" (aka, Marinated Portobello Cap and Cauliflower-Cashew Mash)
Yields 4 steaks; cauliflower mash serves 6
For the "Meat"
4 Portobello mushroom caps
For the mushroom marinade:
1/3 cup olive oil
1/4 cup balsamic vinegar
1/4 cup maple syrup
3 tbsps nama shoyu
Sprinkle pepper
Submerge 4 Portobello caps in the marinade. 1 hour will be enough for them to be ready, but overnight in the fridge is even better.
For the Cashew-Cauliflower Mash
Ingredients:
2 ½ cups cashews, raw
1 tsp sea salt
2 tbsps mellow white miso
3 tbsps lemon juice
1 tablespoon olive oil
Pepper to taste
4 cups cauliflower, chopped into small florets and pieces
1/3 cup (or less) water
Place cashews and salt in a food processor, and process into a fine powder. Next, and the miso, lemon juice, pepper and cauliflower. Pulse to combine. With the motor of the machine running, add water in a thin stream, until the mixture begins to take on a smooth, whipped texture. You may need to stop frequently to clean the sides of the bowl and help it along.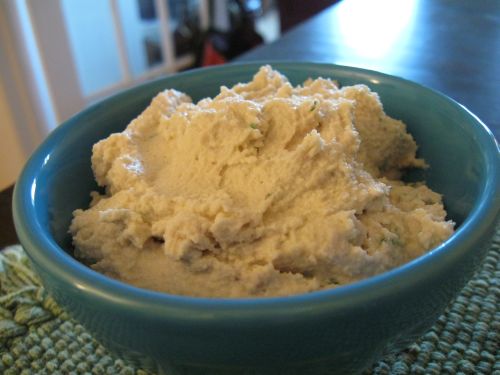 When it's to your liking, stop, scoop, and serve the mash alongside a Portobello cap and, if desired, some steamed broccoli.
There you have it, guys: a hearty dinner that's ready in no time. Perhaps this is a candidate for tomorrow's Raw Wednesday? I know I haven't always been able to remind you guys of the Raw Wednesday tradition, or to post photos on time, but I do still encourage you all to celebrate it and send me feedback: I'll get to photos at some point! Also remember to check out Katie's Vegan Thursday challenge.
On that note, it's back to work I go. Have a great afternoon.
xo