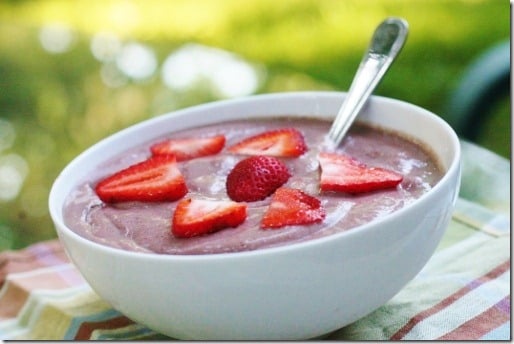 Well, guys, here we are. The day after. For me, summer starts today, now that my Gen Chem II final has come and gone. (Grades arrive tomorrow.) Do I feel terrible about it? No. Do I feel the way I hoped I'd feel after this class ended—that is, confident and proud? No. Those are sentiments I rarely feel in my post-bacc life. With any luck, I'll do decently enough to enter my two and a half week break with a clear conscience, and that will just have to be enough.
Next Thursday, I'll head to NYC for a week, where I'll naturally be blogging about my daily meals, adventures, and impressions of the city. You can expect a ton of dining out, because this blogger is aching for NYC restaurants! After that, it's off to Portland, OR, which some might call the vegan capitol of the world, for the exciting Vida Vegan Bloggers' Conference! The conference features an all star line up of some of the brightest and most talented vegan bloggers in the business, including many friends I've yet to meet in "real life." It will be a blast to send you live dispatches from the road! For the next week, though, it's all about rest: reading, relaxing, catching up on lost sleep, and cooking.
And it all begins with a smoothie.
For the last five weeks, I've been smoothie disabled. Each morning, I went straight from the gym to class, and so portable chia seed puddings were my reliable mainstay. On weekends, I was running hither and yon, and rarely able to enjoy breakfast at home. The upshot was that my smoothies—an early morning staple for me—were put on hold for over a month. Today, as I woke up and settled into the peculiar sensation of having time on my hands, I decided to celebrate with a creamy, nutrient dense morning beverage: my strawberry and pumpkin seed smoothie.
My friend Brendan is very candid about the fact that—in spite of what his success with Vega would suggest—his first shot at veganism was a bust. He was tired, weak, and missing key micro and macronutrients. Among these were iron and essential fatty acids, and one of the small changes he made to remedy his oversights was to add pumpkin seeds, which are good sources of both, to his morning smoothies. I often do the same: pumpkin seeds inexpensive, tasty, and add creaminess to smoothies in a totally whole food form. They're a nice break from nuts and nut butters, and they're quite a bit easier to make work in a student budget. Combined with summer strawberries and this: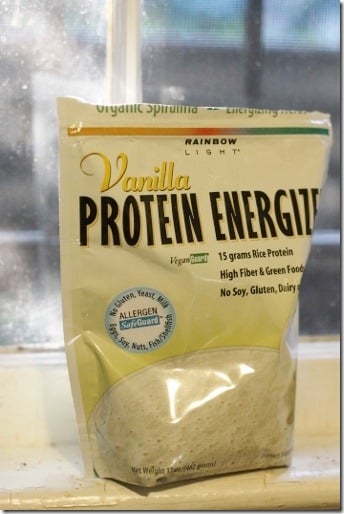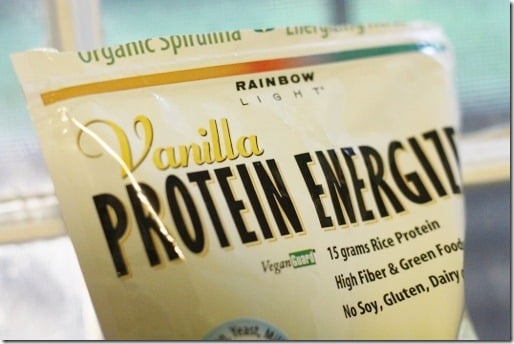 …which is one of my favorite new vegan proteins, it made for a delicious, vanilla flavored treat.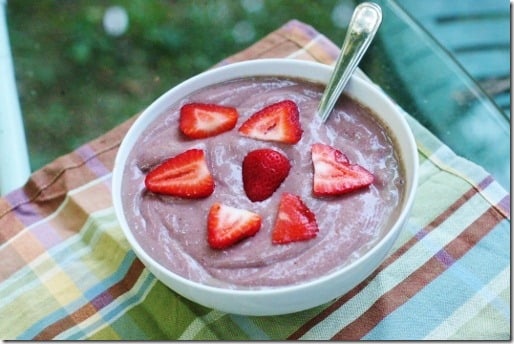 Strawberry Pumpkin Seed Smoothie (raw, vegan, gluten and soy free)
Serves 1
1 frozen banana
1 cup frozen strawberries
3/4 cup almond milk
2 tbsp pumpkin seeds
1 scoop vegan protein powder of choice
1 handful greens (I used baby spinach)
1 tsp cinnamon
Blend all ingredients on high till rich and creamy. You may need to add a bit more milk if you don't have a high speed blender! Top with fresh strawberries, and serve.
My smoothies are most definitely meal-sized, and always go in a breakfast bowl: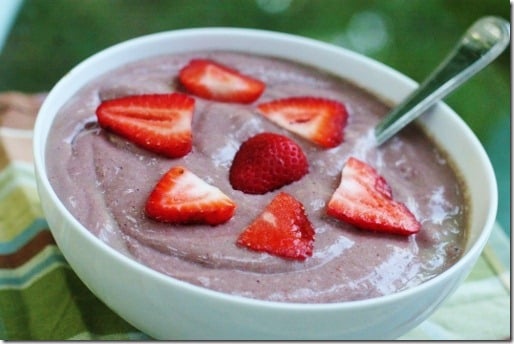 Heaven.
And now, it's back to clients and reading for me. But first, a winner of my "super giveaway!!" I got a total of 502 comments on this awesome giveaway, and am happy to announce a winner, generated by random.org.
The winner is…#347, the lovely Veronica of Happy By Nature!! When asked what she thinks about superfoods, Veronica said, "I am uberly in love with superfoods – healthy and wholesome, there is nothing better! My current superfood obsessions include chia seeds, hemp powder, and the classic quinoa. They are staples in nearly every meal I eat!"
Veronica, I'm thrilled to help you deepen your superfoods love affair!! Please email me so that I can send your grand prize

xo