When life gives us loss, or so the poets say, we learn to take strength in what remains. Life hasn't given me losses this week—if anything, it's given me a lot to be grateful for. But I have lost temporary access to all of my worldly goods, which are boxed up and waiting for takeoff on Saturday morning: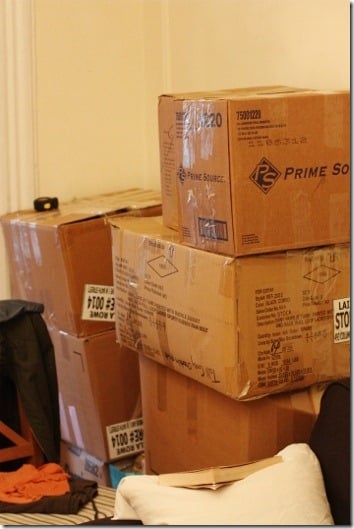 I have also lost my bedframe, which doesn't fit in my new apartment:
My kitchen cabinets are so bare, it breaks my heart to open them:
…and all of my favorite foodstuffs are waiting to be packed into the trailer. All, that is, except for the few things I saved for exactly 1 smoothie tomorrow morning: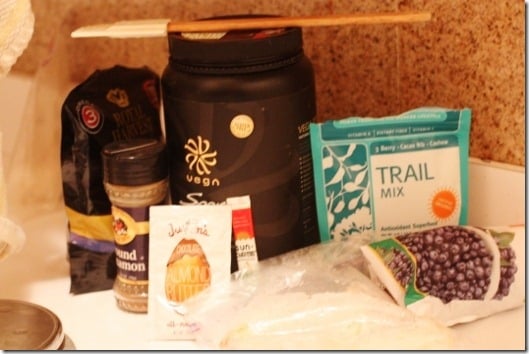 (Justin's almond butter, cinnamon, frozen blueberries, frozen bananas, the last of a carton of Vega, flax meal, and some Navitas Naturals trail mix to layer on top)
…because you know that this is the last item I will pack:
In this peculiar moment of transition, I'm trying to take strength in ritual and constancy—the things in my life that tend not to change very much. For example, my love of Joe coffee:
Or the fact that, when I found one of my oldhigh school uniform skirts (please, don't ask me why I still own this. There is no good reason, and certainly no tawdry one. I promise):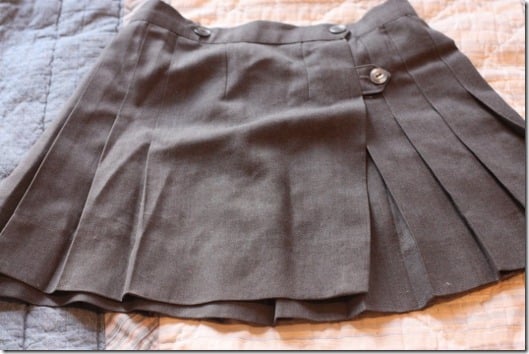 …it definitely had coffee stains on it. The habit started young.
I take comfort in my Eat Raw, Live Long shirt, which I'm wearing on the day of the move because I think it's a lucky shirt. Even if I wore it on the day of my finals and I don't think it was very lucky: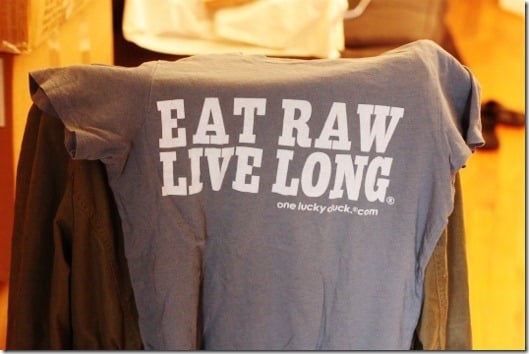 I take comfort in my polar fleece snowflake pajamas, even if the very idea of polar fleece makes me sweat right now:
and in my beloved little netbook:
…and in Joshua:
I take comfort in reading, even if I've only been able to squeeze in ten minutes here and there this week:
(The Cure Within, Anne Harrington's wonderful history of mind/body medicine)
I take comfort in the fact that no matter what, I know how to laugh at myself.
For instance, I got a nice chuckle out of finding some ancient wardrobe items. GIANT HOT PINK SWEATER, anyone?
How about a little sequin action?
Or a really, really tiny tank top that actually could pass for lingerie?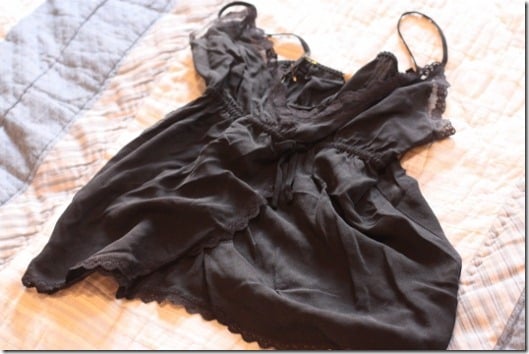 (I would like someone to tell me please when I wore something this skimpy in public. For real. Chlo?)
Most of all, I take comfort in the company of good friends and in good food, which are my two biggest pleasures in life. If we're on the topic of the familiar, the constant, I can't help but think of Candle Café and Candle 79, which have always been culinary havens for me (fact: Candle Café was my first all vegan restaurant meal). Lucky me, as part of my NYC dining bucket list, I've visited both outposts of the wonderful Pierson/Potenza enterprise in the past week. First, on Saturday night, my family and I dined at 79, where I began my meal with the seaweed salad:
(carrots, radish, edamame, seaweed, cabbage, and a miso lemongrass dressing)
…dug into a second appetizer of grilled artichokes and asparagus with onion rings, grape tomato salad, and basil lemongrass dressing:
And then had the raw "enchiladas," stuffed with cashew cheese and covered in guac, as my entrée:
…hidden under a mess o' green:
What a wonderful send off dinner!
Today, I enjoyed a more casual meal when I met my good friend Chris for lunch at Candle Café. The menu, we both noted, is overwhelmingly good, but I narrowed it down to a giant green juice:
…spring rolls, stuffed with avocado and veggies and served with a spicy peanut dipping sauce:
…and the crunchy live sprout salad with carrot ginger dressing:
Chris, for his part, went with a wheatberry salad:
And the famous paradise casserole, which rocked his world: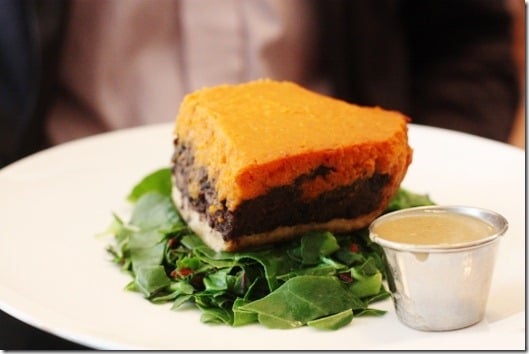 I love how food can be an anchor of stability in times of change, how familiar flavors and textures and tastes remind us that life's simplest pleasures are unchanging.
What do you rely on as a constant in your life? What habits never change?
I'm off to see if I packed all the dark chocolate.
xo