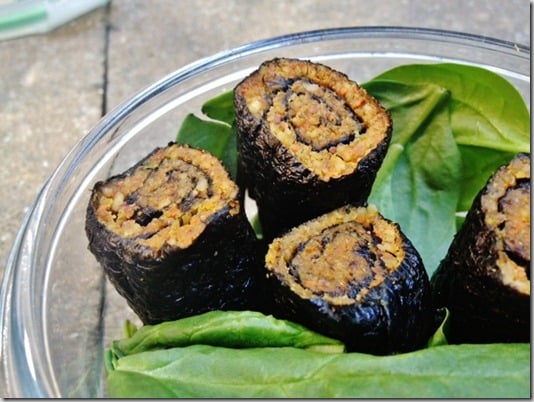 A long, long time ago I posted a recipe for raw nori cigars with gingery sunflower seed pate. They were based upon a favorite snack of mine from Bonobos vegetarian in New York, which is now closed (sadly, I might add: it was one of the best and most reasonably priced raw/vegan eateries in Manhattan). When I posted that recipe, a few readers asked whether I had considered dehydrating the rolls to resemble some of the popular dehydrated nori snacks that inhabit the packaged raw foods marketplace. I hadn't, but the idea has stayed with me for a long, long time.
Last week, I tried my hand at dehydrated nori roll ups. I love what resulted. If you take the dehydration process out of this recipe, it's as simple as making an almond pate, really, with a little rolling thrown in. Because the dehydration process doesn't totally zap the rolls of all moisture/pliability, I think you should store them in the fridge, but they lasted quite a bit longer than regular raw nori rolls would have. Moreover, one of the big issues I find with regular raw nori rolls is that they can get soggy overnight, and even fall apart in a student lunchbox. Not so with these! They were a cinch to pack up, and stayed perfectly intact till lunchtime, when I enjoyed them with a small salad, fruit, and some trail mix.
As you can see, I was eating al fresco between classes! And as you can also see, these guys are so good that I had already snatched two up before I remembered to get an iPhone shot for the blog:
Here's how to perfect these guys on your own:
Easy Almond Ginger Nori Snacks (raw, vegan, gluten free)
Makes about 6-8 rolls, or 30 pieces
1 1/2 cups almonds (dry)
2 medium carrots, chopped into 1 inch pieces
1/2 medium zucchini, chopped into 1 inch pieces
1 tbsp tamari
1 scant tbsp minced ginger
Water
3-4 sheets nori
1. Grind dry nuts in a food processor fitted with the S blade till the mixture is ground into a fine meal.
2. Add the ginger, tamari, carrots and zucchini. Pulse until the veggies have broken down into small pieces (about the size of rice).
3. Now, let the motor run, and add water in a thin stream just until the mixture is spreadable, but not watery. It should be comparable to hummus or any other nut pate.
4. Cut a sheet of nori in half. Spread each half with about 1/4 cup almond mixture. Using a knife or spatula, spread the pate in a thin, even layer over the nori.
5. Beginning at the long end of the sheet, roll the nori carefully up to make a roll. Seal edges with a bit of water.
6. Keep working with all of the nori, until you've got about 6 or 8 rolls. Cut each into 4-5 pieces and place in a dehydrator at 115 degrees for 6-8 hours, or overnight. Store in fridge; they should last a good 5 days at least!
These make a fantastic, portable snack, and they're a lovely break from all the date and raisin and dried fruit flavored snack bars I eat as a student! Plus, they're a great way to get your iodine on. Hope you enjoy them, and stay tuned, because they've sparked ideas for many other nori snacks to come.
I'm just back from a somewhat tiring weekend of travel (by bus and car) from DC to upstate NY. But the reward of that journey was my stepsister Katie's beautiful wedding. Katie has always been tasteful, generous, and cool, and those qualities were writ large in her ceremony, which took place against a lot of natural beauty: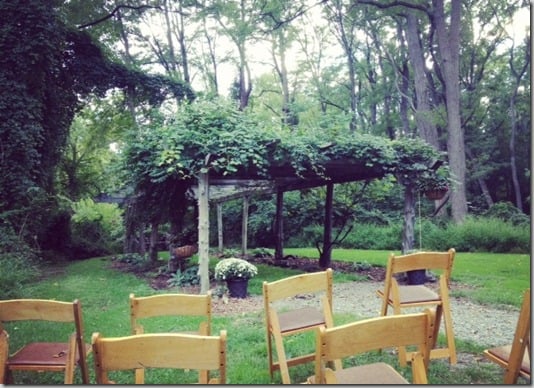 I'm so happy for her!
See you back here tomorrow,
xo