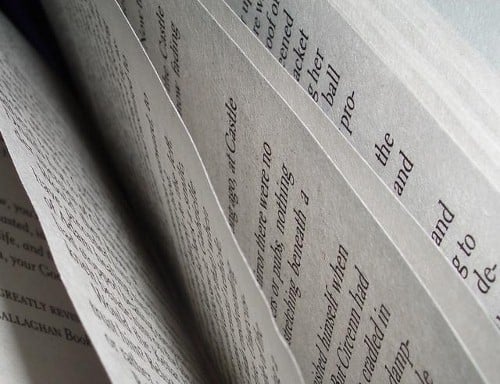 In the nearly two years I've been blogging, I've rarely written about the thing that, until this week, occupied nearly all of my time and energy. It wasn't food, it wasn't nutrition, and it wasn't blogging. It was book publishing. For six years, I worked at FSG book publishers in New York, first as an editorial assistant, and ultimately as an associate editor. I lived and breathed the industry, and if you'd asked me a few years ago whether I'd ever consider leaving, I'd have said "no" in an instant. Life is nothing if not surprising.
I'm not quite sure what I'm hoping to achieve with today's post. A glimpse into the publishing world, perhaps? A farewell tribute? A slice of memoir? Probably all of these things. A lot of you guys have asked me about what it's like to be an editor, and I suppose that I'd like to give you a sense of the hard work that goes into making books. As bloggers, we have at least a passing appreciation of the written word—for most of us, it's a lot more than passing—but even devoted readers fail to consider the sheer amount of work that happens before you turn the first page. Multiple rounds of meticulous copyediting, decisions about minutiae of font, spacing, and page layout; binding, printing, and shipping; and, of course, there are the weeks and months—sometimes even years—in which an editor and her author transform a rough manuscript into a polished novel or biography or work of narrative nonfiction. (All this for scant pay, long hours, and the challenge of remaining intellectually engaged at all times.) Publishing ain't easy, and we readers are deeply indebted to the editors and production editors who labor behind the scenes of glossy covers and Kindle downloads.
The life of an editor, though, extends far beyond production schedules and red pencils. Publishing is and always has been a lifestyle: a culture shaped by the tastes and sensibilities of people who love to read. Flip through any literary memoir—especially those written in the 60s and 70s—and you'll hear references to the golden days and grand old days of publishing, the days of three martini lunches, parties that lasted until some famous literary persona or other had passed cold, and infamous liaisons between editors, agents, and writers. Times have changed, and lunches have gotten more sober, but publishing remains touched by the promise of glamor, gossip, and intrigue. For most of the young people who know the world of letters well, and vow to infiltrate it, that glamor is a part of the dream.
As I consider my choice to leave the industry, it occurs to me that I both did and didn't fit into this culture, and perhaps that's why it hasn't been more difficult for me to leave. I started to sense that the young people who seemed happiest working in publishing were people who wanted their careers to envelop their personal lives, too. I do want my career to envelop my personal life, but the problem was that I had another burning passion in the form of health care that took up a lot of the space publishing fought for. What occupied the corners of my mind when I wasn't working wasn't book talk or book functions or even scheming about how to find the next big writer; it was veganism, and health. This doesn't mean I don't care deeply about books and reading; it simply means that my passion for literature turned out to be a personal passion, rather than the passion that would encompass my professional life. Health care, on the other hand, moved from the periphery of my professional life into the center.
In my last two years as an editor, it became easy to take for granted much of what makes publishing great. I think that what I really hope to resolve with this post is my feeling of appreciation for the best of what publishing gave me; for the moments in which it met and then surpassed my wildest dreams. What makes publishing great is the challenge of putting a pencil to paper, and editing a book. It's the trickiest puzzle you've ever solved, and also the best. It's the joy of meeting a famous writer whose work you've always revered; the tremble of your hand as you reach in to shake his. It's the joy of being surrounded, day in and day out, with words.
Most of all, it's the joy of working with people who care about books as deeply as you do. Growing up, I felt—as I think many quiet and readerly types do—an occasional sense of unbelonging, a premonition that the things I loved most were a little different than the things that other kids my aged loved most. They loved games and sports and summer camp and birthday parties; later on, they loved house parties and dances and youthful misbehavior. I just really loved books, and the things that live in books: ideas, representations of human character, portraits of love and tension and tragedy and loss. These ideas and sketches of the human experience occupied every inch of space in my consciousness at any given time. I didn't think I was any better than my peers for liking things that seemed so intangible; if anything, I sometimes found my preoccupation with fiction a little isolating. I didn't know a great many others my age who felt that way; only a few dear friends in high school, and only a few in college.
And then I started working in publishing, and they were everywhere. All around me were men and women who felt exactly as I did about books and art and ideas. It was the thing we all all strive for in our younger years—a sense of belonging—writ large in every handshake, every new person I met, every email I exchanged. We were young, we were brimming with passion for books, and we were infatuated with the people who made them. We were hungry, determined, and undeterred by the prospect of abject poverty. We were entering an industry that everyone said was dying—really, we were the last generation to enter book publishing as it existed before e-books and social media—and we didn't care. We were going to publish books, and those books were going to be famous.
Plenty of things changed for me as the years went by. I got tired of the meager paychecks; the weekends spent at home with manuscripts as my friends frolicked at parties or weekends away; the pretentions; the feeling that I was doing something intellectually rewarding that nevertheless had little impact on the world. It's hard to publish books and watch as no one buys them; it's hard to watch an art form be assaulted by the march of technology. I got into publishing because I believe that art improves the world, and I still do, but I've also been lured away by the sense of satisfaction that comes from having a direct impact on another person's life. Counseling reminded me how good it feels to help others, and I hope that medicine will keep that feeling alive. In some ways, I resent myself for choosing that kind of direct reward over the thankless labor of bettering the world through the written word; if I don't do it, who will? Will the novel really die? Who will still be buying books in a decade, and if the numbers are declining, will I blame myself for having given up the fight? Maybe. But I know that there are great young editors still at work–truly, the best and the most energetic and the brightest–and that they'll keep the flame alive.
And so, as I begin a new chapter of my life, I bid goodbye to this one. Goodbye to the smell of freshly bound books and catalogs. Goodbye to book chatter over drinks and lunches. Goodbye to late night parties, laced with sexual intrigue. Goodbye to intense, exhilarating conversations about art and ideas with wide eyed peers. Goodbye to the starstruck awe we felt when a famous author entered the room; goodbye to the touch of a red pencil between my fingers as I sat down to edit a page. Goodbye, goodbye to all that. And thank you, publishing world, for a great six years. Until we meet again.
xo