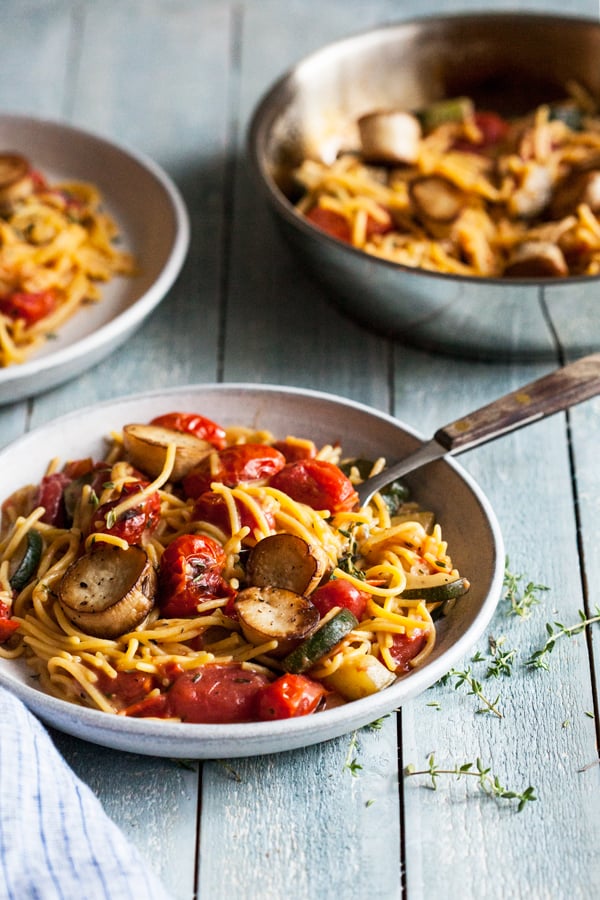 Tomato season is finally here, and I'm cheering for its arrival. My mother always likes to remind me that tomatoes were my favorite food as a kid; I couldn't get enough of them then, and apparently I still can't. I eat tomatoes almost ceremoniously when they first show up at the farmer's market, sliced and with nothing but a sprinkle of flaky salt. Sooner or later I start to put them in everything I'm cooking, and this summer pasta with mushroom scallops, burst cherry tomatoes & zucchini is my first tomato-infused meal of the season.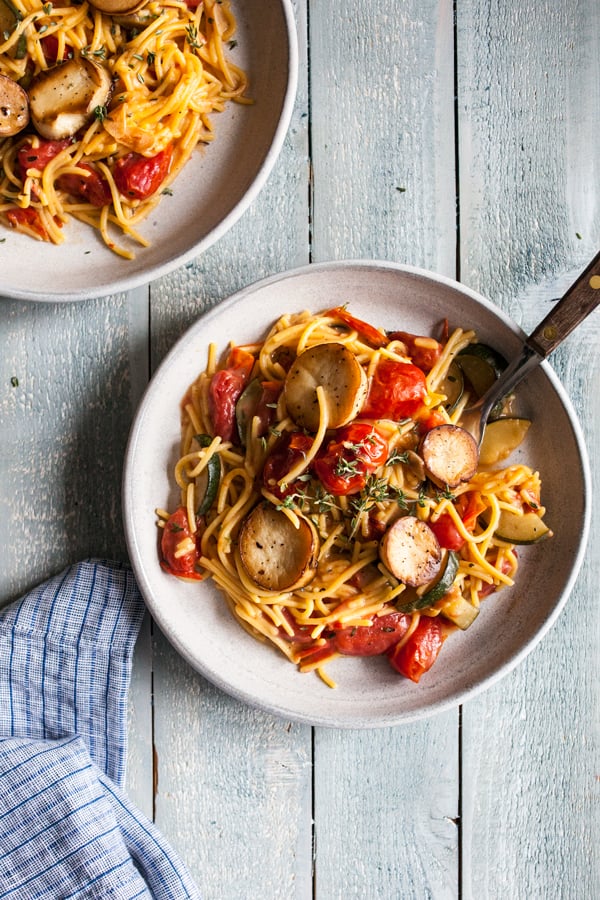 Earlier this winter, I shared another pasta dish that I had created with the help of the Lagostina 5-quart Nera casserole. It was my first chance to get to know the Lagostina products, and I loved what I saw and worked with.
Lagostina is an Italian company that has been creating high performance, durable, affordable cookware for over 100 years. Its latest offering is the Luminosa 11-Piece Cookware Set, a durable, classic line of stainless steel cookware. The pieces are beautiful, and they served me well as I was creating this summery recipe. At the end of today's post, I'll be offering one reader a chance to welcome the 11-piece Luminosa set into his or her home!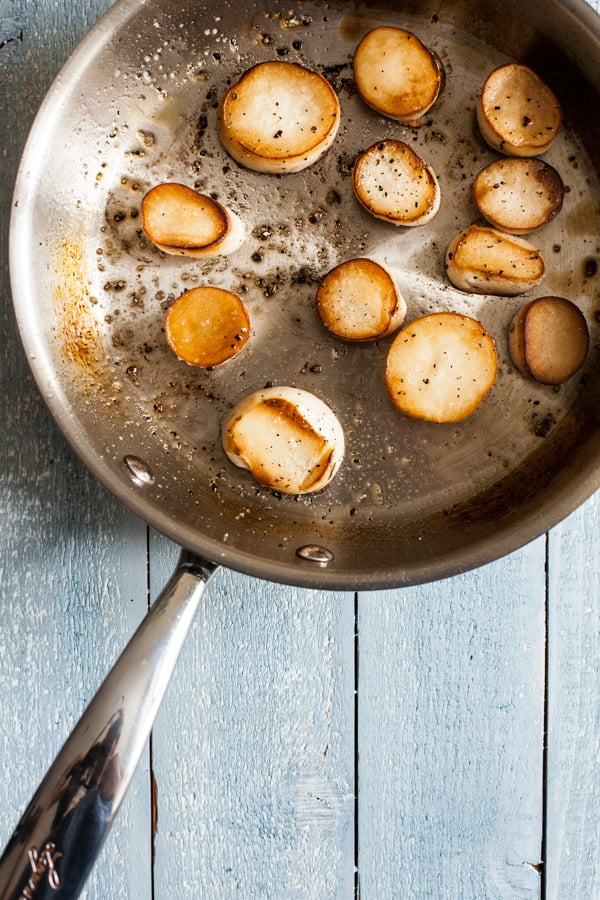 The Luminosa cookware features the durability of stainless steel, along with heat-resistant handles to help prevent kitchen burns and mishaps (the handles are riveted to the pans for extra sturdiness). The pans and pots feature hammered lids that help to keep moisture in food and are also really pretty: the cookware can definitely double up as a serving piece if you're sharing with friends.
The cookware set is all dishwasher safe, oven/broiler safe to 500F, and the 3-ply bonded base is compatible with all cooking surfaces, including induction. The pieces have an aluminum core that allows them to heat up fast and cook evenly. I used the small frying pan to sear my trumpet mushroom "scallops," and I was thrilled at how quickly and consistently they browned up.
The Lagostina brand celebrates food as an art and an act of sharing, and they recently invited bloggers to create al fresco recipes inspired by the air, the sea, and being outdoors. I wanted to put a vegan spin on a classic seafood dish, so I decided to try making mushroom scallops for the first time. I've seen them on blogs and restaurant menus, but this was my experiment with making my own. Verdict: easy!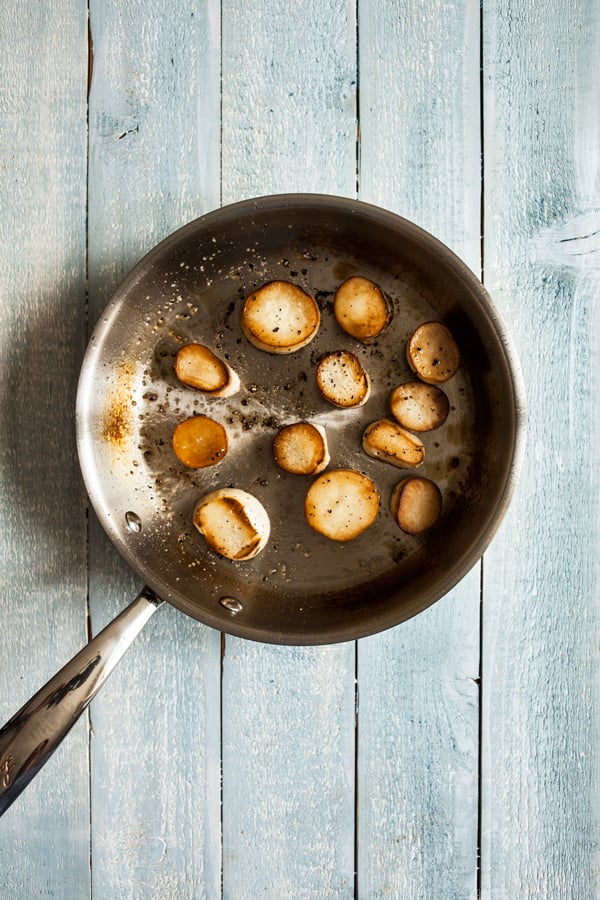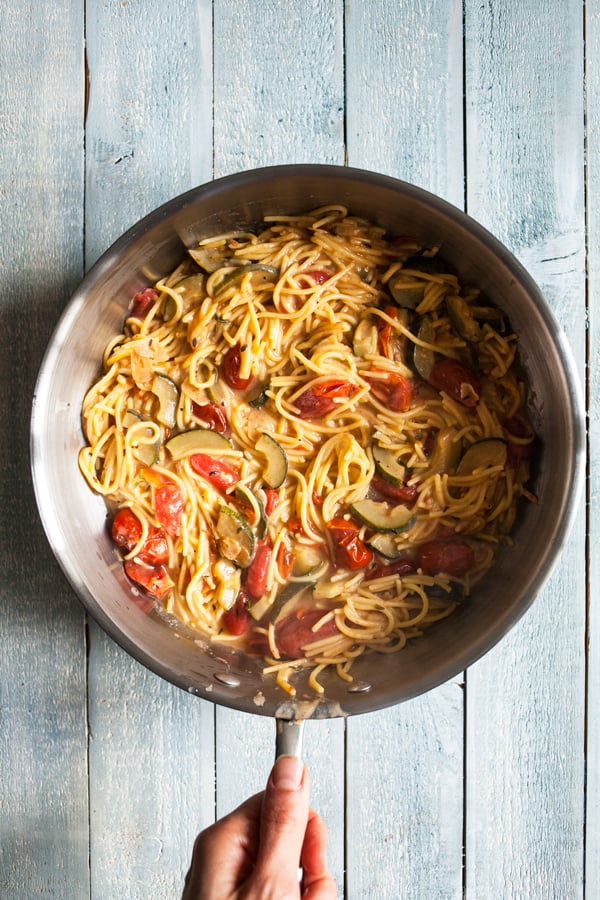 You can use the thick stems of either oyster or trumpet mushrooms to make the dish. (There will be some variation in size, which is fine.) Once you cut them (about 1-inch thick), you simply sear them up with olive oil, salt, and pepper, then prepare the pasta (or whatever main you're creating) and layer them on top.
I kept things super simple for the pasta: cherry tomatoes, garlic, zucchini, and a splash of balsamic vinegar at the very end. With really juicy tomatoes, the pasta doesn't need any additional sauce, because the tomatoes will burst in the pan as they're heated and release plenty of sweet liquid. I added a bit of pasta water at the very end of cooking to create a creamy texture and bring everything together (the photo on the right, above, was taken just after I added the pasta + cooking water to the veggies).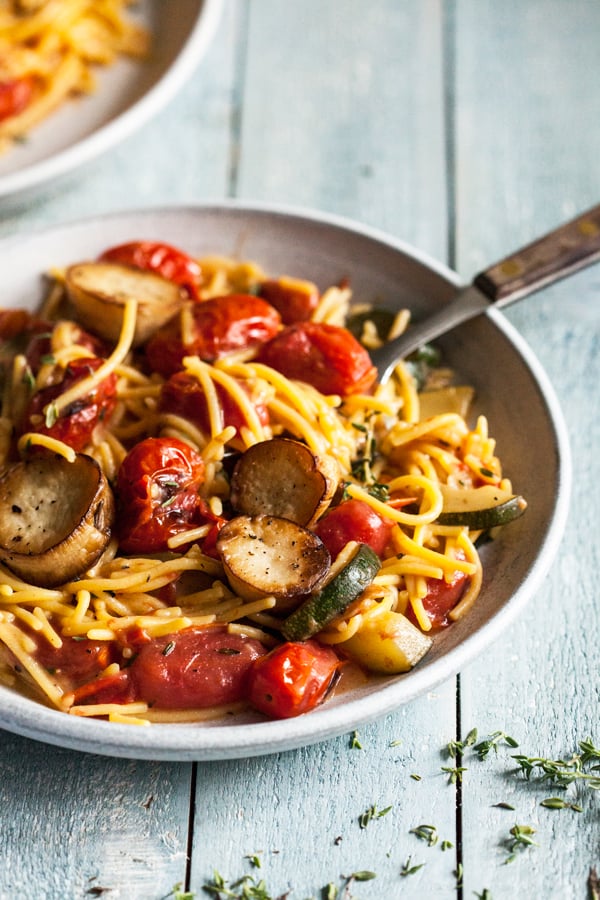 This dish would also be great with fresh corn, once it's in season. I used oregano and thyme for seasoning, but fresh basil and parsley would make nice additions, too. Once the pasta is ready, you can finish it with a drizzle of good, syrupy balsamic and some vegan parmesan or some of my hempesan.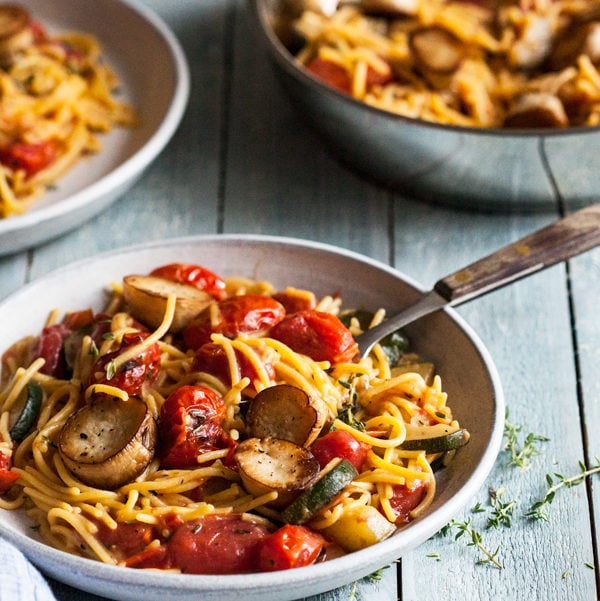 Summer Pasta with Mushroom Scallops, Burst Cherry Tomatoes & Zucchini
Author -
Stems of 4-6 king oyster or trumpet mushrooms

cut crosswise into 1-inch slices (you should have about 16 pieces total)

2

tablespoons

olive oil

divided

Kosher salt and freshly ground black pepper

1

pint

cherry tomatoes

10-12 ounces

2

tablespoons

fresh thyme leaves

or 2 teaspoons dried thyme

1

tablespoon

fresh oregano

or 1 teaspoon dried oregano

3

cloves

garlic

sliced very thinly

1

medium or small zucchini

cut in half lengthwise and sliced into half-moons about 1/2-inch thick

1/2

teaspoon

fine salt

or to taste

8

ounces

spaghetti of choice

or another pasta shape

Balsamic vinegar

Vegan parmesan or hempesan

for topping (optional)
Bring a large stockpot of generously salted water to boil for the pasta.

While the water is heating, heat 1 tablespoon olive oil in a small frying pan over medium high heat. When the oil is shimmering, add the mushroom slices and sprinkle them with a pinch of kosher salt and a few turns of black pepper. Cook for 3-4 minutes on each side (adding salt and pepper to the second side once you've flipped), or until both sides are lightly seared. Set the mushrooms aside.

When the pasta water is boiling, add your spaghetti and cook according to package instructions. When the pasta is al dente, drain it, reserving a cup of the cooking water.

Heat the other tablespoon of oil in a large skillet or roomy pan over medium high heat. When the oil is shimmering, add the cherry tomatoes, thyme, and oregano. Allow the tomatoes to sear gently, stirring them every minute or so. When the tomatoes are blistered (4-5 minutes), reduce the heat to medium low. Continue cooking for another 4-5 minutes, or until the tomatoes are bursting and juicy.

Add the garlic and zucchini to the pan, along with the salt and a few turns of freshly ground black pepper. Cook the zucchini and garlic for 3-4 minutes, or until the zucchini is tender. Add the spaghetti and 1/2 cup cooking water to the pan. Stir everything and continue to cook for another 2 minutes, or until the pasta is creamy and evenly mixed up with the tomatoes and zucchini. Add a splash of balsamic vinegar; taste the pasta and adjust the vinegar, salt, pepper, thyme, and oregano as needed.

Divide the pasta onto plates and serve with parmesan or

hempesan

, if desired.
If you've been looking for a cookware set that's versatile, beautifully constructed, and oven-safe, this is your chance to experience the Luminosa set firsthand. The 11-piece set offered in today's giveaway includes
1.6 qt. saucepan with lid
2.4 qt. saucepan with lid
3.2 qt. saucepan with lid
6 qt. stockpot with lid
Steamer insert
8″ fry pan
10.25″ fry pan
Everything you'll need to create many plant-based feasts at home! You can enter to win below. The giveaway is open to US entries only, and I'll be picking a winner two weeks from today (July 12th).
And if you'd like to learn more about the Luminosa cookware set, it's available for purchase at Bed, Bath, and Beyond.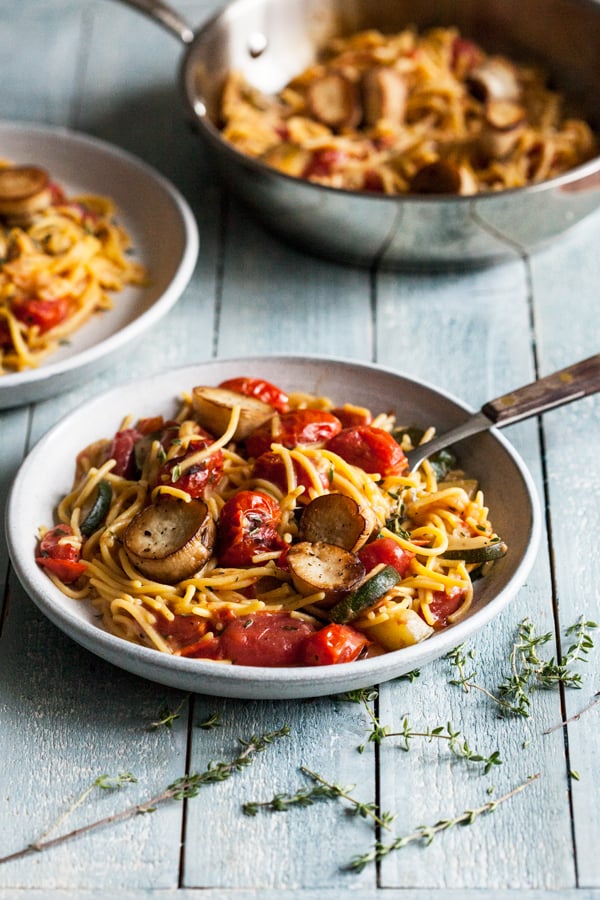 Now that I've tried them, I definitely understand why mushroom scallops are so popular: they have a great, toothsome texture, and they crisp up nicely on the outside while remaining tender on the interior. You could add them to any vegan dish for substance and flavor–I'm thinking they'd work well with risotto in the winter, or served over my garlicky edamame mash.
Enjoy the pasta, and good luck with the giveaway! See you for some weekend reading 🙂
xo
This post was sponsored by Lagostina USA, who provided me and a giveaway winner with a Luminosa cookware set in exchange for the post. All opinions are my own, and I love this elegant cookware. Thanks for your support!