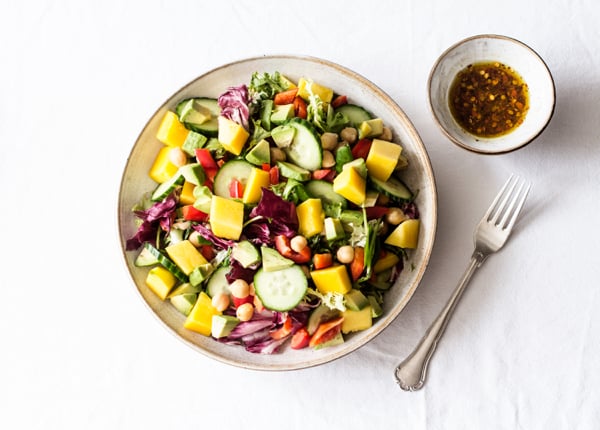 It's another scorcher here in DC. Temperatures like this tend to diminish my appetite for cooking, but they don't dampen my enthusiasm for salad. This summery salad with mango, cucumber, avocado, and curry vinaigrette is a perfect antidote to all of the heat, and it's also a wonderful medley of flavor and color.
A few years ago, I confessed to a raw foodist friend that I didn't much care for mango. She looked at me as if I'd just confessed to disliking babies or puppies. "I know," I said. "I'm pretty weird about fruit."
It's true: I disliked most fruit as a kid, and to this day I have certain strange aversions. I like to think, though, that blogging has opened me up to more fruit and helped me to expand my tastes. Green smoothies encourage me to eat more pineapple and citrus, and lately, I'm loving cherries as a mid-morning snack. Most shockingly of all, I'm really warming up to mango, so long as it's fresh and ripe, and now's the right moment in the year for it.
Not surprisingly, I suppose, the way I learned to love mango was by throwing it into my meal-sized salads. (I wonder if you could persuade me to eat just about any food by putting it in the right salad? Probably.) This mango and avocado kale salad is now a favorite of mine: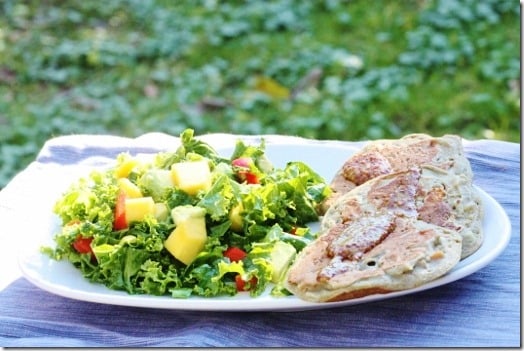 …and I recently made a spicy mango and tomato salad that I loved, too. Today's salad—a random mix of greens, mango, red pepper, and a curry dressing that brought it all together beautifully—is my new favorite, and I hope it'll be one of yours, too.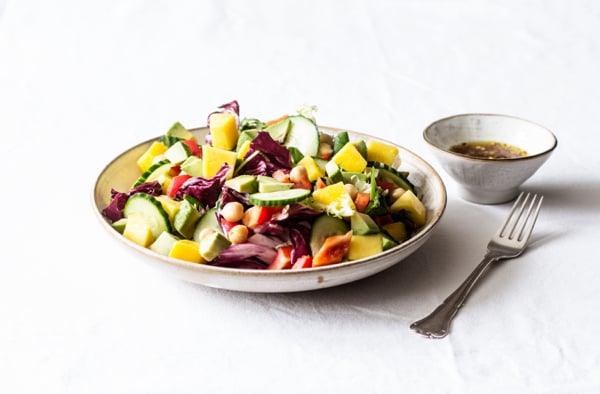 Summer Salad with Mango, Cucumber, Avocado, and Curry Vinaigrette
Cuisine:
vegan, gluten free, soy free, nut free
Author:
Prep time:
Cook time:
Total time:
6 loosely packed cups baby greens
1 cup diced, ripe mango (about 2 ataulfo mangos, peeled and diced)
1 cup diced red bell pepper
1 1/2 cups cooked chickpeas (1 can chickpeas, drained and rinsed)
1 cucumber, sliced thin into rounds
1 avocado, pitted and cubed
For the curry vinaigrette:
4 tablespoons olive or avocado oil
2 tablespoons apple cider or rice vinegar
1 teaspoon curry powder
2 teaspoons maple syrup
1 clove garlic, crushed
1/4 teaspoon salt
Crushed red pepper flakes
Mix all salad ingredients together in a mixing bowl.
Whisk together dressing ingredients. Mix the salad well to dress, then season as needed. Serve.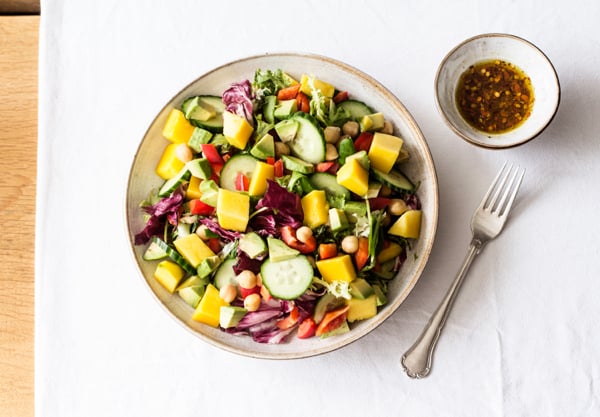 Such a burst of color!
This salad would be a really good appetizer for summer dinner parties, as well as a good weekday lunch. If serving as a meal, I'd suggest serving with some of your favorite raw crackers (I'm working on a flax cracker recipe this week, so I've been going through tons; that was my side dish!), some seared tempeh for extra protein, or a small fruit smoothie as a nice and refreshing dessert.
Happy munching to you all, and see you here tomorrow.
xo
Images for this post updated in January 2017, courtesy of Lighter.