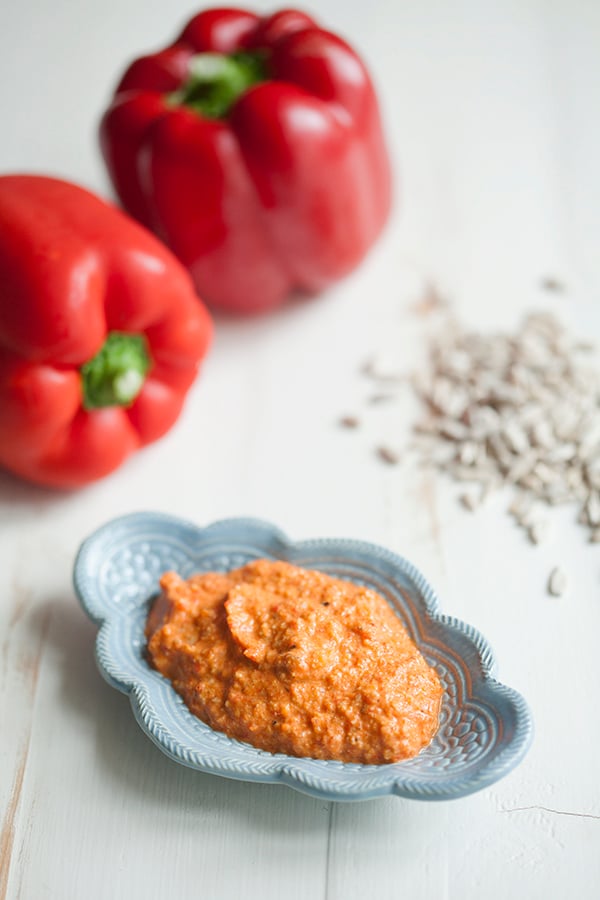 I have a friend, a friend who is also a food writer and a vegetable enthusiast and a yogi. The first time she and I met, we ended up having a fifteen-minute conversation about sauce. We got on this topic because we'd been on the topic of bowls and how great they are (yes, we are every bit the food nerds that this anecdote would suggest). This created a natural segueway to sauces, because let's be real: without a good sauce, most bowls are worthless.
Normally, when I wax poetic about sauce, I'm thinking of all things tahini and miso and sesame and curry. But there are a lot of herb- and vegetable-based sauces, I love, too: pesto, chimichurri, and sunflower-ranch, to name only a very few. Romesco is one of my all-time favorite sauces, and it deserves a place on this list, too.
This is the first romesco sauce I've posted on this blog, and it is a keeper. Romesco sauce, which originated in Northeastern Spain, is traditionally prepared with roasted peppers, almonds, pine nuts, and/or hazelnuts, garlic, and oil. This version is nontraditional because I use sunflower seeds in place of tree nuts, and it's so flavorful and rich that I don't personally think it needs oil. It's just the right compromise between something dense, like nut pate or hummus, and something loose, like dressing.
I love using sunflower seeds in recipes because they are inexpensive and nutrient dense: chock full of Vitamin E, an antioxidant that may help to reduce inflammation and reduce the symptoms of inflammation-mediated health conditions, like arthritis; phytosterols that can help to reduce cholesterol; and thiamine, which may help with energy, digestion, and immune function. Some folks don't care for sunflower seeds, and if you are one of them, you are welcome to use pumpkin seeds (pepitas), almonds, pine nuts, hazelnuts, cashews or walnuts in this recipe instead (almost any nut or seed will work, really). As far as the pepper goes, I welcome you to roast your own at home – with a little oven time, it's easy to do. But if you use roasted red peppers from the jar (which you can find in virtually any grocery store), this becomes an easy sauce to whip up at a moment's notice from your pantry.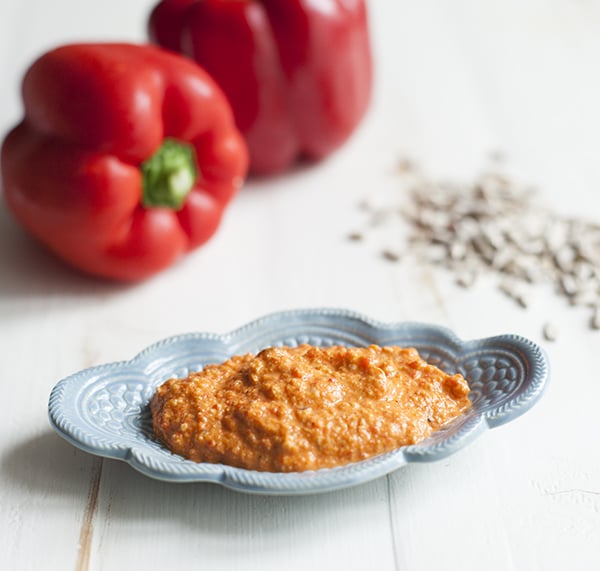 Sunflower Seed Romesco
Author -
Yields:
1
1/4 - 1 1/2 cups
1

clove

garlic

roughly chopped

1/4

teaspoon

salt

1/2

cup

raw sunflower seeds

1 1/2

cups

roasted red peppers

from the jar

1

teaspoon

oregano

dried

1/2

teaspoon

red wine vinegar

1

tablespoon

lemon juice

Black pepper to taste

1/3-1/2

cup

water
Place all ingredients except for the water into a food processor fitted with the S blade and pulse a few times to combine.

Continue processing the mixture, drizzling the water in as you go along. You're aiming for a texture that is coarse but uniform and easy to spoon onto dishes. The romesco sauce will keep in an airtight container in the refrigerator for up to a week.
One of the nicest features of this sauce is its versatility. Traditionally, it is served with fish, lamb, or spring onions, but I've always enjoyed it over whole grains, with grilled or baked tofu, or over roasted cauliflower. I also love dipping steamed green beans into romesco sauce for an afternoon snack that's just a little fancier than regular 'ole hummus+carrots. And speaking of carrots, it would be a wonderful dressing for roasted carrots, too.
And of course, one of the best uses for any sauce is over a filling, nutrient-dense bowl.
This beautiful lunchtime creation featured roasted new potatoes and artichokes, cooked quinoa, steamed green beans, and a bed of greens. And romesco sauce, which brought everything together in the nicest of ways.
Hopefully you guys will have a chance to try the sauce soon—or perhaps even the bowl. It's a perfect recipe to keep handy for summer grilling season, and well into the months beyond.
Enjoy. And I'll be back on Wednesday for an awesome new giveaway and product review!
xo