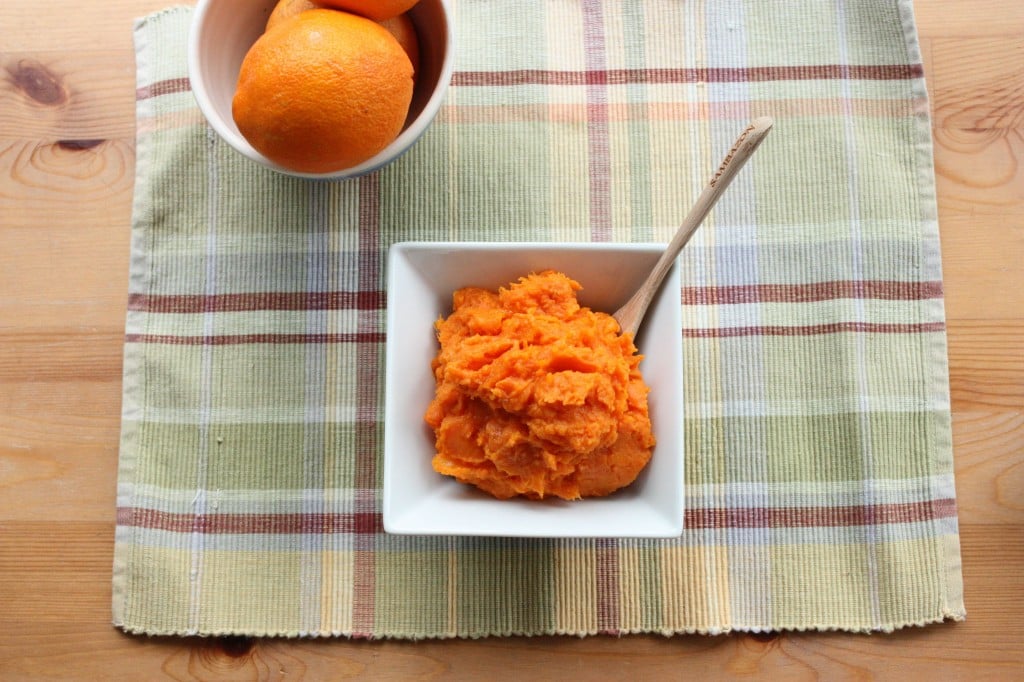 It's always delightful when a four or five ingredients come together to create something blissful. Such is the case with this brightly flavored butternut squash and sweet potato mash. I was inspired to try it when I tasted some smashed butternut and sweet potatoes at a friend's home on Thanksgiving this year. I thought it was ingenious: combining the two types of root veggies creates variety and contrast of texture, as well as subtle sweetness. My friend mentioned she'd added a little bit of orange juice, and indeed, the citrus notes brought everything to life.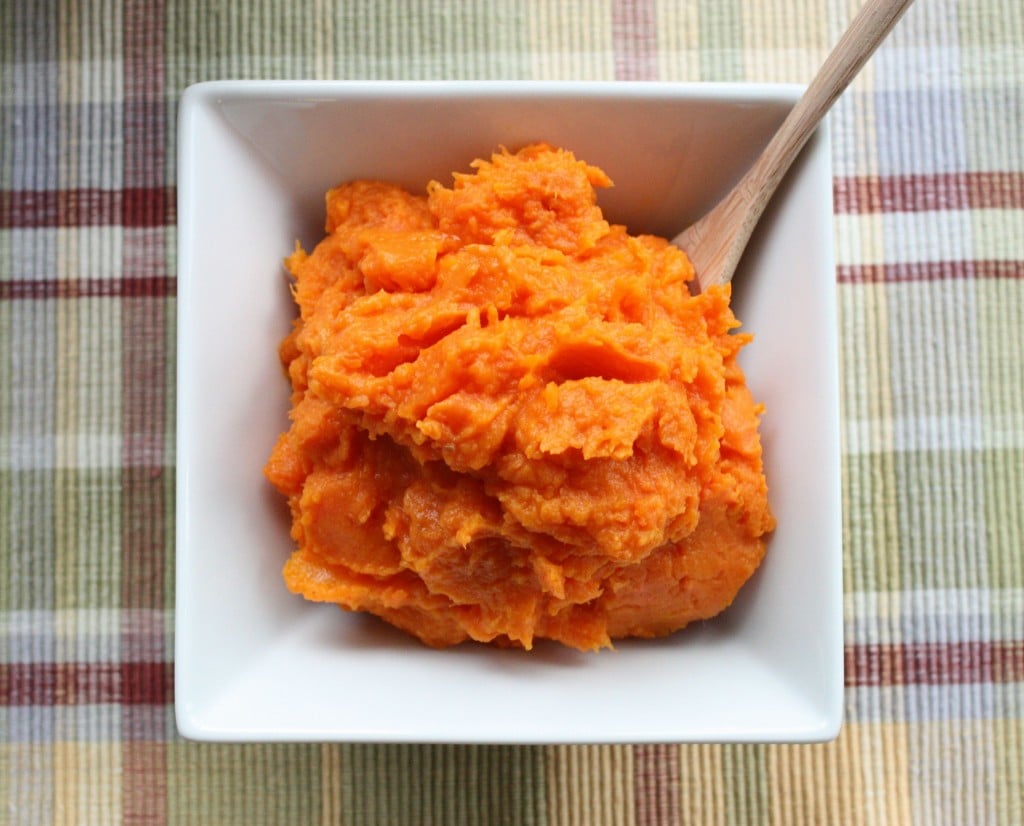 This recipe requires just a few key ingredients: coconut oil, for a comforting, buttery taste, salt and pepper (of course), an orange, and your root veggies. It's fun to make, and the leftovers keep well.
Orange Infused Butternut Squash and Sweet Potato Mash
Author -
4

cups

butternut squash

peeled and chopped into 1-2 inch pieces

2

medium sized garnet sweet potatoes

2

tablespoons

coconut oil

divided

Juice of 1 large navel orange

about 1/2-2/3 cup

Sea salt and black pepper to taste
1. Preheat the oven to 400 F. Toss the butternut squash in one tablespoon of coconut oil and transfer to a foil or parchment lined baking sheet. Prick the sweet potatoes and place them on another baking sheet. Place both sheets in oven and roast the butternut squash till golden and soft (about 25 minutes) and the sweet potatoes till totally tender (about 40-45 minutes).

2. When they're cool enough, scoop the flesh from the sweet potato skins and transfer to either a food processor or a mixing bowl. Add the squash pieces, orange juice, and the second tablespoon of coconut oil. Mash with a potato masher, or, if you'd rather use your food processor, process till mashed but not entirely pureed. Season to taste with salt and pepper and serve.
This dish was a good reminder to use more citrus in surprising places–orange and grapefruit juices add such wonderful brightness to dishes, especially in the winter when our bodies are screaming for sunny tastes.
I enjoyed my leftovers two days in a row as part of my packed lunches–yes, packed lunches are back! While I'm not bringing food to campus, I am bringing my lunchbox to Dr. Chutkan's office on the days when I work with patients. In some ways, it's fun to pack lunch–it forces me to put a little more thought into what I'll be eating than I normally would. My days at Dr. Chutkan's office tend to be fairly non-stop; she has built her practice around spending adequate time with each patient, but even so, it's back-to-back. I've been trying to pack food that's nutrient dense, filling, and really easy to pack. The following two lunches fit the bill: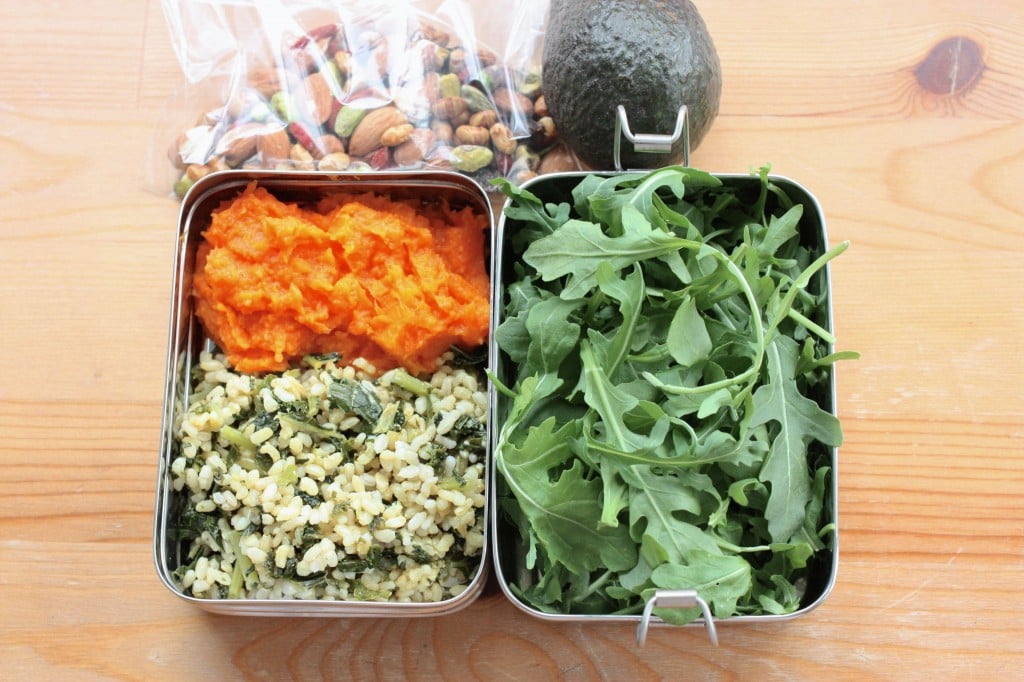 Brown basmati rice with chopped kale, dill, lemon, EVOO, salt and pepper, and some leftover mash. Served with arugula and an avocado. I usually try to bring some sort of tasty dressing, but when I haven't got time to pack that, slicing an avocado up at work will do. Some trail mix for snacking through the day, too.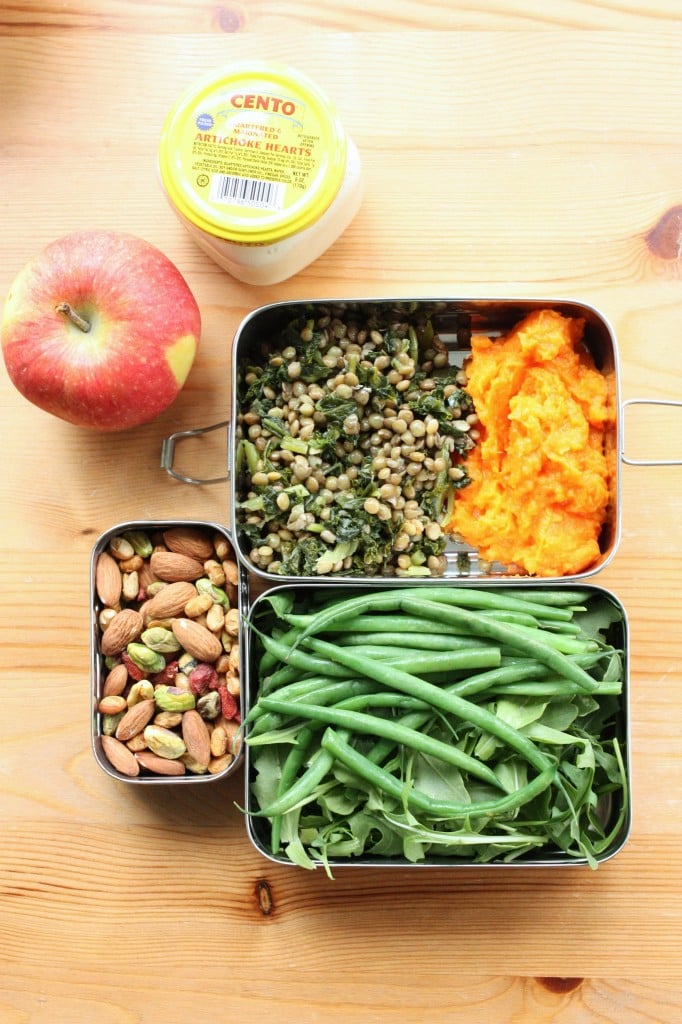 Lentils and chopped kale (I had a big frozen bag and have been defrosting and mixing into my lunches through the week), some of my mash, leftover green beans from last night's dinner, along with a tofu tahini sauce. Trail mix and an apple for snacks. Proof that one dish can liven up a couple of easy lunches.
That's it for tonight, friends–I hope you enjoy the mash!
xo