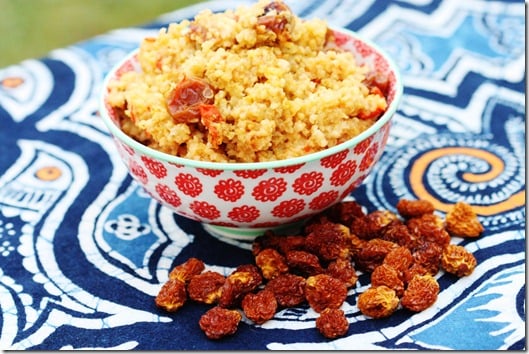 The first time I tasted goldenberries, I swore I'd never eat them again. They were tart, the texture was strange, and they had none of the easy sweetness of goji berries or mulberries, of which I'm personally very fond. Sure, I'd heard about the health benefits; these include an unusual concentration of protein for berries (2 grams per serving), bioflavanoids, phosphorus, fiber, and 45% of the RDA of Vitamin A. But they were too foreign, too intense.
I should have known that these intense, assertive little berries would ultimately grow on me. If there's anything I like, it's personality, and these guys have it in ample score. They also have an interesting history: originally cultivated in the Incan empire, they are appropriately also known as "Incan Berries" or "Cape Gooseberries." The taste is initially very tart—think dried cranberries, but without the sugary aftertaste. If you get used to them, though, you start to pick up citrus notes, along with a subtle and pleasant sweetness, and you soon find that you could eat them by the fistful.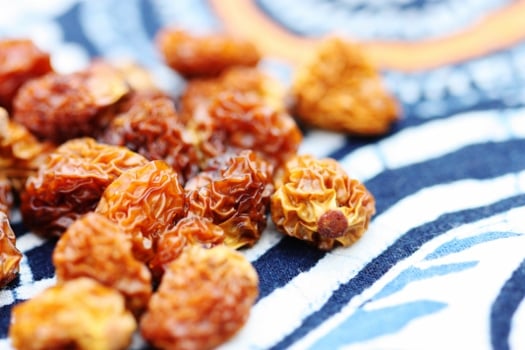 At least, that's how it went for me. As soon as I grew accustomed to nutrient-dense goldenberries, I started putting them in all sorts of dishes, from trail mix to granola to salads. This week, with two exams pending, I decided to put them into a grain dish for the first time, in the hopes that I could harness their "super" superfood powers. I can't say that the berries did much for my academic prowess, but they did turn a simple millet dish into something really, really special. And that's pretty super, in and of itself.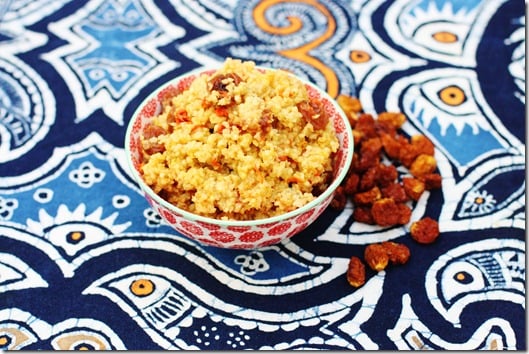 Curried Goldenberry Millet Bowl (vegan, gluten free, soy free)
Serves 4
1 tbsp coconut oil
1 small onion, chopped
1 small clove garlic, minced
1 cup millet
1/4 cup goji berries
1/3 cup goldenberries
2 tsps curry powder
2 1/4 cups water
1/2 tsp salt (or to taste)
1/4 cup orange juice
1 tbsp orange zest
1) Heat the oil in a large saucepan and add the onion. Cook until golden brown. Add the garlic, and cook about one minute longer.
2) Stir in the millet, salt, berries, curry, and water. Bring to a boil.
3) When water is boiling, reduce the heat to a simmer. Simmer for about 25 minutes, or until millet is plump and tender. Stir in orange juice and zest. Serve warm.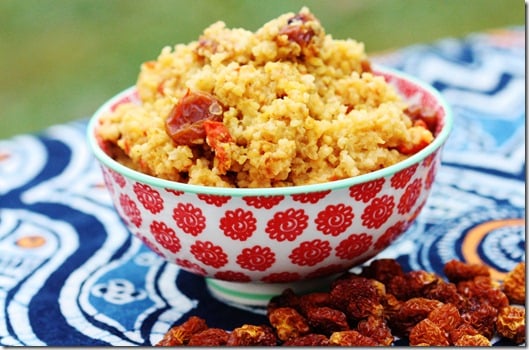 If you've never been able to get into goldenberries, you will once you bite into one that's this plump and sweet!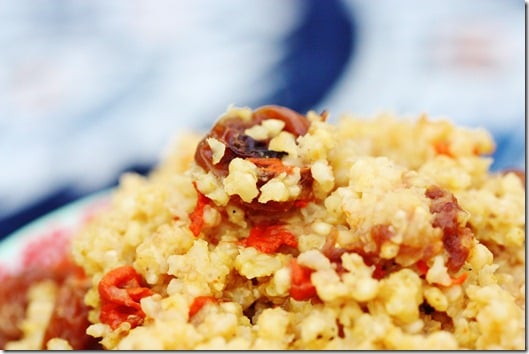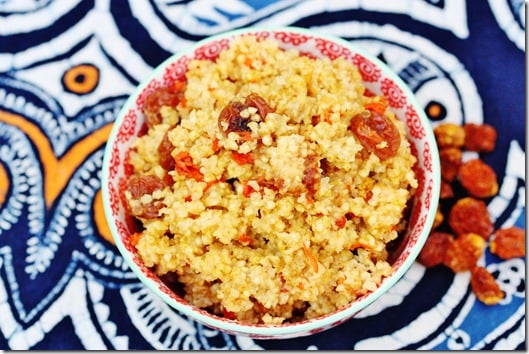 No goldenberries or gojis? Don't worry. I dig superfoods, I really do, but I also realize that they're expensive and hard to find. So raisins, currants, and cranberries would also be great in this recipe. The main thing is the curry, the citrus, the millet, and the texture!!
If you're looking for goldenberries, my source is Navitas Naturals. You can find them in Whole Foods, online, or on Amazon.
Most of us tend to assume that the great class of "superfoods"—goji berries, acai, lucuma, maca, mesquite, goldenberries, and so on—can only be eaten on their own, or sprinkled into toppings and trail mix. It's often a lot more fun to actually cook with these ingredients—you may compromise some of the antioxidant quality if you actually heat them, but you'll also showcase flavors and see a side of them you've never seen before. This dish is the perfect way to warm up to superfood berries, and I hope you'll enjoy it as much as I do!
xo