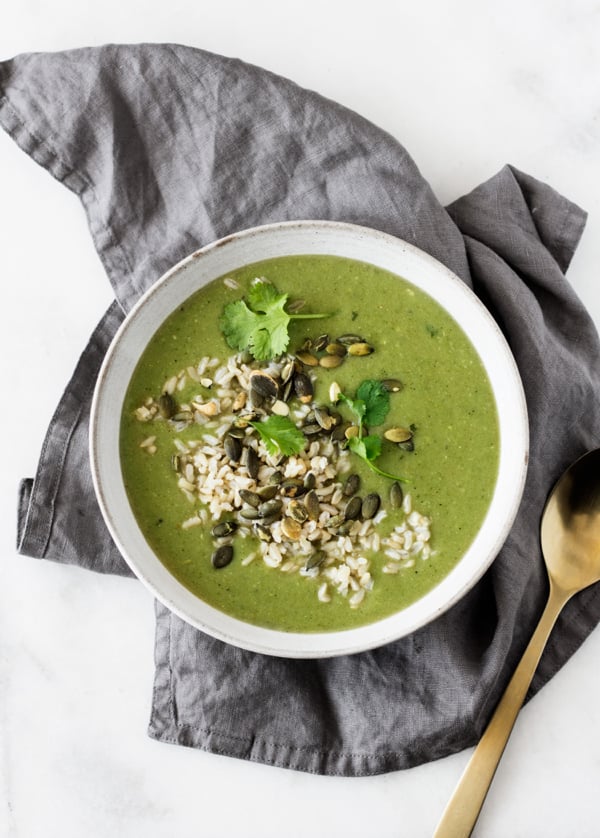 This soup is exactly what it claims to be: a super simple, very green soup. It's not fussy, it's not fancy, and it's not hard to make. The flavors are mellow and simple: a bit of ginger, onion, and garlic, combined with the freshness and slight bitterness of leafy greens. There are certainly bolder and more exciting soups out there, but if you're looking for an easy, healthy way to eat more greens–one that's neither a green juice nor a smoothie nor a salad–this soup is the answer.
I've been making a variation of this soup for years, so it's amazing that I've only now thought to share it on the blog. It began as a means of using up kale, spinach, and other green odds and ends, and it's become a kind of comfort food, a recipe that I appreciate anew each time I prepare it.
The soup is also a great transitional recipe between winter and spring. The potatoes and the splash of plant milk keep it creamy and give it some heft, but it's also light and fresh, a great way to welcome asparagus when the season hits, or to put your chard and spinach to good use. I like to top the soup with rice, legumes, and other easy stir-ins as a means of adding texture. Or you can simply serve the soup with a plate of avocado toast and call it a day.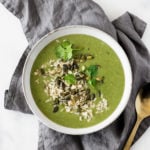 Super Simple, Very Green Soup
Author -
Yields:
10
cups, or 6-8 servings
1

tablespoon

olive oil

1

white or yellow onion

chopped

2-3

cloves

garlic

minced

2-3

teaspoons

minced ginger

to taste

2

medium yellow or yukon gold potatoes

peeled and roughly chopped (about 3/4-1 pound)

1

teaspoon

salt

4

cups

low sodium vegetable broth

2

heaping cups broccoli stems or florets

or chopped asparagus, chopped baby bok choy, or roughly chopped zucchini

4

cups

tightly packed

roughly chopped kale, Swiss chard, beet greens, or spinach

1

cup

unsweetened soy or almond milk

or 1/2 cup cashew cream

Black pepper to taste

For serving: white beans

cooked rice, cooked quinoa, coconut bacon, toasted chickpeas, toasted pepitas, fresh herbs, etc.
Heat the olive oil in a large stock or soup pot over medium heat. Add the onion. Saute onion for 5 minutes, or until it's clear and soft. Add the garlic and ginger and cook for another minute, or until the garlic is very fragrant.

Add the potatoes, salt, and broth to the pot. Bring to a boil. Reduce to a simmer. Simmer, covered, for 10 minutes, or until the potatoes are fork tender. Add the broccoli (or other vegetable). Simmer for 5-10 minutes, or until the vegetables are tender. Stir in the kale or other leafy greens, cover, and simmer for 5 minutes, or until the kale is bright green and wilted.

Transfer the soup to a blender in batches to puree thoroughly, adding water as needed if the soup is too thick (remember that you'll also add some soy or almond milk after blending). Return the soup to the pot and stir in the plant milk and black pepper to taste, as well as a pinch of salt if desired. Serve with toppings of choice.

Soup will keep in an airtight container for up to three days and can be frozen for 2-3 weeks.
As you can see, when I made it this week I added cooked rice and pumpkin seeds, which made a lovely addition to the bowl. Crackers and hummus also make a nice accompaniment. You can serve the soup as an appetizer before a spring meal, or you can pair it with a hearty main dish for a simple weeknight supper.
For what it's worth, I made the soup for Steven for the first time this week. There's always something a little strange about sharing a personal "staple"–something you've been making so regularly for so long that you don't even stop to think about whether or not other people would like it–with another person. Steven actually really liked the soup, and he was pleasantly surprised by the fact that it's not overly green tasting. The combination of potatoes and greens definitely helps to keep flavors balanced. So, if you're trying to entice a family member, friend, or roommate to eat more leafy greens, I suspect this would be a great choice.
The best part of making this soup is allowing it to change as the seasons change. I almost always add kale or spinach, but I've used chard, too. I typically use broccoli in the winter (now that I'm starting to love broccoli stems, I suspect I'll often use those), but asparagus is perfect in spring and zucchini is ideal for summer. In other words, all greens are welcome.
I hope you enjoy this humble recipe. And I really look forward to a sharing new weekend reading post on Saturday.
xo