Hey all! Fabulous response to my giveaway of Superfood Cuisine by Julie Morrisand the Navitas Naturals trail mix! I can't wait to pick a winner. If you haven't entered yet, please do!
I was also really intrigued to scroll through the comments and hear everybody's thoughts on superfoods and how to approach them. In light of my recent conversion from superfoods skepticism to superfoods curiosity, I thought I'd share a fabulous "superfood salad" I made on Tuesday, right after my grueling midterm. It replenished my body and tasted delicious; if that's what superfoods do, well then, I'm sold.
A few specialty foods graced this salad. My favorite addition was a sprinkling of golden mulberries and goldenberries, both from Navitas. They're totally different: the mulberries (my personal favorite) are sweet: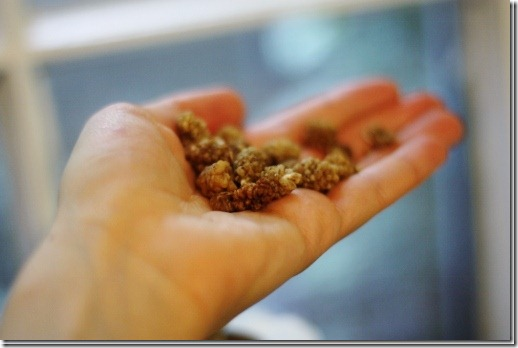 And the goldenberries are very tart (with a sweet finish):
Throw in some blueberries, apples, baby kale, spinach, and a silky red pepper mesquite dressing, and you have a lovely bowl full of color, texture, and taste.
Superfood Salad Bowl (raw, vegan, gluten free, soy free)
Serves 1
4 cups mixed greens (spinach, baby kale, or mesclun will all work well)
1/3 cup blueberries
2 tbsp golden mulberries
2 tbsp goldenberries
1/2 apple, sliced thinly
1 carrot, grated
1 tbsp hemp seeds
Smoky Red Pepper Mesquite Dressing
Makes 2 cups
1 heaping cup roasted red (or red and yellow) peppers (you can use jarred roast peppers, OR you can use raw, but the taste won't be quite as rich)
1 small avocado
2 tbsp mesquite powder (available from Navitas Naturals)
A few drops liquid smoke
Juice of 4 lemons
1/2 tsp salt (more to taste)
Black pepper to taste
1 1/2 cups water (more if you need to thin the dressing out)
2 tbsp flax oil (hemp oil would be good here, too)
Blend all ingredients together in a blender on high. Add more water if you'd like the texture to be thinner; a little more oil if you'd like it creamier.
To prepare the salad, combine all salad ingredients, sprinkling hemp seeds on at the end. Drizzle the salad bowl with dressing to taste. Enjoy!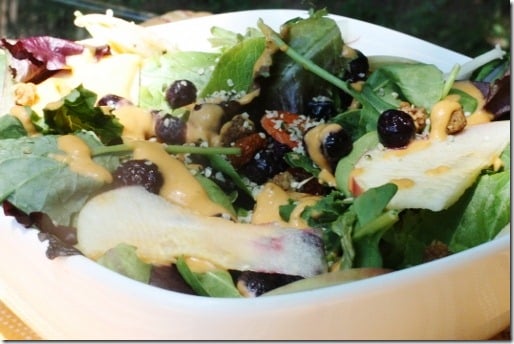 This flavorful bowl provides you with:
Tons

of antioxidants: the golden and mulberries, blueberries, apples, and greens are all outstanding sources
Protein from the hemp seeds
EFAs from hemp and avocado
Fiber from the mesquite powder and vegatbles
Vitamin C from the red pepper
Calcium and Vitamin A from your dark leafy greens
Pretty super, if you ask me.
I hope this recipe shows you how easy it is to work the mysterious entities that are "superfoods" into a perfectly normal and approachable recipe. Even the dressing is exemplar: mesquite is the sort of thing I would typically purchase, stare at, and let sit on my shelf for ages, but blended into a creamy dressing, it adds a wonderful sweet and smoky flavor, along with tons of fiber. When in doubt, use dressings and other blended food as vehicles for anything that comes in powder form—hemp protein, maca, mesquite, etc.!
Alright, my healthy food loving friends: it's back to class for me.
xo