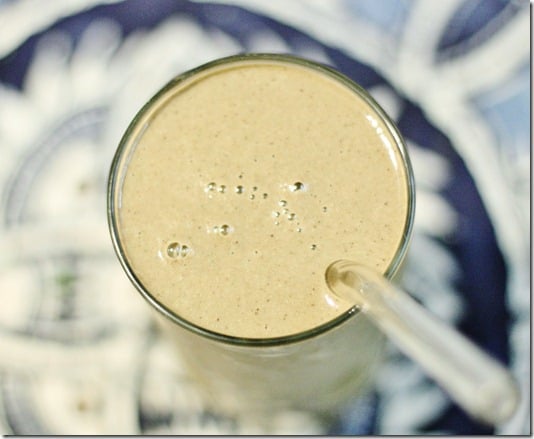 In photographs, this smoothie appears to be the pleasant color of a soy  latte. In reality, it was a much more offputting shade of swampy brown/green, which I tweeted about yesterday morning: "this smoothie looks like mud, but tastes amazing." Or something to that effect.
It was true: in spite of the weird color, the smoothie was delicious. My readers must be used to fugly shades of smoothie, because everyone seemed to agree that sometimes the least appealing colors taste the best (this is what happens, I suppose, when you add darky leafy greens to everything). What seemed to surprise them, however, was the fact that one of the ingredients I'd listed in my smoothie was broccoli.
Yes, broccoli! Do you guys remember the days when even spinach in a smoothie gave me the creeps? I hate to quote from Virginia Slims, but when it comes to green smoothies, I've come a long way, baby. Not only do I now add spinach and chlorella to nearly every smoothie, but I've also started adding celery, zucchini, and now, broccoli.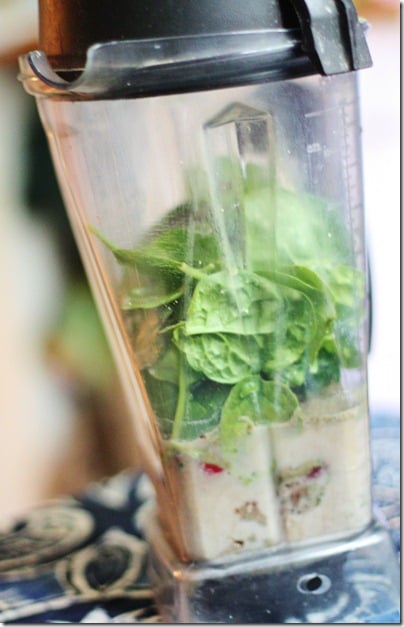 Oddly enough, of all the added green veggies out there—cucumber, celery, zucchini, and so on—I find broccoli to be the most palatable. I realized that I had a high tolerance for the taste when I started putting broccoli into my juices, and failed to notice a flavor change. The same goes for smoothies: adding frozen, steamed, or raw broccoli does little to change the flavor for me. The green veggies I truly struggle with are collard greens (too bitter, even in juice!) and—weirdly!—cucumber. I adore cucumber, and always put it into my blended salads, but for whatever reason, I don't like it mixed with fruit.
The ways of the palate are mysterious.
Anyway, I had gotten into the habit of adding frozen broccoli to all of my smoothies, until Carrie wrote a post noting that frozen veggies should be at least flash steamed before serving; they're not supposed to be eaten from the bag, and indeed, company manufacturers warn against the chance of food poisoning if they aren't washed or heated first. Honestly? Since reading it, I've used frozen broccoli a few times, anyway; I am, after all, the person who routinely eats bagged and boxed greens without checking to see if I'm supposed to wash them first. But this is naughty, naughty behavior, and I do not recommend that you, my faithful readers, emulate my risk taking.
Instead, we should all try to use fresh or steamed broccoli in our smoothies. (And I'll try to read the instructions on my salad boxes and bags, I promise.) If you really want the texture of frozen broccoli, try cooking it and then freezing it! But I think you'll find that fresh is very similar to frozen in terms of taste. And I hope you'll find that the taste itself is mild and largely undetectable beneath the heavenly mix of strawberry, banana, cacao, and hemp. Yum.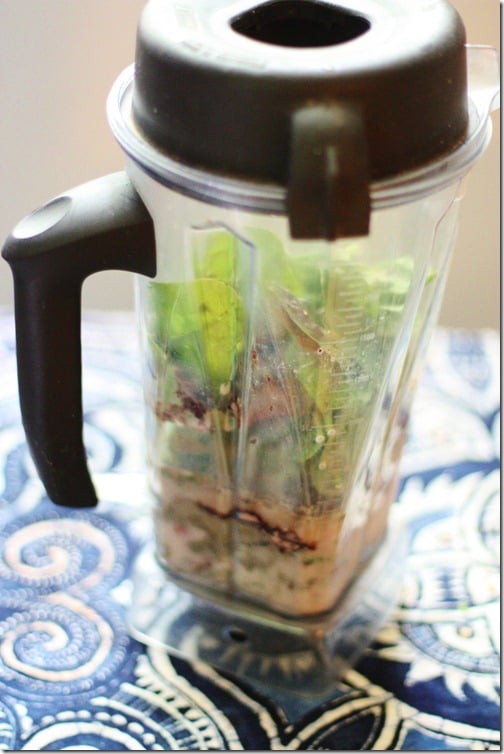 The Swamp Smoothie (raw, vegan, gluten free, soy free)
Serves 1
1 cup strawberries, fresh or frozen
1/2 small banana, fresh or frozen
1/2 cup chopped broccoli, steamed or raw
1 big handful raw spinach
1 cup almond or hemp milk
1 heaping tbsp cacao or carob powder
3 tbsp hemp protein powder (or vegan protein powder of choice)
1 tbsp shelled hemp seeds
Stevia to taste (if desired)
Blend all ingredients in a high speed blender till smooth. Sip and enjoy!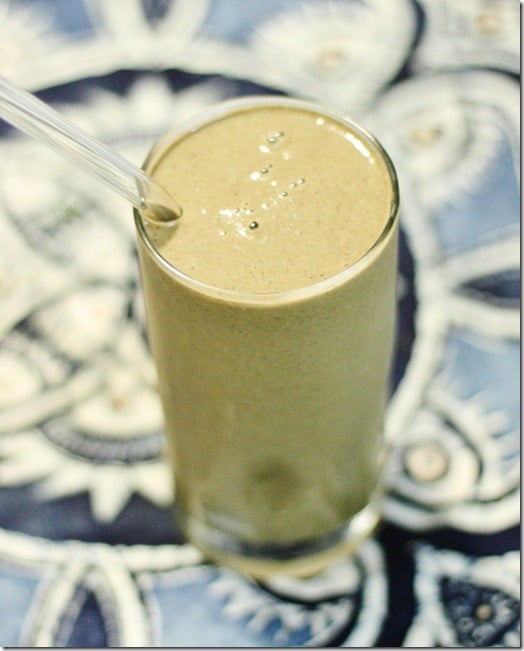 Creamy, smooth, and—I promise—delicious. Maybe not for someone who's used to Jamba Juice, but if green smoothies are a regular part of your routine, I promise that the broccoli won't be a make-or-break difference in this beverage. It's green-tasting, sure, but just about as sweet and tasty as any other green smoothie. Plus, it's packed with protein, healthy fatty acids, antioxidants, natural sugars, and the power of green.
Closing thought: so happy everyone liked yesterday's vegan Bircher Muesli!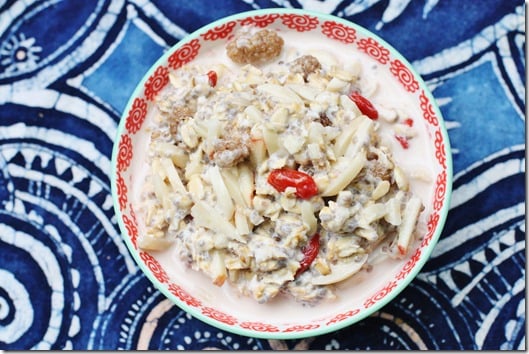 One reader commented:
I'm most certainly going to try this! Thanks for being so innovative- this is hippie-chic. Muesli is the lazy girls granola!

I like these kinds of recipes, as with salads, because you can vary certain additions depending on the season and your own taste preference. A version using sprouted buckwheat groats would also be really good. I'm going to try both and report back!
Buckwheat groats would also be great! Though I do love the chew of rolled oats. I hope you report back and let us know how it goes. And in keeping with the sentiment about flexibility, I tried a different batch yesterday with grated pear instead of apple, and a little bit of ginger powder mixed in (ginger and pear is a favorite combo of mine). Not exactly seasonal, but it was fantastic. A whole new world of breakfast options awaits.
Till tomorrow, friends —
xo