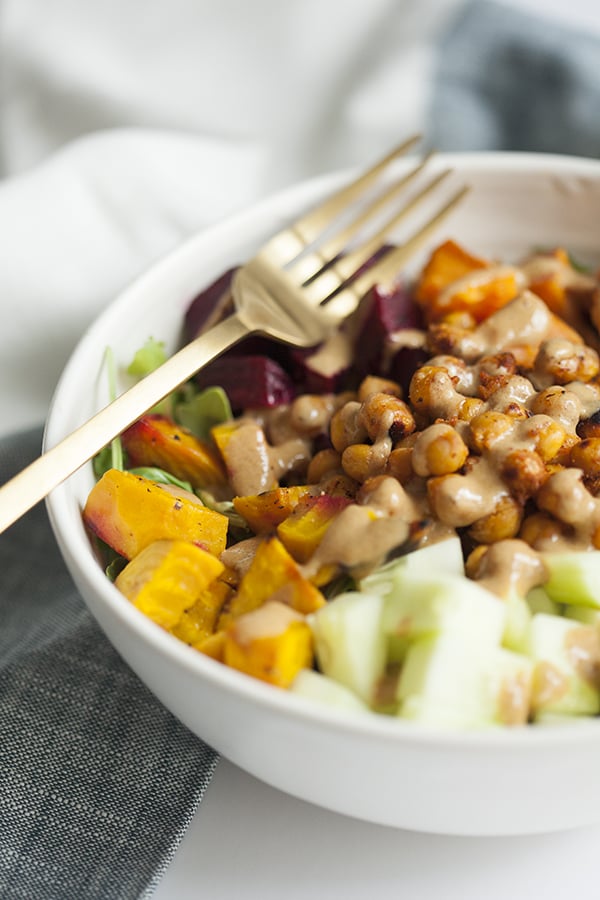 I love it when a nutrition client presents me with a culinary challenge — a request for a vegan version of a favorite recipe, a meal idea, a special sort of snack or treat. The latest such challenge/request came from a client who's just getting into the idea of a salad for lunch–something she can order at a deli near her workplace–but who's having a hard time enjoying salads at home. I suspected, and she agreed, that problem here may really have nothing to do with salad, and everything to do with dressing.
A good dressing can make or break a salad, a grain bowl, or a slaw. Ho hum dressings mean bland salads, whereas a really bold, flavorful dressing can easily transform the most humble bowl of veggies into something very meal-worthy. My client told me that she tends to get honey mustard dressings on her salad. My goal was to give her something that would be a little more wholesome than most commercial honey mustard dressings, yet still really salty and sweet. And I wanted to make it vegan, so that I could try it and enjoy it along with her!
This is what I came up with.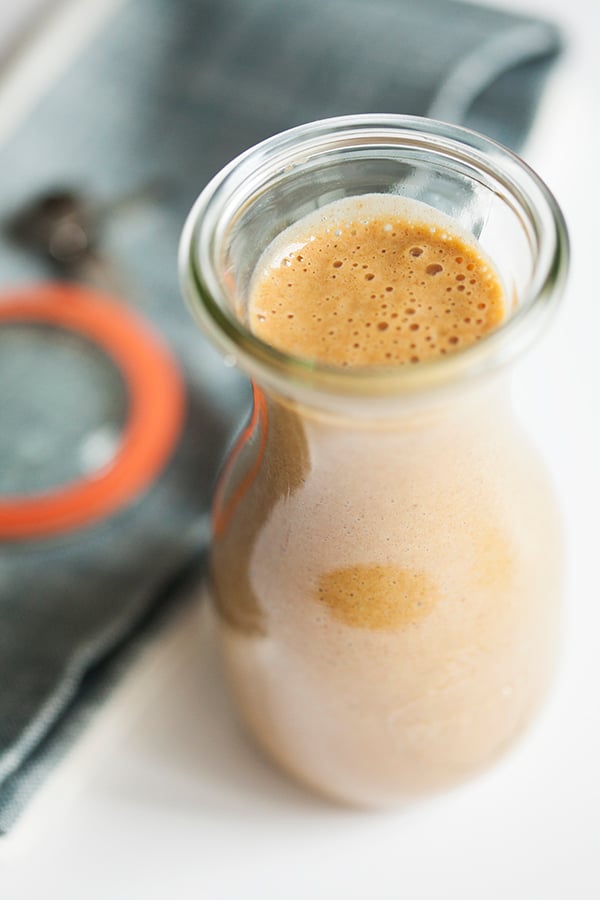 I had two sources of inspiration for this dressing. The first was the "Dijon-Cider Dressing" from Natalia Rose's The Raw Food Detox Diet, which is the book that taught me most of what I know about salad-making. It's a spin on honey mustard, but it uses apple cider vinegar and stevia. I don't use stevia, so the sweetness in this recipe comes from pitted medjool dates.
The other is the "Liquid Gold" dressing from Vesanto Melina and Brenda Davis' classic book, Becoming Vegan (one of the all-time greatest plant-based nutrition primers out there). That recipe was the one that inspired me to start using nutritional yeast in dressings, which is something I've loved doing ever since. I never need an excuse to use nooch, but I particularly love the savory, umami-rich quality it lends to dressings, along with the protein and B Vitamins.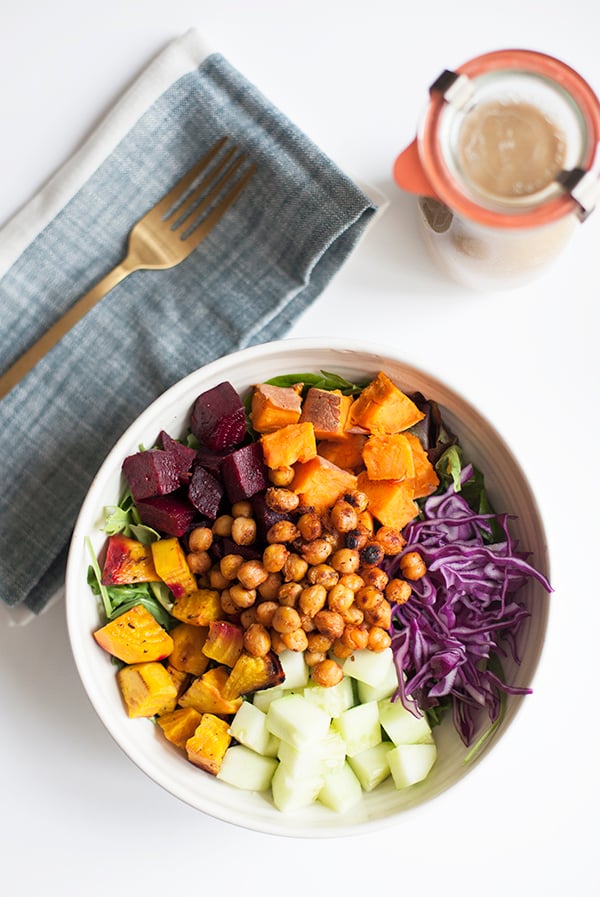 This dressing is very sweet and very salty. I love that particular combination, so it's right up my alley, though I do want to mention that you can adjust the sweetness by adding one less date, and you can adjust the saltiness by adding one less tablespoon of tamari. It's also very tart, thanks to a balsamic and apple cider vinegar mixture (the former adds a syrupy and rich flavor to contrast the bright tartness of the ACV, but you could do all apple cider vinegar if you prefer).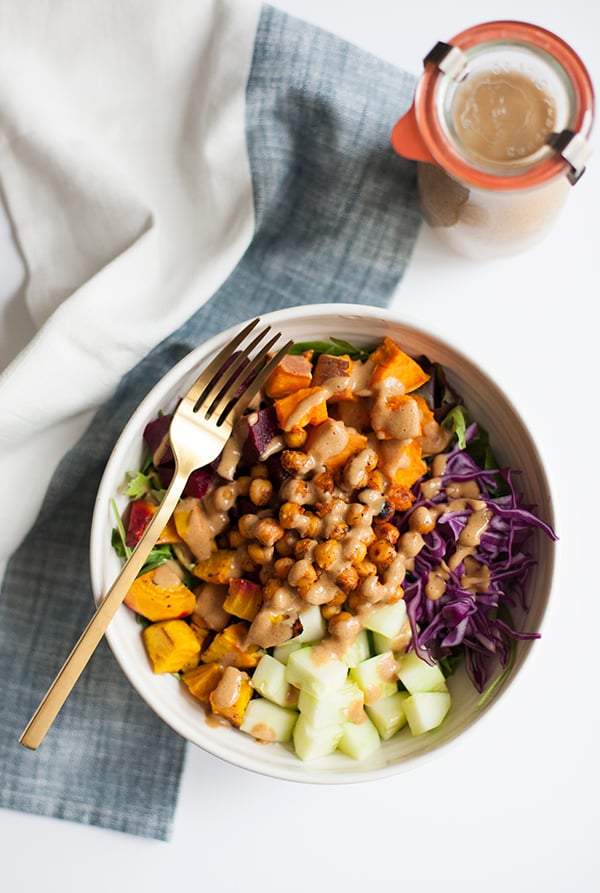 The great thing about this dressing is that its bold flavor ensures that a small amount lends tremendous character to your dish. It's as good for dipping vegetables for a summery snack as it is for dressing salads and grain bowls.
Speaking of salads, I used this new dressing recipe as an excuse to make a new, summery salad. It's a mixture of hot and cold and a celebration of color. I didn't plan on sharing the salad itself in this post, but after I scarfed it up yesterday I determined that it was too good not to share!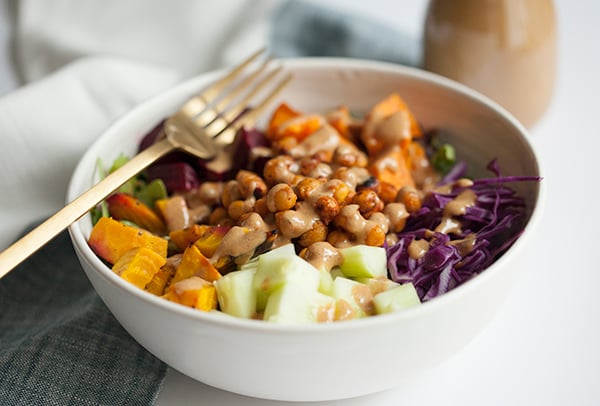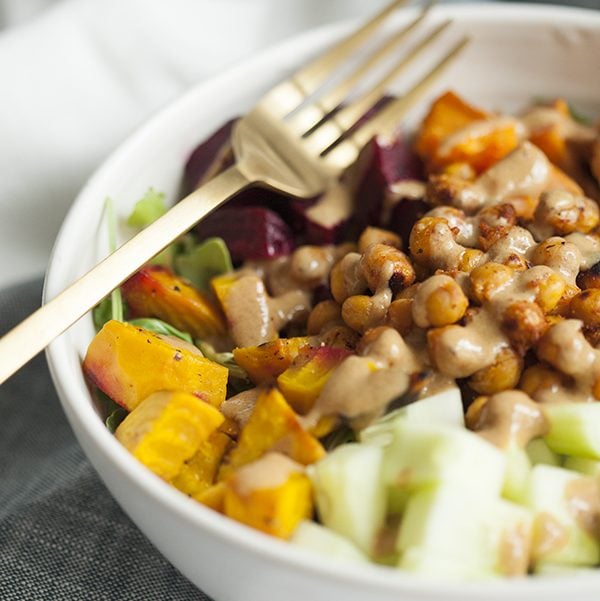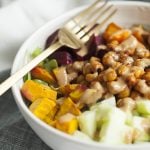 Sweet Dijon Vinaigrette and Chickpea, Sweet Potato, Beet and Vegetable Salad Bowl
Author -
*For the Sweet Dijon Dressing*
3/4

cup

water

4

pitted medjool dates

3

tablespoons

Dijon mustard

2

tablespoons

apple cider vinegar

2

tablespoons

tamari or coconut aminos

1

tablespoon

balsamic vinegar

3

tablespoons

nutritional yeast

1

teaspoon

ground flax seed

2

tablespoons

shelled hemp seeds
*For the Salad Bowl*:
4

heaping cups greens of choice

1 1/2

cups

roasted chickpeas

you can use this recipe

1 1/2

cups

roasted beets

I used a mixture of yellow and red

1

large baked sweet potato

cubed (or 1 large sweet potato, cubed and roasted)

1

cup

shredded red cabbage

1

cup

chopped cucumbers
To make the dressing, blend all ingredients in a high speed blender till smooth. Store in an airtight container in the fridge until ready-to-use. The dressing will make 1 1/2 cups, and it will keep for up to 8 days.

To assemble the salad bowls, divide all ingredients evenly among four bowls of plates. Use the greens as the base and then arrange the other ingredients on top. Drizzle with the sweet Dijon vinaigrette, and serve.
The combination of salty, toasted chickpeas, sweet beets, and cooling greens compliments the zesty, sweet/tart/salty dressing really well here. I have a feeling that this one is about to be one of my new favorite summer go-tos. I've had bowls on the brain lately, because I just finished testing a different vegan bowl for my next Food52 column. I can't wait to share that one with you all, too.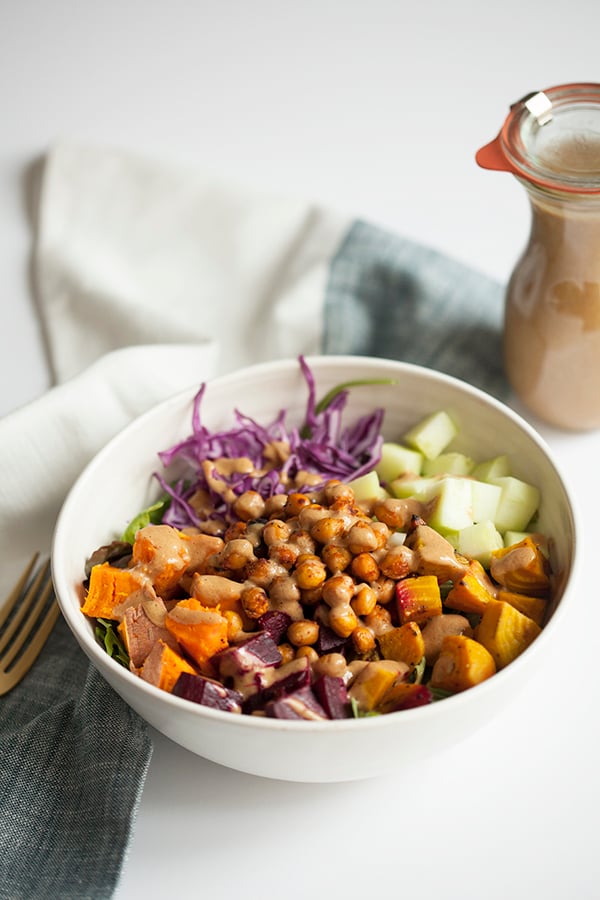 Of course, you certainly don't have to serve the dressing with my salad bowl idea. If you make it, let me know how you choose to serve it. I hope you'll enjoy the recipe as much as I have!
On Friday, I'll be back with a new, easy vegan dinner option. In the meantime, thanks for your thoughts on my last post. I hope that your weeks are going smoothly.
xo