I was flipping through some old photos the other day, and I caught a glimpse of some of the summery lunch bowls that had made it onto my Instagram feed. One of them was a colorful tabbouleh dish–full of juicy tomatoes and fresh green herbs–and it made me wistful for summer's bounty of brightly colored produce.
Then I got to thinking about how winter produce can be equally vibrant, even if it's a little more limited. After all, there's a spectrum of pinks and purples available in the form of beets, red cabbage, and radicchio, not to mention many shades of green: dark leafy greens, brussels sprouts, broccoli, and so on. And winter farmers markets are bursting with orange, too, thanks to sweet potatoes, winter squash, and citrus fruits.
This sweet potato bulgur citrus salad is my wintery spin on tabbouleh, or something like it. In place of tomatoes and cucumbers I use roasted sweet potatoes, so the texture and colors are certainly different. But the salad is still full of freshly chopped parsley and mint, a little red onion (optional, if that's not for you), and a vinaigrette that's infused with citrus. The salad is hearty and filling, as I like winter grain salads to be, but the orange zest and juice and all of the herbs help to keep it tasting sunny and bright.
The salad is easy to modify: in place of sweet potatoes you could use butternut squash, roasted carrots, parsnips, or rutabaga. I'd love to try adding golden beet for another shade on the orange/yellow spectrum!
Usually when I roast sweet potatoes I like to cut them into about 1-inch cubes, and I generally just toss them with a bit of vegetable oil, salt, and pepper before they go into the oven. Here I cubed them smaller and more evenly than usual (closer to half an inch), and I added a little maple syrup to the glaze. I personally love the sweetness and slightly caramelized coating this helped to create, but you can definitely skip the maple if you'd prefer to.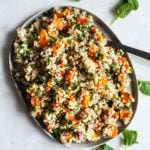 Sweet Potato Bulgur Citrus Salad
Author -
2

medium sized sweet potatoes

peeled or scrubbed and diced (about 1 1/2 lbs after preparation)

1

tablespoon

vegetable oil

such as avocado or grapeseed

2

teaspoons

maple syrup

optional

Coarse salt and freshly ground black pepper

1 1/4

cups

bulgur wheat*

1/4

cup

olive oil

1/4

cup

freshly squeezed orange juice

2

tablespoons

lemon juice

1

tablespoon

red wine vinegar

1

small clove garlic

finely minced or grated on a microplane (optional)

1/2

teaspoon

salt

Black pepper to taste

1

cup

finely chopped parsley

1/2

cup

finely chopped mint

1/4

cup

finely chopped red onion

optional

2

tablespoons

orange zest
Preheat the oven to 425F. Toss the sweet potatoes with the vegetable oil, syrup, a generous pinch of coarse salt, and a few turns of pepper. Place the potatoes on a lined baking sheet and roast for 35-40 minutes, or until very tender and gently caramelized, stirring them once halfway through cooking.

While the potatoes roast, bring 3 1/2 cups water to boil. Add the bulgur and lower the heat to a simmer. Simmer for 8 minutes, stirring occasionally. Remove the bulgur from heat, cover, and let sit for 10 minutes. Drain any excess water from the bulgur and fluff the grain with a fork.

Whisk together the olive oil, orange juice, lemon juice, red wine vinegar, garlic (if using), salt, and pepper.

When the potatoes are ready, transfer them, along with the cooked bulgur, parsley, mint, red onion, and orange zest, to a large mixing bowl. Add the dressing. Toss everything well to combine, then taste the salad and adjust seasonings as needed. Serve.
*Quinoa can be used in place of bulgur for a gluten-free variation.
Different types of bulgur can have different cooking times and grain to liquid ratios. This is how I usually cook bulgur, but if your preferred brand has different cooking instructions, feel free to follow them for best results.
The salad makes a generous amount, so it's great for sharing. It also keeps nicely (and in fact, I found that it was more flavorful after it had sat in the fridge for a little while), so it's a good option for preparing in advance and bringing to a gathering. If you'd like to make it gluten-free, you can definitely substitute either quinoa or millet for the bulgur.
It's unseasonably warm here in New York today, but we've got a winter storm alert for first thing tomorrow morning. I have a feeling that this sunny salad will be keeping me good company–and I'm so glad I've got plenty of leftovers!
xo