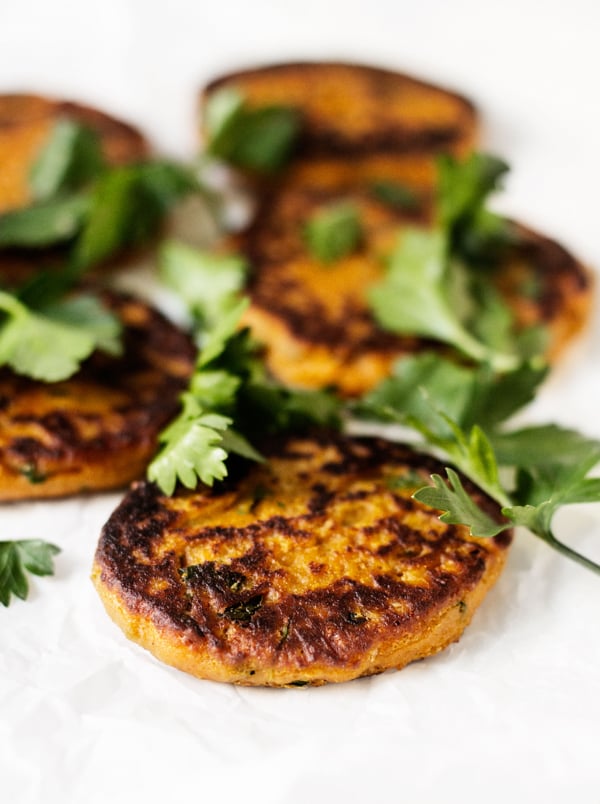 Thanks, as ever, for the sweet and thoughtful responses to my last post. Yes, my mother is a remarkable woman. And yes, there's a faint resemblance!
A few days ago, I mentioned a few delicious meals that I enjoyed during my staycation, or my week off at home. These sweet potato chickpea burgers are one of them. I tested the recipe a few days before heading to my mom's, and I was so happy when the burgers held up to a second try. They're tasty, versatile, and crowd-pleasing. They also feature two of my favorite foods–sweet potatoes and chickpeas.
Most of the bean burgers I've experimented with have been make with whole or mashed beans. This recipe features some whole chickpeas, but also chickpea flour. The flour does a lot of heavy lifting; it makes the burgers crispy on the outside and tender on the inside. If you haven't worked with chickpea flour, or besan before, it's well worth exploring as an ingredient. It's very versatile, and after you make the burgers, you can make some socca.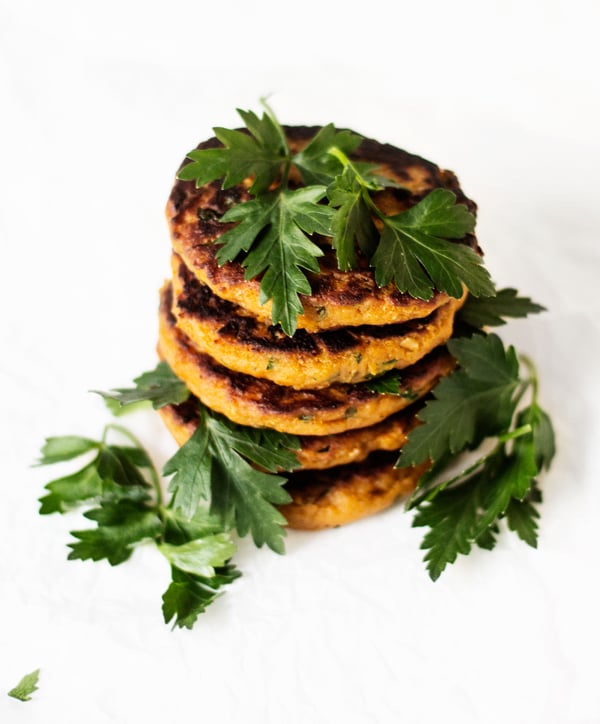 Sweet Potato Chickpea Burgers
Cuisine:
vegan, gluten free, tree nut free, soy free, no oil
Author:
Prep time:
Cook time:
Total time:
1 cup cooked, mashed sweet potato (about 1 large or 2 small sweet potatoes)
1 1/2 cups cooked chickpeas (I can, drained and rinsed)
1/4 cup fresh parsley
1/4 cup chickpea flour
1 teaspoon ground flax meal
1/2 teaspoon fine salt
1/2 teaspoon onion powder
1/4 teaspoon garlic powder
1 teaspoon ground cumin
1 tablespoon fresh lemon juice
Preheat your oven to 375F and line a baking sheet with parchment.
In a food processor, combine the sweet potato, chickpeas, and parsley and pulse 10 to 15 times, until the chickpeas and parsley are broken down. Scrape down the sides of the work bowl, then add the chickpea flour, ground flax meal, salt, onion powder, garlic powder, cumin, and lemon juice. Pulse 5 to 10 times, taking care not to over-process the mixture; it should retain some texture.
Shape the mixture into 4-6 patties. Place the mixture onto your baking sheet. Bake for 30-35 minutes, or until the burgers are crispy and golden on the outside. Allow them to cool briefly before serving.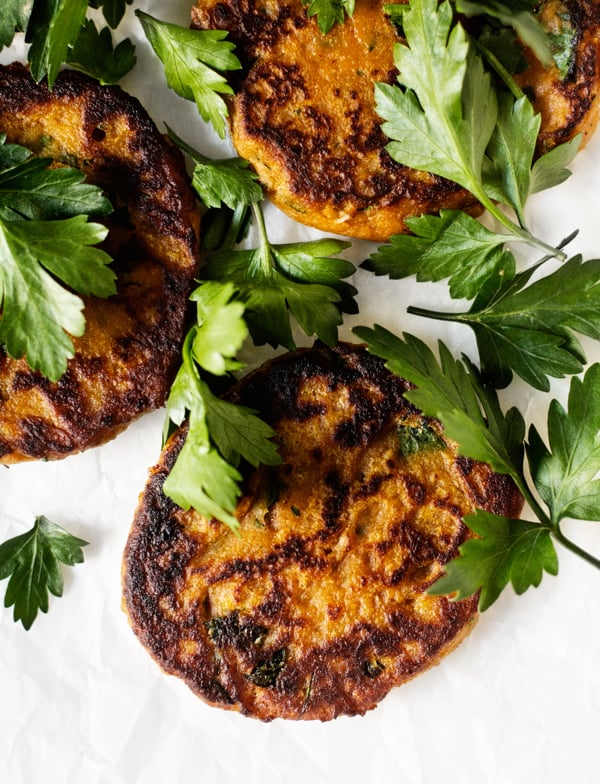 If you've already tried and enjoyed my homemade rice and sunflower seed burgers, I suggest you start rotating this recipe into the mix. It won't disappoint!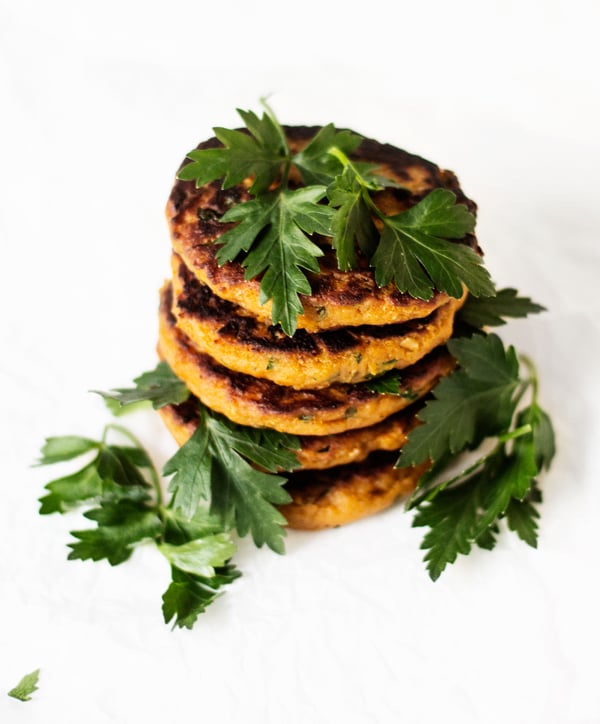 So tomorrow at noon I head out to the Windy City for the HLS. I can't believe the weekend has snuck up on me so quickly! I can't wait to see so many of my blogger friends, and to meet quite a few others with whom I've only corresponded so far.
As you guys know, I'll also be presenting at the summit on Saturday afternoon (the schedule is online here). Caitlin and I are moderating a talk called Stop Staring Over Your Shoulder. The focus of our presentation will be the danger of self-comparison in the blog world. Can reading food blogs make us susceptible to food fads or diet pressure? Can they instill a sense of pressure to undertake superwoman fitness routines? How can they be directly linked to such conditions as orthorexia?
We hope it will be a tough and hard hitting presentation, with tons of audience feedback (so if you're attending on Saturday, start thinking of things to ask me now!). For those of you at home, the summit will be streaming live. I'll be sure to post info on that after a full recap of my first day in Chi-Town later tomorrow night.
For now, enjoy your Fridays!
xo