For days now, I've been hinting at the arrival of this:
My favorite new hummus. And that's saying a lot, because I love hummus, and there are plenty of tried and true variations to which I've already pledged my heart. Still, we all know that sweet 'taters are among my favorite foods, so it actually surprises me that it's taken me this long to mix them up with chickpeas and tahini. What was(n't) I thinking?
This hummus has it all. It's tasty, satisfying, and it has both sweet and salty notes. So far, I've layered it into Ezekiel tortillas for lunch, scooped it on top of a nutrient dense salad or two, and stuffed it into some raw collard wraps. It would be a perfect appetizer for parties, and I bet it would be great for topping veggie burgers.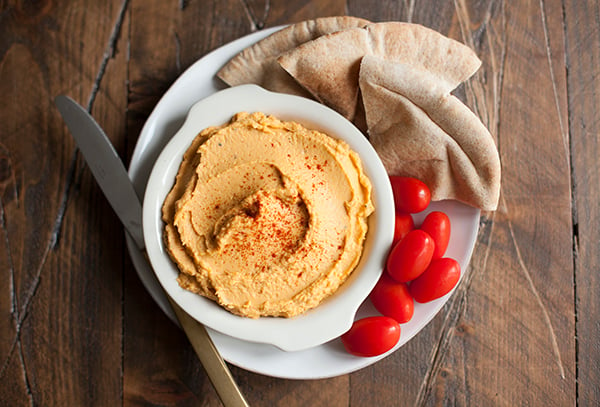 Anyway, this stuff is good. It's very good. It's also chock full of the nutrient benefits of chickpeas, including folate, fiber, protein, and iron. I love the rich, creamy texture that freshly baked sweet potato helps to create. Without further ado, the recipe.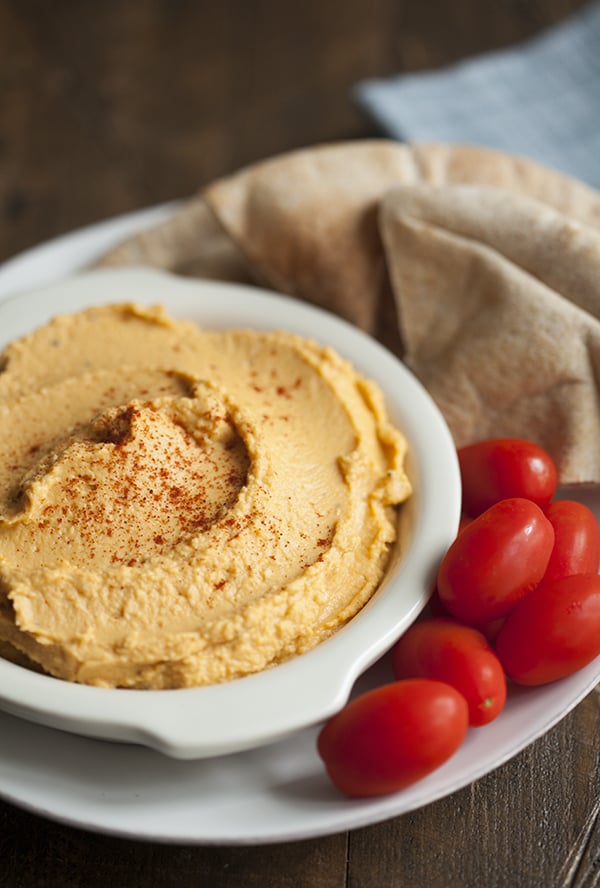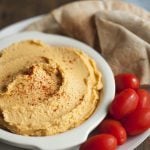 Sweet Potato Hummus (gluten free)
Author -
1

cup

mashed

cooked sweet potato (about 1 medium sized potato; you can either bake it or steam it before preparing the hummus)

1 ¾

cups

cooked chickpeas

or 1 15-ounce can chickpeas, rinsed and drained well

¼

cup

tahini

2

tablespoons

freshly squeezed lemon juice

1

clove

garlic

roughly chopped

½

teaspoon

salt

1

teaspoon

toasted sesame oil

1/3

cup

water

Sweet or smoked ground paprika

for garnish

Optional: 1 teaspoon curry powder
Place all ingredients except for the water in a food processor fitted with the S blade. Pulse a few times to break the chickpeas down.

Run the motor of the food processor and drizzle the water in in a thin stream. Continue processing for 2-3 minutes, or until the hummus is completely smooth. Sprinkle with paprika and serve. Leftover hummus will keep in an airtight container in the fridge for up to five days.
Hummus lovers, this one has your names on it. As you'll see, I offer both curry powder as an additional flavor option. It, coupled with the sesame oil, will give the hummus a more unusual twist, whereas the regular version tastes mostly like a standard batch of hummus that has been married with the sweetness of sweet potato. Either way, you can't go wrong.
Enjoy the recipe, folks. Here's to a less snowy week!
xo