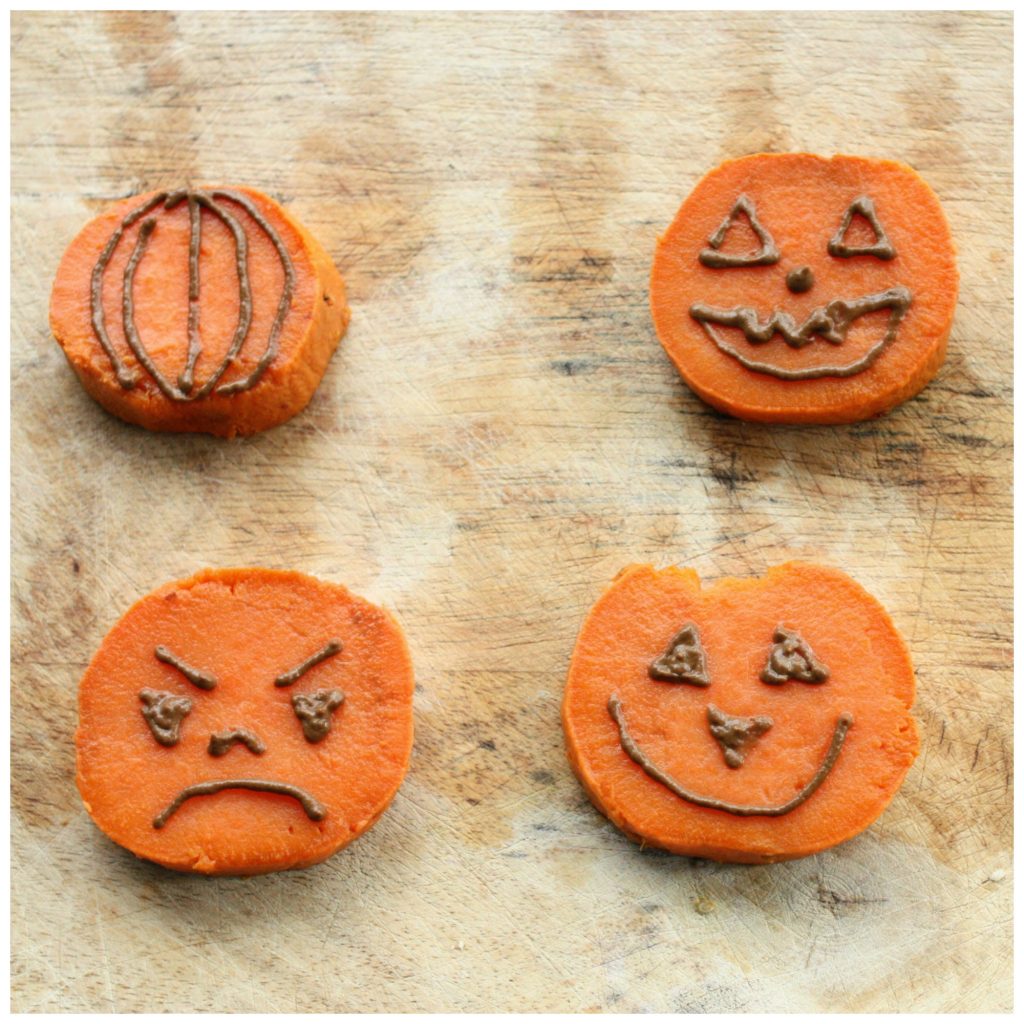 I like to think of myself as a pretty decent cook, but I know my strengths and I know my weaknesses. Creative salads? Killer chia pudding recipes? Sweet and savory salad dressings? I'm your girl. But ask me to decorate anything intricate, and all bets are off. I've got a steady hand, but I didn't inherit any of my mom's artistic talent. Usually, a couple of sprinkles is about all I can handle.
Nevertheless, I'm all about pushing my limits, so once in a while, I try to get crafty. Last week, this took the form of the cute little baked sweet potato rounds you see above, which are decorated with my chocomole to look like little Jack-O'-Lanterns. (Kind of.)
While sweet potato and chocolate might sound like an odd combination, I promise you that it's highly delicious. So delicious that I've even made chocomole with sweet potato mixed right in, and loved it. Sweet potato is a wonderful idea for when you're craving something sweet but not sugary, and somehow the rich tones of chocolate are a perfect accompaniment. If you'd like to skip the crafty part and simply turn this recipe into baked sweet potato rounds smothered in chocomole, or decorated with a little dollop of the stuff, that's perfect. But in the spirit of Halloween–one of my favorite holidays by far–I thought I'd do something a little different 🙂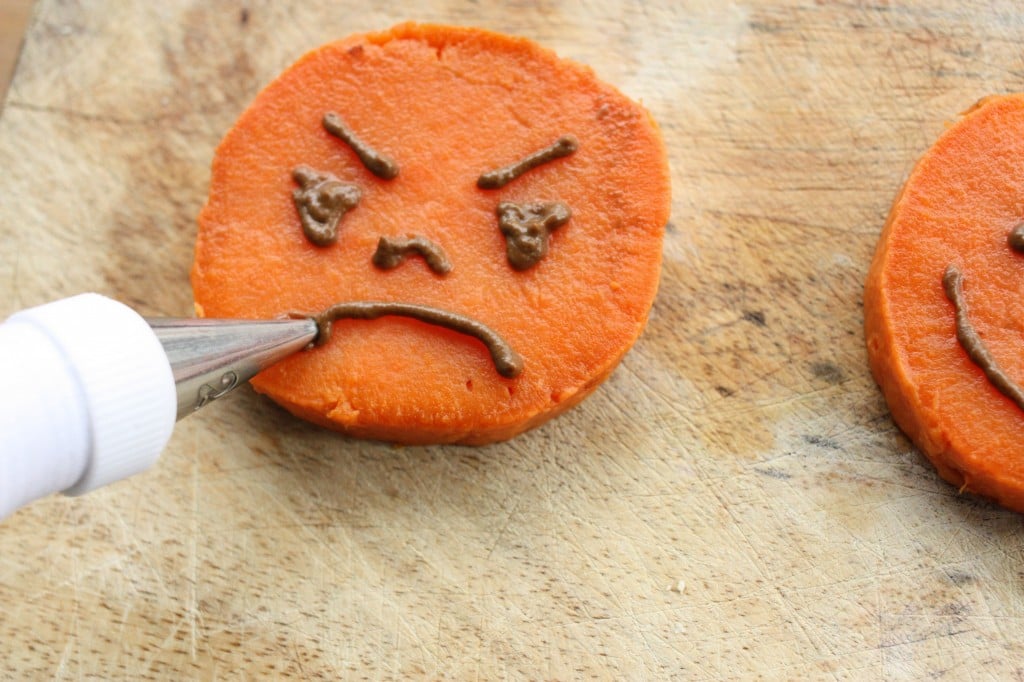 I used a piping bag to make these decorations (about $8.50 on Amazon), but you can also whip up the chocomole and put it into a plastic bag that's had one corner snipped off to make a very small opening. Use a steady hand, and work confidently!
So, I won't be winning any awards for my piping skills in the near future. But I tried. This one, for example, was supposed to resemble a pumpkin.
Whether you're a skilled decorated or a relative novice like me, these little treats are delicious–equally enticing as a snack or as dessert. Whip up some chocomole, bake and then slice up a sweet potato, and see for yourself!
Switching topics, I spent this past weekend in beautiful Saratoga Springs, NY, to celebrate my dear friend Melissa's wedding.
I had a blast in so many different ways: I got to enjoy upstate NY and its rich fall foliage, hang with the Melissa's lovely friends (my fellow bridesmaids), and especially to reconnect with Ashley, whom I hadn't seen for years!
The weekend began with a scenic drive from NYC to Saratoga. Liz, my fellow bridesmaid and instant friend, kindly gave me a ride up. We were able to catch some of the leaves turning–always a sight to behold.
At the rehearsal dinner on Friday, I quickly found Ashley and her husband, Bo. The first time we all met, it was at Melissa's place for a summery rooftop party. I hadn't even begun blogging yet. Bo claims that I struck him as the most "New York" person he'd ever met. (He also reminded me that I spent the entire evening chain smoking my way through a pack of Camel lights, which struck us all as pretty funny now.) Ashley and Bo are having an adventure as ex-pats in London and Geneva, and I'm adjusting to a big career switch, so we traded thoughts about life change, staying positive about upheaval, and embracing adventure. It was really lovely to reconnect.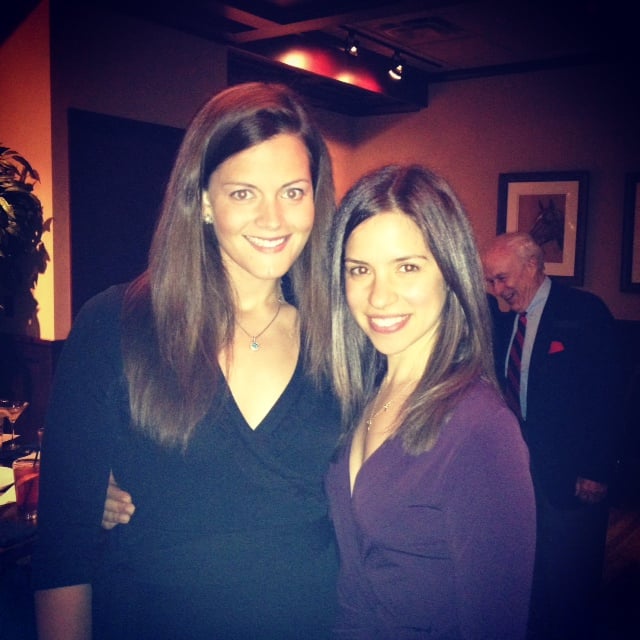 Friday night was also a chance to catch up with Melissa, who was already looking radiant and handling all of the details of her pre-wedding day with ease and grace. Here she and I are, along with Liz: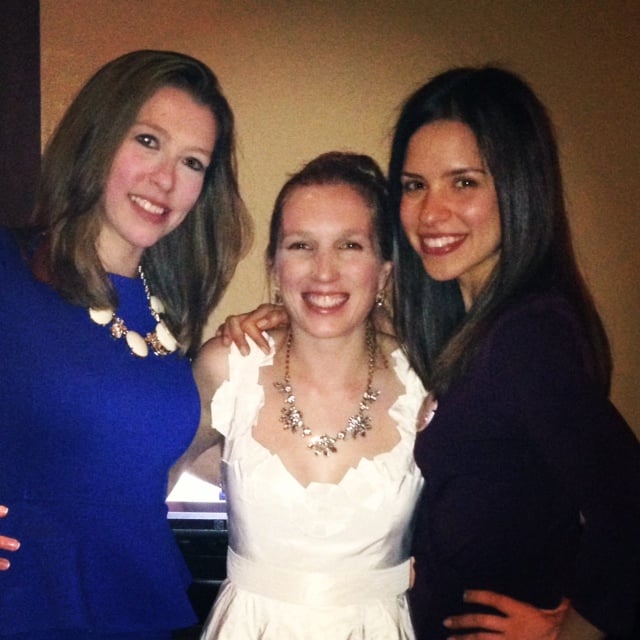 On Saturday morning, I woke up early, got a short workout in, and met Ashley and Melissa at Saratoga Juice Bar. This adorable (and relatively new) spot features Saratoga's only pressed juices, as well as a great smoothie menu. I was really impressed, not to mention charmed by the warm surroundings. I got a couple of pressed juices (two for me and other bridesmaids, one for Melissa–I thought she might enjoy an afternoon pick-me-up!) and a smoothie with banana, strawberries, blueberries, hemp seeds, kale, cocoa, cinnamon, and almond milk. It was great.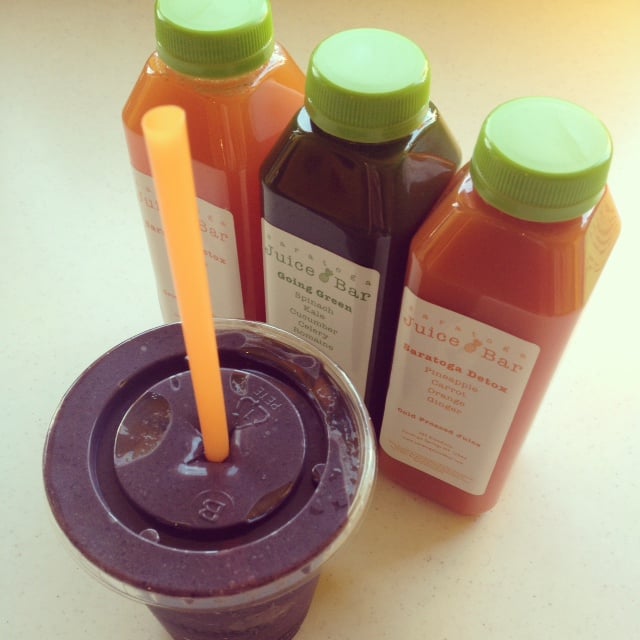 Before too long, it was hair and makeup time. Melissa made the hours fly by with a killer playlist (featuring tons of Girl Talk, our mutual obsession) and other great tracks. She also stocked the room with Larabars, almond butter, fruit, and sandwiches. Here she is, only hours before the service was underway:
Ashley and I decided to get matching updos–French braids with side buns.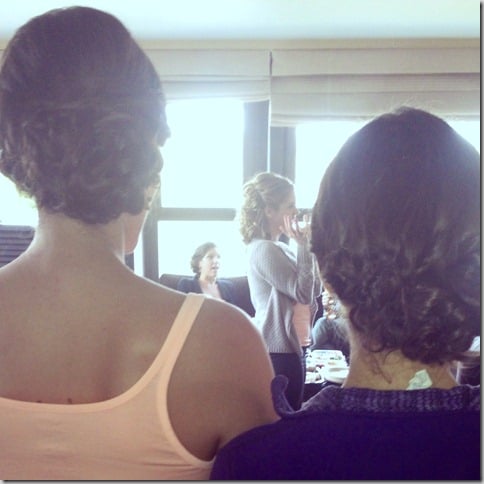 Intricate though they were, zillions of bobby pins helped keep the updos up through many hours of dancing. I wear my hair down or in a ponytail almost every day, so this was fun for me–like trying on a costume!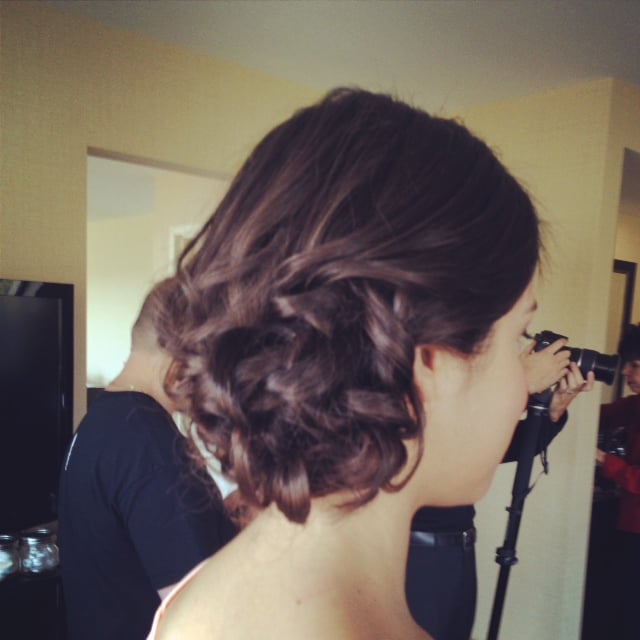 We stepped outside for a few informal photos before the first look. We loved the ombre effect of our bouquets, and I loved my pink roses.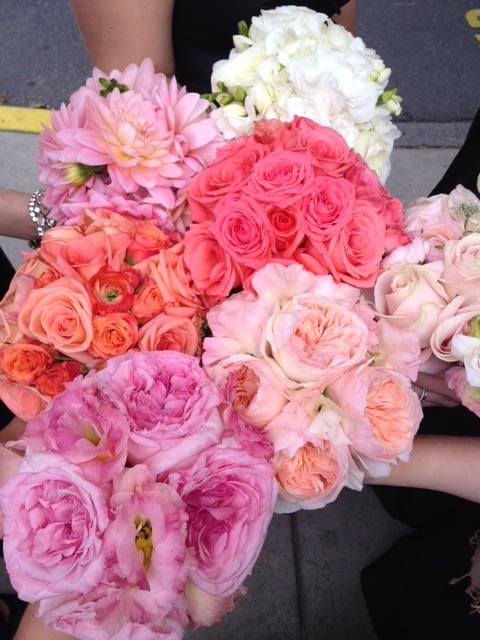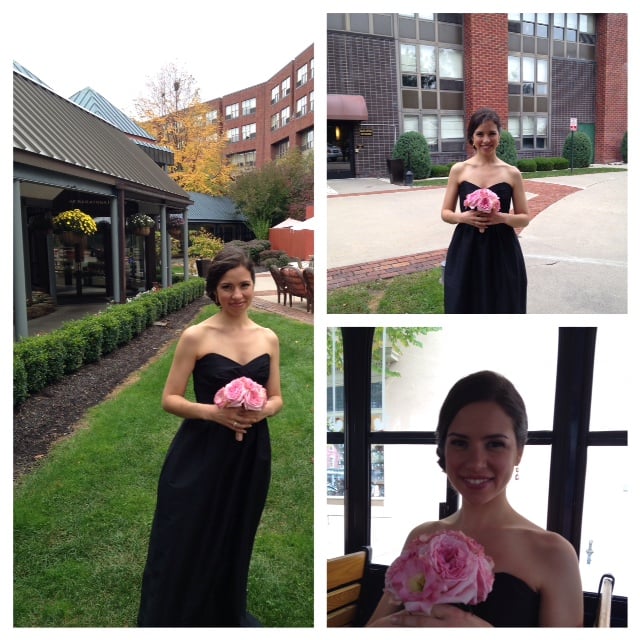 After photos and a very beautiful church ceremony, we enjoyed a trolley ride to Saratoga's lovely, cavernous Hall of Springs, where a long evening of food, drink, and dancing began. Everything was so thoughtful, from the pre-dinner taqueria bar (no joke — I walked away with a heaping plate of guacamole and proceeded to eat it by the spoonful) to the table settings to the fantastic entrees. I got a portobello mushroom stuffed with barley, corn, and lentils, served with tomato sauce and green beans. I felt so spoiled to have such a great vegan option on the menu, and I noticed that some other non-vegan guests chose it, too!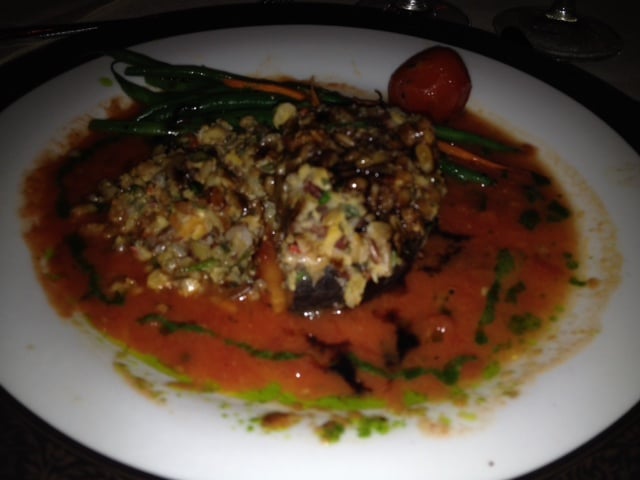 The highlight of the wedding, though, was most definitely the dance party. Ashley and I had fun being goofy:
And we also had a chance to make silly at the photo booth. (Anne, I was thinking of you.)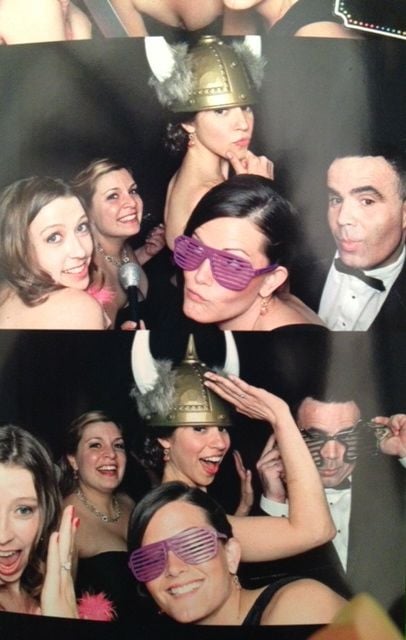 On the way back home yesterday, I was thinking about how, at one point in my life, weddings (and other events like them) were a perfect storm for all of my control-related anxieties. Not being able to set my own schedule, not knowing exactly what food would be served, not knowing whom I'd meet–these were the sorts of situations that would make me retreat into fear. Even anticipating dancing, or having a sip of champagne, was hard. Clearly–as the big smiles in these photos suggest–I've come to relish opportunities to "order" and routine, and embrace spontaneous expressions of joy instead. It isn't just about my eating disorder. Part of this shift is getting a little older, realizing how precious everything is, and wanting to savor new experiences as much as I can.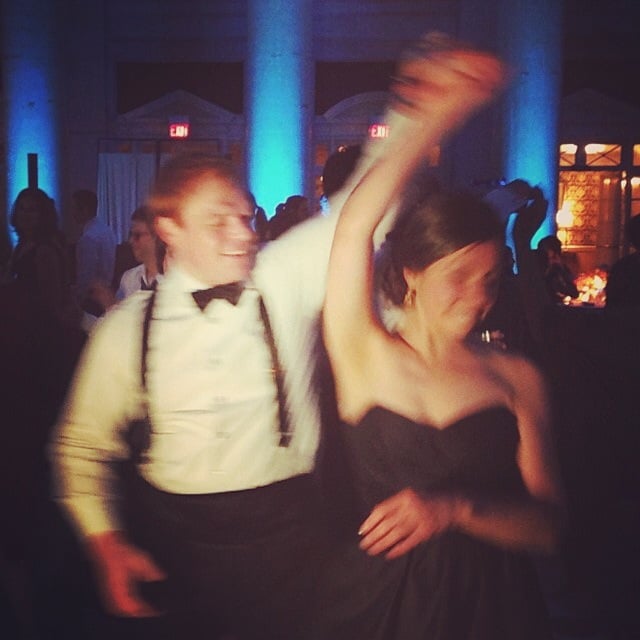 (Thanks to Bo, Ashley's husband, for humoring my two left feet on the dance floor).
As I may have mentioned in the past, I owe this blog to Melissa and her influence. I'd reached out to her after over a year of reading her blog, and we had a blogger/reader "blind date" in New York. When she heard me talk about raw foods, she urged me to channel all of my enthusiasm and passion into a blog of my own. At first, nervous about my writing, I resisted, but of course she was right to encourage me. This is only one of the ways in which Melissa has given me the courage to express my passions. When I decided to get my post-bacc, she was behind me all the way, and she's cheered me on through nearly three years of academic meltdowns, breakup woes, and frequent insecurity. I couldn't ask for a more supportive friend, and it was delightful to celebrate her partnership with Frank, who has become a beloved friend as well. Their generosity of spirit animated the whole wedding, and I'm sure all of the guests were as grateful as I was to experience it.
Tomorrow, a new favorite nut milk/superfood recipe. Night!
xo