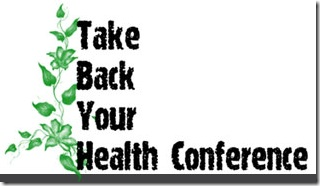 Hello friends!
I can't believe that by tomorrow night, I'll be in NYC. As I try not to burst with excitement, I'm here to offer one lucky CR reader a chance to attend a health and wellness conference here in Washington D.C. on October 22nd and 23rd. It's called The Take Back Your Health Conference, and it'll feature such health and wellness experts as Dr. Joel Fuhrman, author of Eat to Live. Other speakers include Andrea Beaman (a non-vegan but plant-strong chef), Caroline Alexander, a colon hydrotherapist, and Jason Wrobel, a raw, vegan chef.
And, oh yeah: I'll be attending, too.
It's worth noting out of fairness to fellow vegans that the agenda is not an entirely vegan one. As one of the organizers respectfully noted to me, the majority of the speakers encourage a plant based diet, but one member of the Weston Price Foundation will be speaking. I have no qualms about saying that that organization's posture is drastically opposed to everything I believe and try to share on CR, but I will also say that the raw, vegan community here in DC is not vast, and I feel that it's important for me to support the raw vegan chefs and speakers who'll be at the event. And there will be a bunch of them! Plus, Andrea Beaman will forever have my love for having been the first Top Chef contestant to try to make plant-based entrees of her own volition, and not because the challenge demanded it.
If you're a local reader (or like to travel), please enter today's contest to join me at Take Back Your Health. There are a couple of ways you can do this, each worth 1 entry:
1) Leave a comment on this post telling me why this conference interests you.
2) Tweet the following: @choosingraw is giving away a free ticket to a health and wellness conference in DC in Oct: enter here! http://bit.ly/mZJT29
3) Start following me on Twitter
4) Like Choosing Raw on Facebook
I look forward to meeting you at the event!
On that note, it's a jam packed day, and still going, so I'm signing off for the eve. Only one day more till I blog to you from the Great Apple!
xo