Happy weekend, friends. I am in the middle of recovering from a somewhat brutal final, but I wanted to check in to tell you that I'm featured in this week's Our Hen House podcast, talking GI health and vegan diet with my friends Jasmin and Mariann.
Jasmin and Mariann are the strong, witty, and compassionate voices behind a weekly podcast devoted to helping listeners find unique ways to help animals. Their interviews typically feature a person who is integrating a compassionate mission into his or her work, hobbies, or relationships. I love the OHH podcast because it does not only talk about vegan food or vegan headlines (though there's plenty of both of those things). It also talks about veganism in academia—an area of focus in which I am particularly interested—veganism throughout human history, and veganism in the arts. Jasmin is an actress, and both she and Mariann are arts lovers. It's obvious that they are deeply passionate about discussing the connections between artistic self-expression and finding one's voice as an advocate.
My personal passion (or one of them) is health care. It is the main focus of my life, and I believe—I hope, anyway—that it's my vocation. So I was really excited when Jasmin and Mariann asked me to appear on the show this week to talk about a new study I'm assisting with, which focuses on the interplay between plant based diet and GI health. This study will likely commence in February, and it is being organized by Dr. Robynne Chutkan, a wonderful local gastroenterologist whom I work with here in D.C. (I both observe her work and do nutritional counseling with her patients). Dr. Chutkan has an integrative GI practice, focused particularly on women's health, and she is very interested in the impact of diet and exercise on gastrointestinal ailments.
Dr. Chutkan's primary area of expertise is on inflammatory bowel disease, which is a broad term that describes several inflammatory conditions affecting the small and large intestine. Chron's Disease and UC (ulcerative colitis) are both in the category of IBD. One of the most common dietary nuances suggested for those with IBD is the specific carbohydrate diet (SCD), which restricts the di- and polysaccharides (starches) and eliminates refined sugar and grains. The upside of this approach is that it a) can often have results and b) eliminates a number of low-quality refined carbs. The downside from a vegan standpoint is that it can eliminate many of the foods that are significant sources of nutrition in a vegan diet (grains, for instance) and it is not designed to be vegan friendly.
Dr. Chutkan and I are interested in exploring whether a plant based paradigm that is low in refined carbohydrates and sugars, but does allow for some starch (quinoa, for example, and legumes) might offer some people with IBD the same benefits of the SCD without the use of animal products. Put another way, we're curious about whether it's the polysaccharides themselves that are the issue, or quality/sourcing? And whether their elimination is the only dietary answer, as opposed to one of several (others more vegan-friendly)? We do not have answers to these questions, but there has not been (to our knowledge) a clinical study of an all plant-based approach and IBD management, so we hope to explore the waters. The study will be for DC residents only, and Dr. Chutkan will design it entirely, as well as conduct the necessary testing and feedback that accompanies it. I'll be assisting with meal plans and food coaching, as well as motivation/support. If you're in the DC/MD/VA area and would like to be considered or inquire about any details, please feel free to email me ([email protected]). This has been an amazing experience for me, both as a person who is passionate about the power of food to heal, and also as someone who aspires to practice medicine—quite likely GI medicine—one day.
Inflammation of large bowel image courtesy of Wikipedia.
To listen, please check out the podcast! You can access it online or through iTunes. In it, I focus primarily on how this study connects to my own interest in the vegan/plant-based perspective within healthcare, and some of my thoughts on how medicine is shifting to be more lifestyle conscious. I must warn you all that I did the interview on the eve of my giant genetics presentation, and with little to no sleep, so if I sound a bit hazy in any way, that's why. But Jasmin assures me that I don't

I cannot think of two women who work harder or more passionately than Jasmin and Mariann do, laboring to create new blog content daily and an incredible, polished podcast each and every week. Their new online magazine features a ton of members only content and brilliant features, and if you join their "flock" (a monthly donation of $10), you'll get this lovely swag bag, which I myself received for joining two days ago: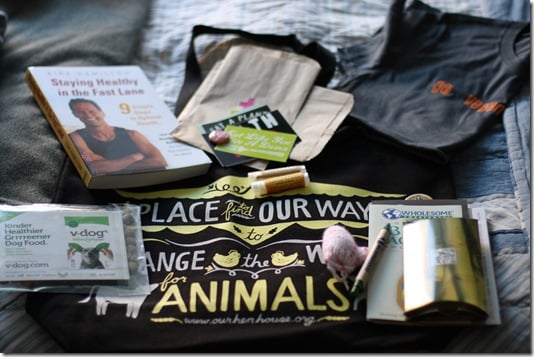 A signature tote bag, a T-shirt, and many other goodies. They are doing great work, and they are so grateful for each and every show of support. In the coming months, I'll be writing for their 'zine, in the company of Carrie, JL, and many other folks I admire.
OK. My brain is officially about to shut down for the night. Thanks for bearing with me through my finals week, all—I hope to have more food and words for you soon.
xo