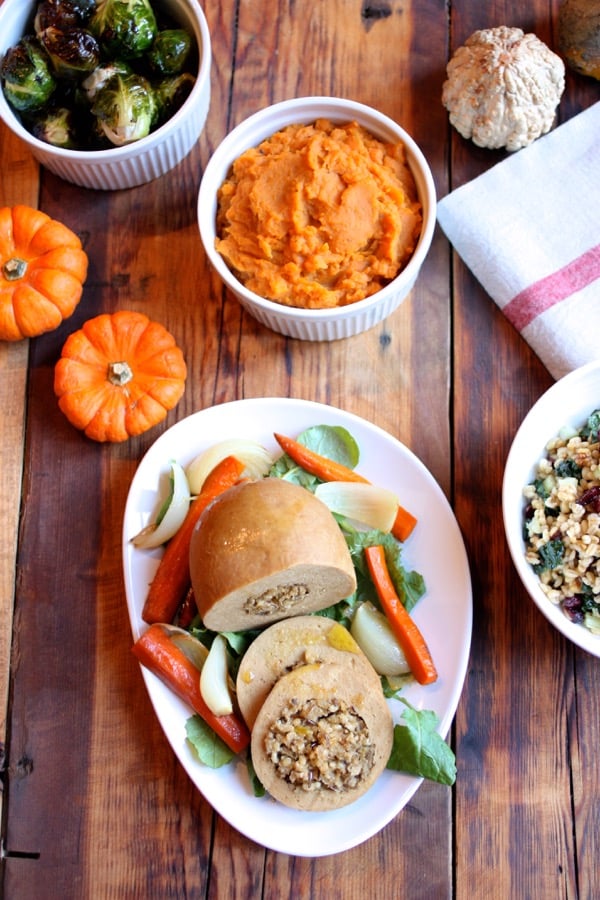 Let's talk about turkeys.
At this time of year, we hear the word "turkey" in primarily one context: that of a holiday centerpiece. At this time of year more than any other, I like to appreciate and admire turkeys as what they are: highly loyal, social, and emotional creatures with inner lives and experiences of their own. Turkeys in the wild are highly attached to their own flocks, and mother turkeys are fiercely protective of their babies. In short, turkeys are not commodities for us to make merry with. They are sentient beings who are worthy of our respect.
For more facts about these loving creatures, presented with plenty of charm, I'm digging this infographic from the awesome Tofurky Pinterest board:

As you can see, many turkeys in the US are never given a chance to live out their natural 10-year life expectancy; instead, they're slaughtered within 3 or 4 months of birth, after spending all of their natural lives separated from their mothers and packed into tiny, captive quarters with other birds. In these circumstances, the turkeys cannot express any of the social bonds that make their flocks so unique.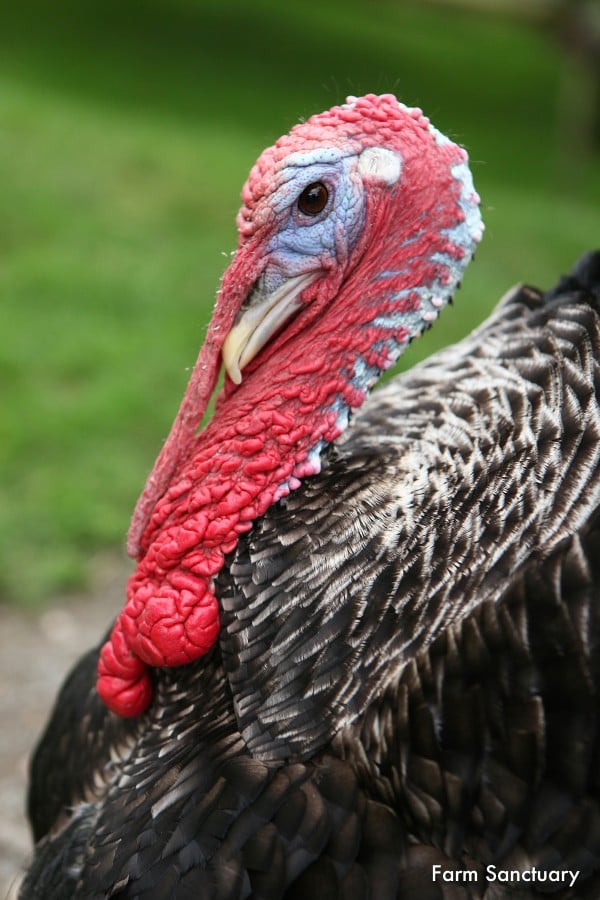 45 million turkeys are sold during the holiday season. 300 million are killed in the US each year. But there's great news, which is that a holiday feast can be abundant, satisfying, and traditional without turkey on the table. And for the last 20 years, Tofurky has been ensuring that those who wish to opt out of turkey consumption at the holidays are given a totally authentic alternative, which they can enjoy with family and friends.
Tofurky is a special product, one that's animated by a passionate commitment to justice for animals, and which also keeps an eye on taste and food integrity. It is a product that has enabled hundreds of thousands of non-meat eaters to feel included in the holiday experience, to share their own values and viewpoints at the same table with their family and friends. For all of these reasons, I think it's very worth celebrating–especially since the Tofurky® roast has hit the 20-year mark!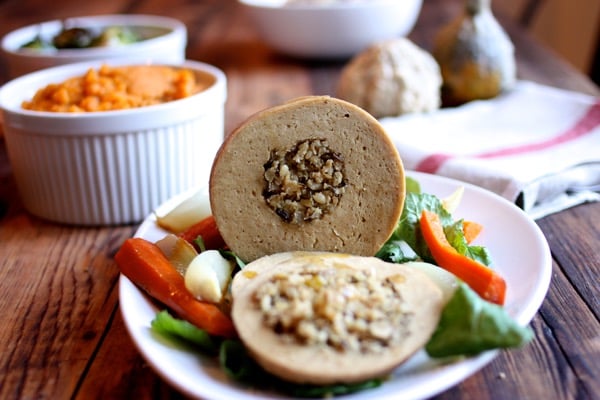 Tofurky debuted in 1995. It was instantly beloved by those who chose not to eat meat, but didn't want to feel left out of the holiday meal celebration. The folks at Tofurky think of the Tofurky® Roast as the holiday meal peacemaker, allowing everyone to have something special to eat at the table. Sure, sometimes the best part of Thanksgiving is the sides, and vegans always do well with those. But sometimes you simply crave the taste and texture of something authentic and traditional, which is where Tofurky roasts can be so incredibly handy. Tofurky's main goal is to develop the best tasting and textured product possible. Sometimes that means doing things the "hard way," like using real wood chips and an actual smokehouse to smoke the Tofurky deli slices instead of adding liquid smoke. But the company embraces authentic preparation and techniques.
The Tofurky® Roast is pre-cooked. The meaty portion is made from a tofu and wheat protein blend, and it's stuffed with a wild rice and whole wheat bread crumb stuffing, which is savory and delicious. It roasts in the oven (quite a bit more quickly than animal protein) and is easy to slice and serve.
Tofurky is all about high quality ingredients. The Tofurky® is made using only certified organic tofu, and the company uses other organic ingredients wherever supply and costs make it feasible. The Tofurky manufacturing facility in Hood River, OR is certified by Oregon Tilth as an organic food processor. Turtle Island Foods has also been a long time opponent of the use of genetically engineered foods, and the company vigorously sources certified non-genetically engineered ingredients from all of its suppliers. Unlike some of the company's competitors, Turtle Island Foods does not use hexane-extracted soy isolates, concentrates or other ingredients manufactured using the eco-toxin hexane.
This year, I was lucky enough to be the recipient of a special Tofurky roast. I was delighted to sample it this weekend, as a "mini-Thanksgiving" before the big celebration in two weeks. This year will mark Steven's first vegan Thanksgiving, and we're doing the cooking here at home. I've been giving a ton of thought to making the meal as delicious as possible, and this was an excellent chance to give a couple of things a test run. For his part, Steven couldn't wait to sample our Tofurky® Roast.
Neither one of us was disappointed! The roast was moist and delicious, even without an elaborate dressing. I followed the suggested cooking instructions pretty faithfully, baking the roast in a covered dish with some fresh veggies.
If you've got a Tofurky at home and are wondering how to prepare it this year, here's how we did it.
Tofurky® Holiday Vegetable Roast
Author -
Preheat the oven to 350F.

Remove the Tofurky® Roast from its packaging and place it into a covered casserole dish. Assemble the cut vegetables and thyme sprigs around it.

Whisk together the olive oil and tamari. Pour half of it over the Tofurky® Roast.

Bake the roast for 30 minutes, and then pour the remaining baste over the roast. Roast for another 30 minutes, or until the vegetables are very tender and the roast is golden. Brush it with any baste that has collected in the cooking dish. Allow it to cool for a few minutes, then slice and serve.
Of course, it wouldn't be Thanksgiving (or mini-Thanksgiving) without some other fixings. So, I whipped up some sweet potato mash with coconut milk:
Some crispy roasted brussels sprouts: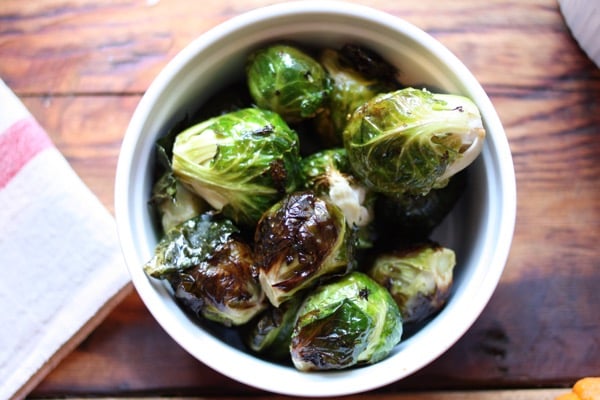 And a delicious barley, cranberry, and celery salad that I'll probably share the recipe for in the next week or two!
In all, it couldn't have been a more generous or celebratory meal. And as you can see, I was pretty excited about our centerpiece:
The top I'm wearing, by the way, is my new Our Hen House / Vaute Couture sweatshirt. It's a gorgeous design, and I'm obsessed 🙂
Thanksgiving is now two weeks away. I know that many of my readers are probably considering a "gentle" holiday meal, with a low impact on animals and mother earth. I hope that this post gives you inspiration, and whether you plan on a Tofurky® Roast or not, I hope that it inspires you to "pardon" one of the many animals that might otherwise go toward food this year. Tofurky has helped to pardon over 550,000 turkeys since its introduction in 1995. That's amazing stuff, and we can all take part. And products like the Tofurky® Roast help to remind us that meat-free traditions can feel abundant and complete.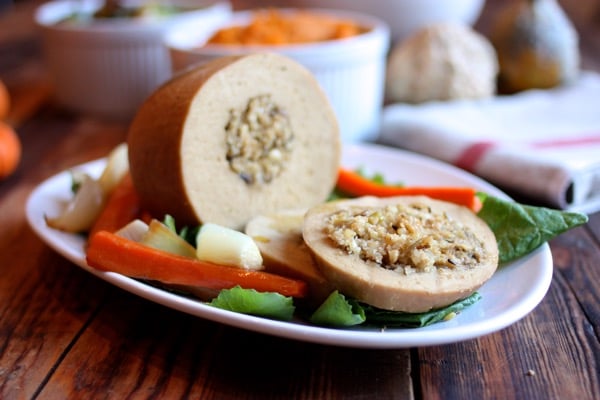 In addition to offering us the Tofurky® Roast, Tofurky also has a ton of great resources for us, especially at this time of year.
–Learn more about the environmental benefits of meatless holidays at the Taking Tofurky blog.
-Check out some awesome vegan holiday recipes and other fun resources on the Tofurky Pinterest page
-Learn more about products, ingredients, and the company mission and practices at the Tofurky Website
-Find products with the Tofurky Store Locator
-Follow Tofurky on Twitter or Facebook
This week, I'll be sharing my preliminary Thanksgiving menu and a bunch of fun holiday meal ideas. Tomorrow, weekend reading. Have a great night, friends.
xo
This is a sponsored post for Tofurky. All opinions expressed, however, are my own.