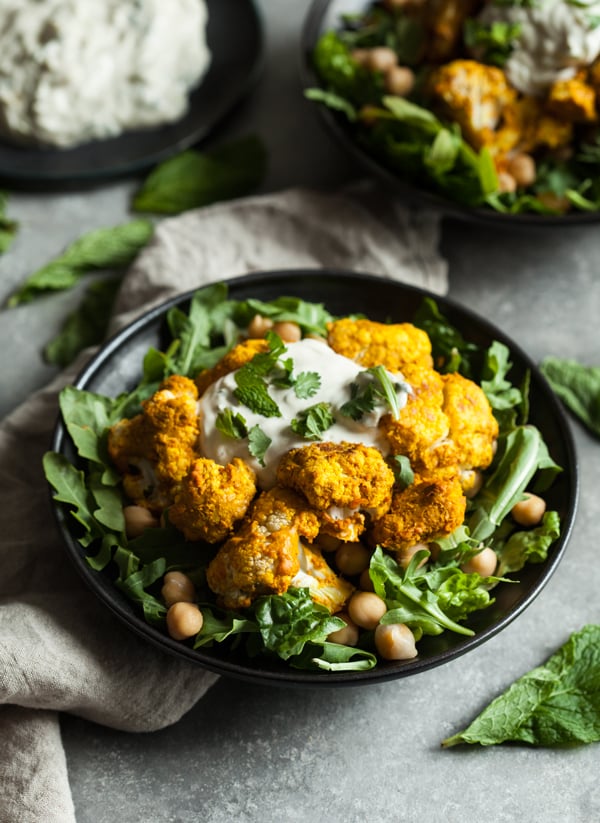 These tandoori cauliflower chickpea bowls with creamy cashew raita are the perfect answer to what to do when you're craving a meal with authentic Indian flavor, but you're also hoping to keep things light, summery, and simple. They're bursting with color, texture, and nutrition, and what brings them together is the addition of a creamy, cooling cashew raita that can be used in so many different ways.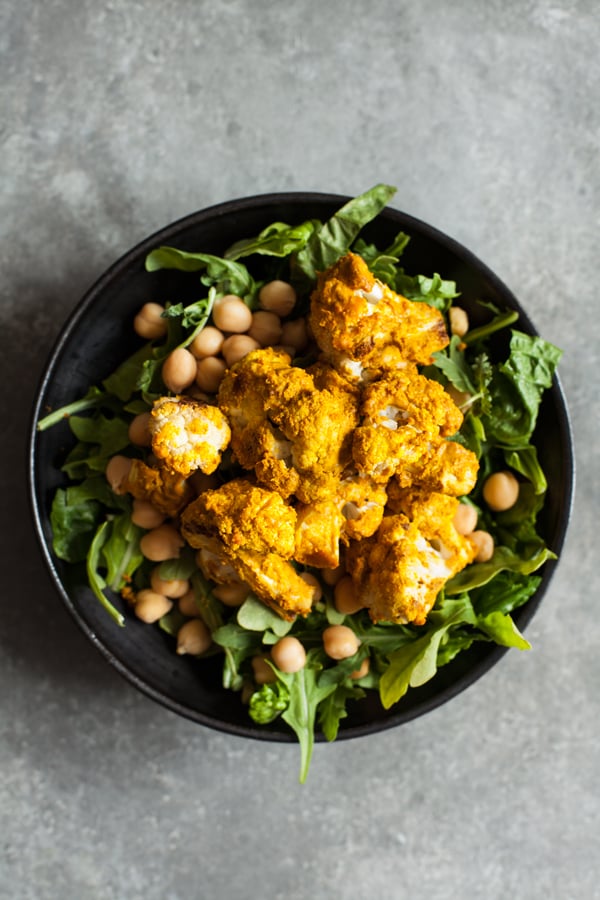 If you've been reading this blog for some time, then you know that depth of flavor–at least insofar as it relates to spices, heat, and alliums–is something I've grown into over time. My mom strongly objects to the taste of onion and garlic in food (at least more than a little) so I grew up rarely eating either, and we weren't a family that experimented with many global flavors, herbs, or spices. Later on, my eating disorder made me shy about trying new things, unfamiliar flavors included.
It's taken me a while to branch out, but blogging has been an important part of that process, as it continually encourages me to try new things (and being part of the blog community means that I never have a shortage of inspiration). In the last few years, I've started using so many more spices and flavors in my cooking, and I've finally gotten less shy with garlic, all of which has made the culinary experience a lot more fun.
Even as a teen, though, when I was a bit skittish about trying new stuff, tandoori anything was a favorite. There was an Indian restaurant two blocks away from our home, and tandoori something (usually chicken or vegetables) was always my order. After I went vegan and stopped eating yogurt (not to mention chicken) I sort of forgot how much I enjoyed this dish, but I recently had the thought to create something with similar flavors. Cauliflower seemed like a great canvas, and these tandoori cauliflower chickpea bowls with creamy cashew raita were the result. The cashew raita was an afterthought, but I love how it adds a tart and cooling element to the bowl.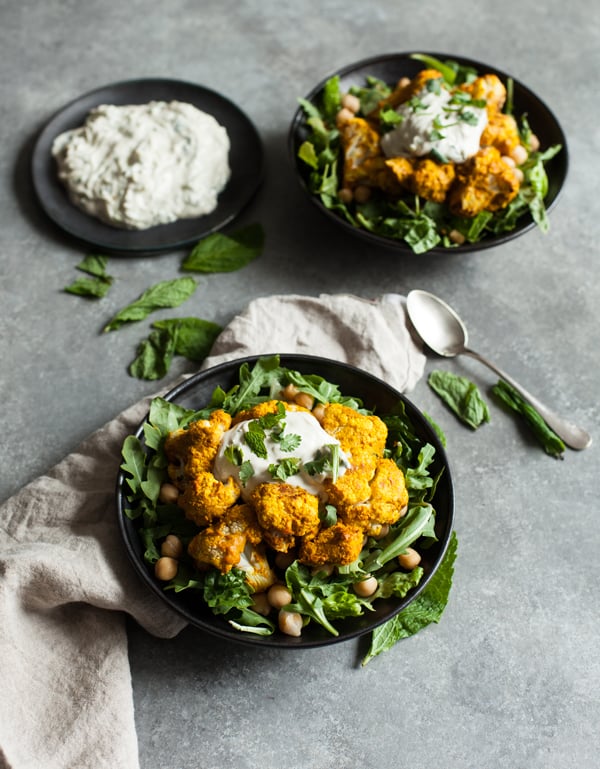 To make the cauliflower here, you coat it thickly in tahini and a tandoori spice blend. You could certainly use vegan yogurt in place of tahini–probably 1/3 cup in place of 1/4 cup–but since it can be tough to find non-dairy yogurt that isn't flavored, I figured tahini would be a more accessible base.
After the cauliflower roasts, you add it to a simple bowl of greens, herbs, and chickpeas, then smother it with the raita. You can definitely think about adding cooked basmati rice to the bowl, too, and I'll probably do that when I'm making the meal for dinner or looking to increase its heartiness.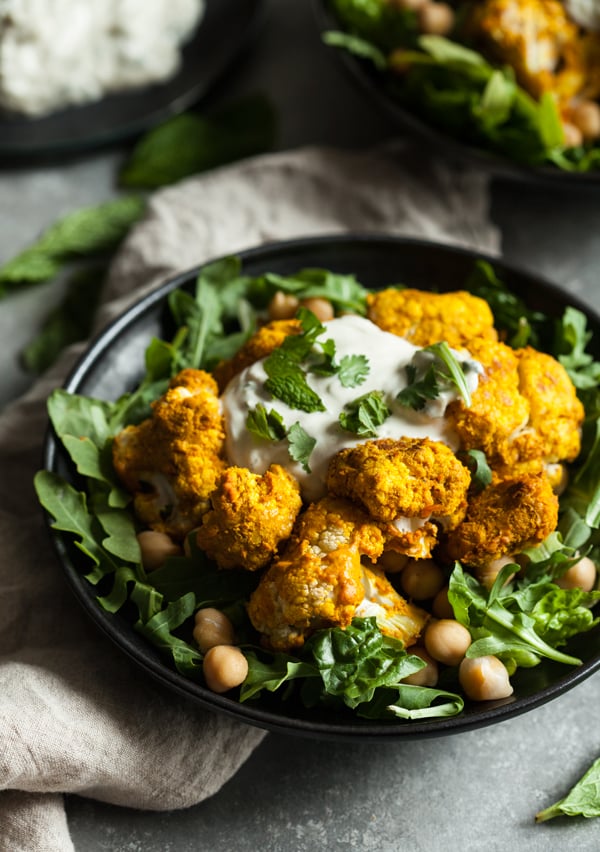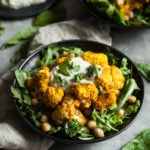 Tandoori Cauliflower Chickpea Bowls with Creamy Cashew Raita
Author -
For the cashew raita:
1

cup

cashews

soaked for at least two hours (or up to 12), drained

1/2

teaspoon

salt

1/2

teaspoon

ground cumin

1

large clove garlic

roughly chopped

2

tablespoons

freshly squeezed lemon juice

2

tablespoons

freshly squeezed lime juice

3/4

cup

water

1

cup

grated cucumber*

squeezed firmly through paper towels to remove excess moisture

1/4

cup

chopped mint or dill leaves
For the tandoori cauliflower:
1

medium head cauliflower

cut into 1" florets and pieces

1/4

cup

tahini

1

teaspoon

ground cumin

1

teaspoon

ground coriander

1

teaspoon

paprika

1/2

teaspoon

turmeric

1/2

teaspoon

ground ginger

1/2

teaspoon

salt

Dash cayenne

6

tablespoons

water

2

tablespoons

freshly squeezed lime juice
For the bowls:
6

cups

fresh greens of choice

spinach, arugula, romaine, mâché--whatever you have

1/2

cup

chopped cilantro leaves

1/4

cup

chopped fresh mint leaves

2

cups

cooked chickpeas

or 1 can chickpeas, drained and rinsed

Optional additions: Cooked basmati rice

toasted almonds or cashews, chopped fresh cucumber slices, or any other grains, nuts, or vegetables you'd like to add
Begin by making the raita, so that its flavors can marry while you create the rest of the dish. Blend the cashews, salt, cumin, garlic, lemon and lime juice, and water in a high speed blender or food processor until the mixture is totally smooth. Add it to a small mixing bowl and incorporate the cucumber and mint. Mix well to combine. Taste and add an extra pinch of salt as needed. The raita can be prepared 1-2 days in advance and will become more flavorful as it sits.

To make the cauliflower, preheat your oven to 375F. Whisk together the tahini, cumin, coriander, paprika, turmeric, ginger, salt, cayenne, water, and lime juice. Place the cauliflower pieces in a large mixing bowl and add the sauce. Mix everything well. Transfer the cauliflower (and any sauce in the bottom of the mixing bowl) to a parchment or foil lined baking sheet. Bake for 30 minutes, or until the cauliflower is tender and a little crispy on the edges and the sauce has turned a beautiful, amber/red color. Gently stir the pieces halfway through cooking so that they don't stick too much to the sheet.

To make the bowls, toss together the greens, herbs, and chickpeas. Divide them into 3 or 4 serving dishes and top each with the cauliflower and a generous scoop of the raita. Enjoy!
*To prepare the cucumber, I recommend peeling and de-seeding before you grate it; this will prevent it from being watery (and making the sauce watery).
Raita will make 1 1/4 cups and will keep in an airtight container in the fridge for up to 4 days.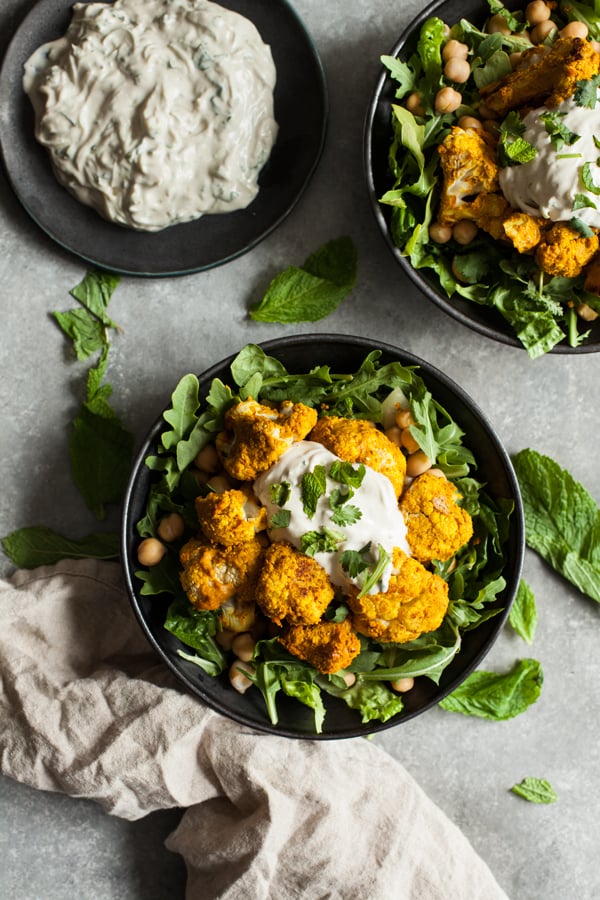 I'm excited to try the tahini/tandoori spice mixture with other vegetables, like zucchini or summer squash. And in the meantime, Steven loved the cauliflower pieces so much that he requested to eat them as a side dish with lunch and dinner in the day or two after I made these bowls. Which means that we've got a winner on our hands, and I'm sure I'll be making this combination again soon.
I hope you'll try the bowls, adding your own touches. If have a cashew allergy, you can try making the raita component with a cup of Nancy's plain soy yogurt (by far my favorite non-dairy yogurt option) or the Kite Hill plain almond yogurt. I imagine that either option will be delicious. Personally, I didn't find that the greens needed any extra vinaigrette or dressing when I used a generous scoop of the raita and mixed it all together, but you can definitely give them a drizzle of oil, lemon, or lime juice before serving if you prefer.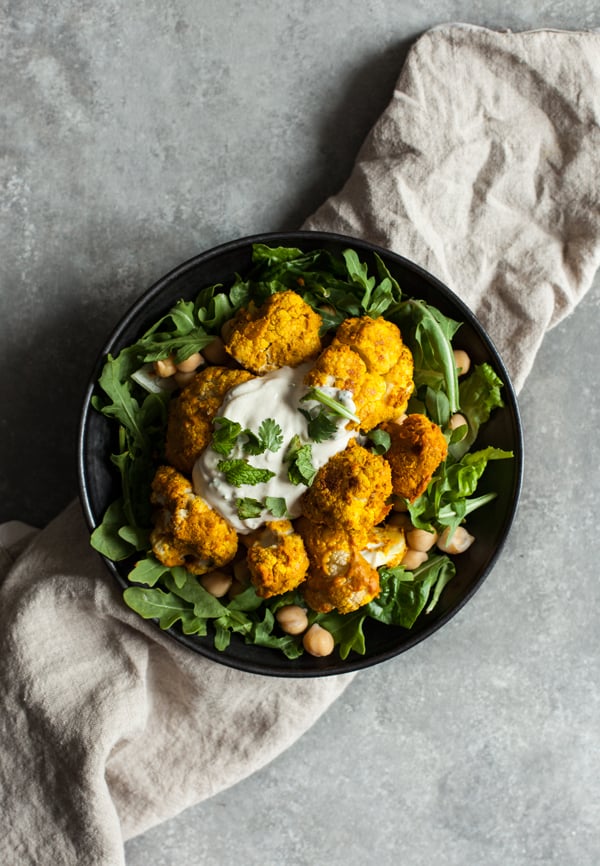 Before I go, I just want to thank you all for the lovely comments on my birthday post. They meant so much to me. I was struck by how much the theme of seemingly inexplicable suffering seemed to resonate, because that has been the hardest issue for me: how to make sense of unhappiness or anxiety when I'm so aware of the privilege and goodness in my life?
I was also glad that the idea of letting mess be what it is struck some chords. It's not easy to resist the urge to wrestle life experience into tidy parameters of our own devising. But doing so, I'm learning, is an important part of growing, learning, and being human.
See you very soon for weekend reading, and I hope you enjoy these bowls.
xo