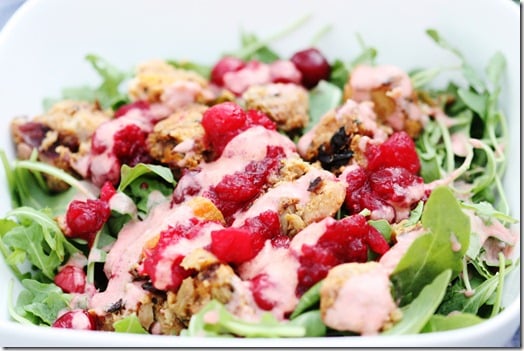 Have I mentioned that I love Green Recovery posts? Thank you all for the warm, kind responses to Sarah's post. Keep them coming.
It's been a long week, which is why I've been very glad to have a ton of Thanksgiving leftovers in my fridge. There's nothing nicer than coming home to something that demands virtually no work! This week, I've been focusing on my fantastic vegan stuffings, which were such a tremendous hit last week with my family. If you haven't yet caught up on recent posts, these were a millet stuffing with roast brussels sprouts and butternut squash: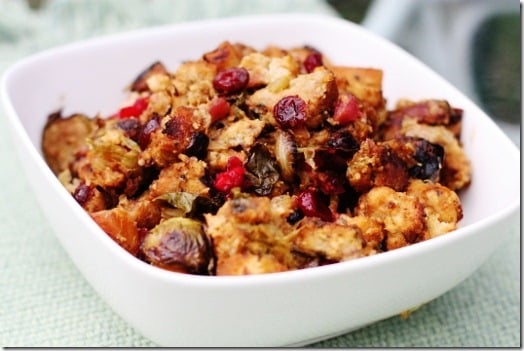 And a "meaty" wild rice and mushroom stuffing (made with a delicious cauliflower and walnut base).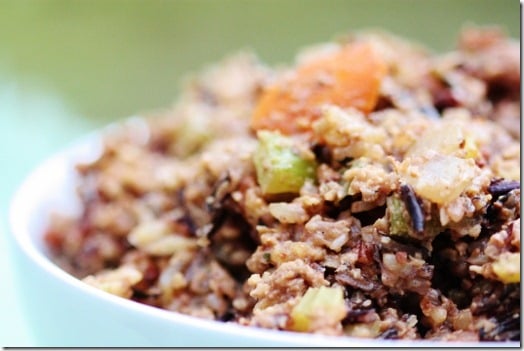 I made, but didn't blog, a cranberry sauce with orange zest and orange juice, which was a little on the tart side, but very tasty (next time, more sugar—or date paste!).
There are tons of creative things a person can do with leftover stuffing. It can go into wraps, it can be heated and eaten on its own, it can get stuffed into roast peppers, mixed with roasted veggies, and, if you're me, you can dump it on top of a big green salad and enjoy it all over again—this time, with some fresh crunch!
Tonight's salad started with a bed of arugula. On top of this I piled a heaping cup of my millet stuffing with brussels sprouts and squash, and about a third cup of my cranberry sauce (I don't have an exact recipe, but you could check out this one as inspiration). The coup de gras was a new favorite dressing, based upon the delicious cranberry dressing I tried at Candle Café last weekend.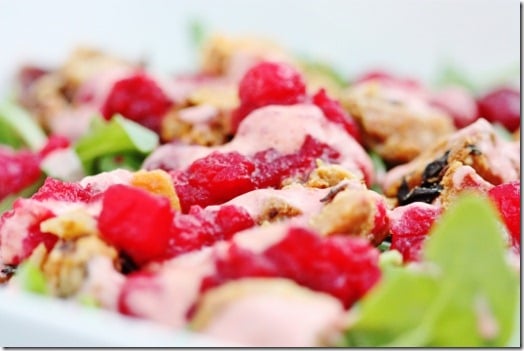 Fresh Cranberry Vinaigrette (raw, vegan, gluten and soy free)
Makes about 1 1/4 cups
Scant 1/2 cup fresh cranberries
1/4 cup orange juice
1/4 cup olive oil
2 tbsp apple cider vinegar
2 pitted dates
1/4 tsp salt (or less)
Blend all ingredients on high speed till smooth. Adjust seasonings to taste, and also adjust tartness/sweetness; you can add more dates or OJ for sweetness, or ACV or cranberries for tartness.
Altogether, this salad has everything: salty, sweet, tart, bitter, and pungent.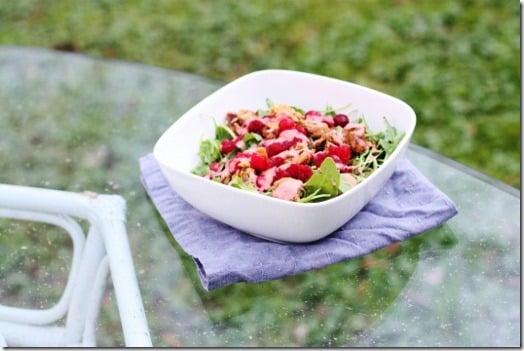 OK, I lie. I have no clue what would be pungent in this salad. But it's pretty well rounded—a taste party, if you will—and oh-so-seasonal.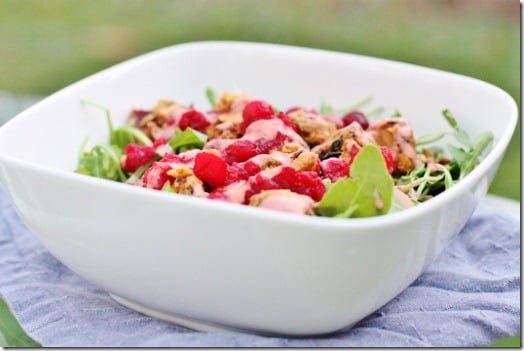 We've got a long month of holiday cooking ahead of us. Don't just heat and eat your leftovers, folks—think about transforming them into fresh, creative, and fun nutrient dense salads. Everything tastes better on top of greens!
Hope you're all ready for the weekend—I certainly am.
xo