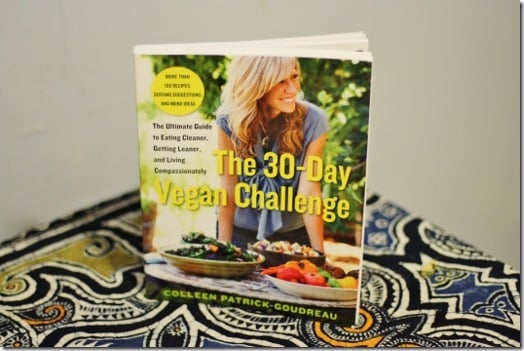 "Role model" is not an expression I throw around lightly. In a nutrition community full of self-proclaimed "gurus," I tend to believe that we're each the best judge of what does and doesn't work for our bodies; in a community full of "experts," I don't believe that any single book or opinion is the final word on nutrition science. The closest thing I have to "role models" are the men and women—cookbook writers, mostly—who made me fall in love with vegan food, and taught me to live compassionately.
Colleen Patrick-Goudreau is one of those women. The Vegan Table is one of my favorite cookbooks, and in spite of the fact that it is dog-eared, splattered, and generally worn down by my kitchen, I never cease to make and remake its recipes. Colleen's food is simple, wholesome, and bursting with flavor. Her recipes are designed to satisfy the tastes of omnivores (or new vegans) without sacrificing health or relying upon a pantry full of faux-meats. Her perspective is balanced: healthy and whole foods oriented, but also appreciative of the sweeter indulgences in life (after all, she did write The Joy of Vegan Baking).
Colleen's power as a figure in our community, however, goes far beyond her talents as a chef. If you know Colleen's work, it's probably because you know her famous podcasts, which have inspired countless men and women to take the vegan plunge. Having seen Colleen speak twice now (once at Vida Vegan Con, and once recently at Poplar Springs), I can tell you that she is simply one of the best public speakers around. She's passionate, yet even-tempered; humorous, but capable of relaying the importance of animal rights issues. Most of all, Colleen exudes confidence and strength. It's this confidence, and the fact that Colleen (an English lit major) is a superb writer, that make me admire her so deeply. Veganism tends to demand a little confidence building, and no one sets a better example than Colleen.
Colleen's newest book is the 30-Day Vegan Challenge. When I first received a copy to review, my heart dipped: most "challenges" treat plant based eating like it's the Zone Diet. This challenge is different. Colleen's mission is twofold:
To help prove to people that eating and living vegan for 30 days is within reach
To help guide her readers through the challenges and difficulties of being vegan
The word "challenge" was chosen with more care than I initially realized. This is one of the first books that openly addresses the fact that veganism can be hard. There's nothing more discouraging for new vegans than the slew of books that insist that veganism is "so much easier" than you'd think. Yes, for some people, veganism is surprisingly doable, and I was one of those lucky people. But I hadn't eaten red meat in a long time, and I didn't like cheese. For most people, the vegan transition is actually pretty tough, full of speed bumps, backsliding, and little mini-battles with cravings for old favorites.
These difficulties don't mean that veganism isn't worth it. It is unbelievably, amazingly worth it. It's just like most worthwhile things in that it's not a piece of cake. The best way of dealing with the challenges of a vegan lifestyle is to talk about them openly, so that we can deal with them efficiently; this is exactly where Colleen shines. From dining out to talking to family and friends about your lifestyle, Colleen is a fountain of insight and strength. I can't recommend her words highly enough to anyone who's facing this major lifestyle change with a little anxiety.
Of course, the book goes beyond all that, into recipes and lifestyle tips and all sorts of brilliant tutorials ("Tofu: It's Just a Bean"). The book is worth it for the food alone. But recipes are not what makes this book invaluable: the food and practical guidance draws you in, but it's the wisdom and strength that will keep you referring back, time and time again, as you embrace a compassionate lifestyle. And if you're an animal lover, you'll smile at the acknowledgments:
"My hope is that we can learn from the animals what we need to become better people."
Do you want to take the 30-Day Vegan Challenge? You're in luck, because I'm giving one lucky CR reader a free copy. To enter, you can do any of the following things; each will count as a separate entry, but you have to leave a comment letting me know you did it!: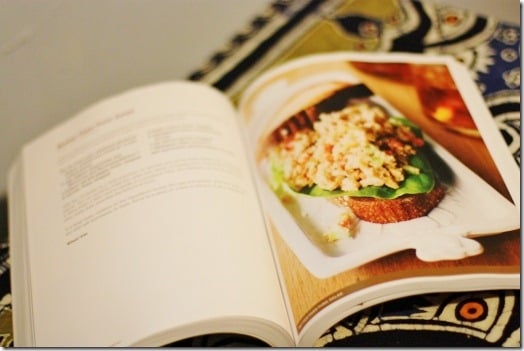 Winner will be announced next Friday. I hate to do this, but US residents only, please—I've had some trouble with shipping copies internationally. Good luck, and get typing!!!
Happy Weekend!
xo