1) Why does my Mom's freshly brewed coffee taste so much better than mine?
My mom makes her coffee in a simple drip. I make mine in a fancy French press, and I spend a lot of time trying to perfect it. And you know what? Without even trying, my Mom has me beat.
2) Why on earth don't I travel with my Tribest Blender more often?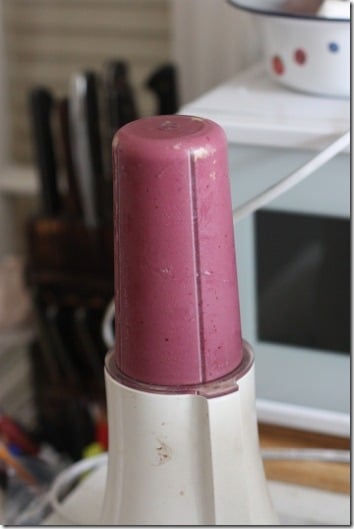 It makes homemade smoothies a cinch, whether one happens to be home or not.
Also noteworthy: I traveled this weekend with samples of the Garden of Eden "raw" protein. A bit bland and tasteless, but a good nutrition profile and neutral enough that my mom didn't detect it.
3) Why is it that salads and sandwiches so often taste better when other people make them for you?
I was in a time crunch at lunchtime on Friday, and didn't have a chance to run back to mom's to make a salad of my own. I wandered into Energy Kitchen, a chain I sometimes poke fun at because it's the sort of 6-egg-white-omelet-no-oil-no-fat-no-salt-no-taste place that markets to the muscled set. But, just like The Pump (which is one of my favorite places in NYC), Energy Kitchen is also heavy on the produce, and it labels dishes honestly, which is great for vegans.
I got the "very veggie" salad, which was broccoli, corn, tomatoes, edamame, cukes, romaine, and guac. Good guac, too! Garnished with lemon, this was a big hit with me:
And we know I'm pretty picky about my guac.
4) Why is it so much fun to freak my mom out with raw food?
Peeking out from underneath my fresh fruit is bright green chia seed and chlorella pudding.
And this right here is a giant salad with some of my raw carrot falafel, which mom was eyeing with suspicion.
When I arrived at my mom's, it was with a few key travel items: raw snack bars and trail mix, some collard greens that I was hoping to save from fridge perishing in DC by sneaking them on the bus to NYC, some chia seeds, some of my raw juice pulp crackers, some of my raw falafel, and lots of organic pink lady apples. She stared at the chia seeds and crackers and declared, "I'm not quite sure what this is."
One day, mom, some of my weird food will look normal to you. I promise.
5) How does Café Blossom manage to make raw sweet potato taste so good?
That's the café's "raw autumn sweet potato rolls," stuffed with jicama, scallions, avocado, young thai coconut, and served with almond butter dipping sauce.
I have made every imaginable effort to enjoy raw winter squashes and raw yams, but it's to no avail. Blossom, however, has perfected a yam slicing technique, and marinates the paper-thin layers in something a little salty until they're totally palatable. Delicious every time.
6) Why is pressed juice so much more awesome than the regular stuff?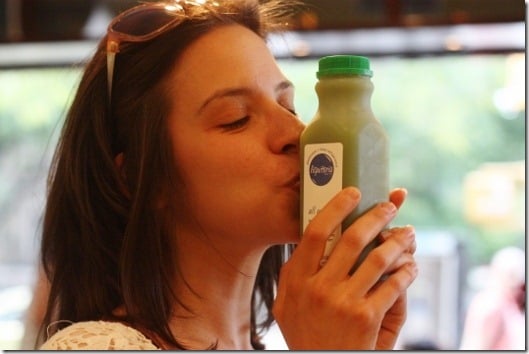 There is just no way to say this nicely, but pressed juice kicks the derriere of regular old centrifugal juicer juice. I will go on the record as stating that we should all use our juicers at home as often as we possibly can. But I'll also say that, as soon as I can get my hands on the stuff that comes out of a Norwalk juicer, I will.
7) Why must it be true that I should always listen to my mother?
On Friday night, I came home to find a sparse fridge and got flustered about what on earth we should eat. My mom, who has the patience and grace to calm me down when I get super hungry and cranky about wanting dinner, NOW, suggested we order from a modest local Japanese spot. Not being a huge lover of global cuisine, and with a vision of a more spectacular NYC vegan feast in mind, I scrunched up my nose at the idea. But when my dinner arrived—a wonderful brown rice, avocado, asparagus, and cucumber role, paired with a papaya salad and all veggie summer rolls, I was blown away:
What a fresh and delicious (and rather high raw!) meal this was. Mom, you are always right.
8) Why won't Peacefood Café open up a DC outpost?
With it's user friendly menu, it's fabulous raw sushi, it's generous salads, its fresh juice bar, and it's enormous array of vegan baked goods, this place is a neighborhood gem. Oh pretty please, Peacefood, follow me south!
9) Why are flea markets, coffee shops, and new health food stores so fun to linger in on a beautiful Saturday afternoon?
East Village, NYC.
West Village, NYC.
Greenwich Village, NYC.
10) Why is it so hard to leave NYC?
Those are my questions of the day. What are yours?
xo