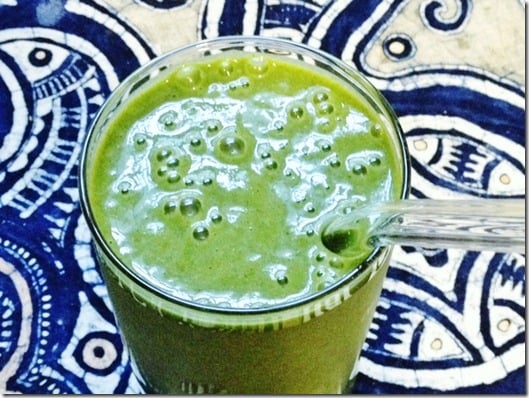 The summer of 2011 was a strange one. In spite of how many times I'd told myself it would be nothing, no big deal at all, to move from New York to D.C., I realized no less than a week into my life here in the District that it was going to be far more bumpy than I'd anticipated. I'll never forget those early days of June: trying to decipher bus schedules; finding a new grocery store, a new pharmacy, a new dry cleaner's; getting used to some of the DC vs. NYC cultural differences; and, most of all, coming to the conclusion that my post-bacc experience would be just as hard here as it had been at home.
As the weeks went by, I came to appreciate DC, and nowadays, I enjoy my life here. But those first few days of adjustment were shrouded in anxiety, melancholy, and a pinch of self-pity. And it was on one of those days that I decided randomly to walk into a studio I had passed in one of my "get acquainted" walks through Georgetown, and take a yoga class.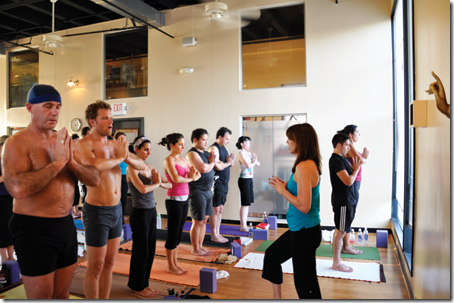 Welcome to Down Dog. This yoga studio, which has locations in Herndon and Bethesda, too, has become my second home here in DC. Over the course of that strange summer, I fell in love with my practice at Down Dog. I sweated. I laughed. When I came to class stressed, I cried. I became a part of the community, and learned to carry the studio's spirit and energy around with me to class, labs, and exams.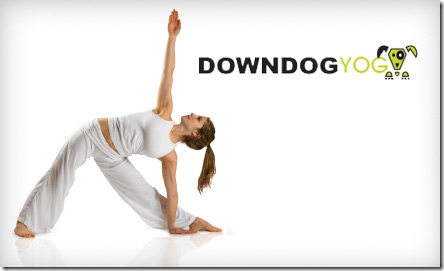 Down Dog isn't for everyone; for one thing, it's heated vinyasa flow, and it's vigorous enough that I'd call it power yoga. For another, the sequence is typically the same in most classes, unless you take a restorative class, and the mood is often serious—no music, very little chanting. I've heard the studio described as "militant," which strikes me as too harsh, but it doesn't surprise me that the practice feels overly rigid or disciplined to some people (interesting, I find it a very creative and joyous antidote to Bikram yoga, which I have tried many times and never enjoyed).
Down Dog's motto is "yoga with attitude." I think is the perfect summation of the studio's ethos, which typically feels more athletic than spiritual to me (of course, all yoga practice is a mixture of the two). This is yoga for people who like to get things done. It's yoga for people want their hour on the mat to be a serious workout. I like to think that it's yoga for Type A people like myself. Patty Ivey, the studio's hilarious, warm, and no-nonsense founder (a fellow New Yorker, god bless her), describes herself as type A often, and comes from a history of marathon running. Though Patty's Sunday morning class nearly always slays me, I make a point to go at least once every few weeks. I know that I can count on her to push me to my limit, and while I don't need to hit that limit in every class, it's nice to face it courageously in once in a while.
Classes at Down Dog do have range—Kendall's Saturday class typically feels like a slow flow, which means that I'm forced to hold poses for a long time (good for me). Kelly's weekday classes always feel like a mix of athleticism and fun. I can count on Colin to mask a stunning workout beneath a calm, friendly, and whimsical attitude. What all classes at Down Dog have in common is their difficulty. I've taken marathoners and longtime yogis alike to the studio, where they were impressed by the difficulty; among my post-bacc friends, committed weight lifters and army veterans have left classes exclaiming what a good workout they had. Don't get me wrong, it's nothing you haven't seen in a typical vinyasa class. But the speed and the heat make it harder, to be sure.
When I first started practicing at Down Dog, it took some time to adjust to the sweatiness of the workout. Nowadays, I know precisely how to handle it—by hydrating well before and after. Green smoothies, rich in electrolytes, are my go-to drink after an hour or 90 minutes at Down Dog. Lately, this particular concoction stands out.
The "Down Dog" Smoothie (vegan, raw, soy free, gluten free)
Serves 1
1 small banana (or 1/2 large), frozen and chopped
3/4 cup fresh or frozen pineapple
1 1/2 cups spinach or romaine
1 stalk celery, chopped
A few chlorella tablets (optional)
1 scoop Vega whole foods optimizer in natural flavor (or any protein powder of choice; hemp would be great in this smoothie)
1 1/4 – 1 1/2 cups coconut water
Blend all ingredients together on high. Serve immediately.
Heaping with spinach, chlorella, and celery, this smoothie is a true green smoothie. It's also a perfect re-hydrator: the coconut water is rich in electrolytes, including magnesium and potassium, and it, along with the fruit, restores blood sugar. The protein helps to regulate the absorption of sugars in the smoothie, and the celery (which I promise, you'll barely taste) has some natural sodium to help replenish any that's been lost through sweat. The taste is, of course, delicious, and reminiscent of the tropics.
The smoothie can be served with granola, with a piece of toast or raw crackers, or with my chia chocolate crumble. Or, you can simply enjoy it on its own.
Having been a reluctant yogi for several years (if you didn't hear the story of how I discovered yoga, here it is), I can't say that I've ever truly felt that a particular studio was home. Who would have thought that my offhand decision to visit Potomac street would have yielded this renewed love affair with my mat? Life is funny sometimes.
xo