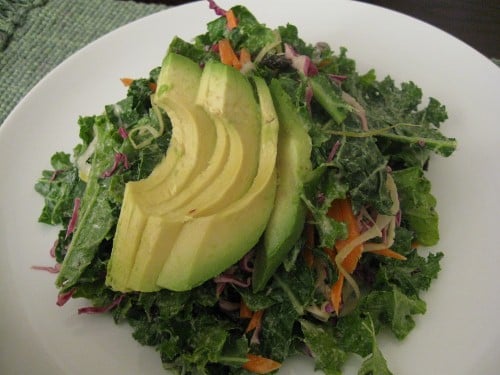 Hey all!
Glad you're excited about Sun In Bloom! The commotion over my scrumptious Bella Divine salad, coupled with my own fond reminiscences, inspired me to take a stab at recreating it at home this weekend. Fortunately, it wasn't difficult! It wasn't perfect, either–in order to fully capture the perfection of Aimee's dish, I'd need her secret sesame ginger dressing recipe. But it was close, and I've got to thank Aimee for giving me what I'm sure will become a regular favorite dinner salad in the Choosing Raw kitchen. I added carrots and some red cabbage (my fave salad toppers) to Aimee's original dish, and I omitted the olives (I'm not an olive fan). You could make some adjustments of your own, of course: the nicest thing about salads is that they invite variation.
Here's the recipe:
The Gena Divine Salad (inspired by Aimee Follette's Bella Divine salad at Sun In Boom)
Serves 1
1/2 bunch curly kale, destemmed, washed, and finely chopped
1/2 cup carrot and red cabbage, thinly sliced
1/4-1/3 cup sauerkraut
Single serving (about 7 grams) dulse
1/4 large – 1/2 small avocado
2 tbsp tahini
1 tbsp lemon juice
1 tbsp water
1/4 tsp powdered ginger
Bragg's liquid aminos or nama shoyu
1) Mix the tahini, lemon, water, ginger, and a few squirts of Bragg's (or a small drop of nama shoyu) together by hand or in a blender (I used my Tribest). You won't need a lot of the nama shoyu — this salad gets its saltiness from the kraut and the dulse, so be wary and only use a few drops!
2) Put the kale in a large bowl and "massage" it with the dressing, till it's soft, but still crisp.
3) Add the carrots, cabbage, and kraut.
4) Top the whole mix with thinly sliced avocado, and dig in!
Here's the original dish: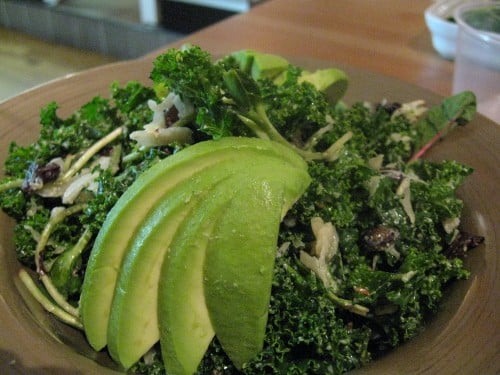 And my rendition: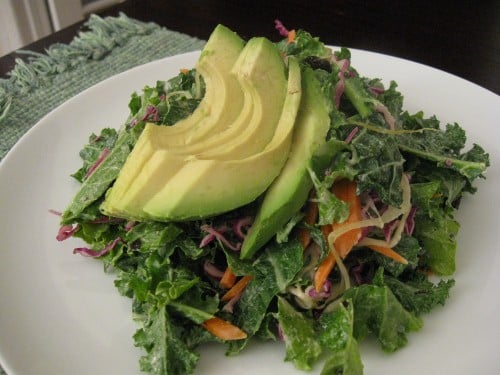 Not bad, eh? For those of you who are interested, Diana has also replicated the Bella Divine at home:
This salad really is worthy of a cult following.
For those of you who are wondering, the Kraut I used is from the lovely folks at Hawthorne Valley Farm, who make exceptional lacto-fermented veggies and sell them at the Union Square Farmer's Market twice weekly (Weds + Sat). I happen to have my own first batch of kraut fermenting at home, but since it wasn't quite ready for eating, I used their original flavor, and loved it.
Now you all have a chance to taste a bit of Sun In Bloom at home. But if that's not enough, I have a special treat for my New York readers: Aimee and the folks at Sun In Bloom are offering one Choosing Raw reader a chance to have enjoy one complimentary entree dish at Sun In Bloom! To enter this giveaway, I simply ask you to go check out the Sun In Bloom menu online. Leave a comment here telling me which dish you'd love to try. For an added entry, you can tweet this giveaway or mention it on your blog, and then leave me another comment saying that you did. I'll announce the winner a week from today. Good luck, NYC readers!
On the agenda this week:
My favorite hummus wrap
A tasty quinoa salad
My on again, off again love affair with coffee
xo