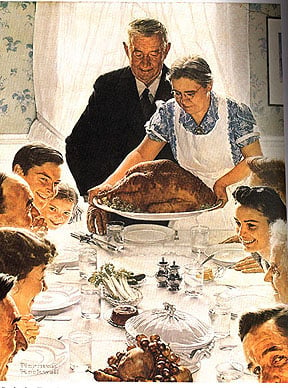 Happy Tuesday, friends. This week promises to be a little non-stop, so my meals may have nothing more to say than "hi, I'm a salad, aren't I pretty?" In the meantime, I wanted to share some thoughts I had at Chloe's grandparents' memorial this past weekend.
If there's one theme that Chloe, her sister, her aunt, her mother, and her cousins continually returned to in their memorial addresses, it was how surely their family comes together over food and drink. Chloe's grandmother – Mummum, as we all called her – was a consummate baker, so it goes without saying that many of her grandchildrens' fondest memories involved warm snickerdoodle cookies, pie crust, shortbread, or homemade jam—as well as toboggans, sewing machines, and lovingly tended gardens. It all sounds  too wholesome and all American to be true, I know, but it is true. Even I remember bounding up the hill to Mummum's kitchen with Chloe and her sister, frozen solid from hours of sledding, and bursting through the door to find Mummum with a tray of fresh-from-the-oven cookies and an apron stained with flour.
Chloe's family keeps the spirit of culinary togetherness alive and well. Holidays and family gatherings are celebrations not only of good company, but of food. A family dinner in Chloe's home is always a feast: it's as if the ghost of Christmas present has let you clasp his velvet clad elbow and taken you to another place and time, where dining tables are long, relatives are plentiful, and food is bountiful. Conversation before, after, and during dinner often involves food and cooking. Have you seen Ina Garten's latest recipe for pear tart? Have you made your recipe for tomato bread pudding recently? Remember the soup from last Christmas?
Of course, Chloe's family isn't the only family that communicates in the language of food. Many do. But I think the reason it's always so notable to me when I'm upstate is because I have almost no memories of family and food that don't also involve discord. This is not because my mother's family fights: they don't. It's simply because I've never eaten like the rest of them, and because my choices were often a source of tension.
Remember the scene in My Big Fat Greek Wedding where Aunt Voula (responding to the groom's assertion that he's a vegetarian) says, "You don't eat no meat? That's ok. I make lamb!" Things like that were actually said in my Yaya's home. To all of you Americans who think that traditional Greek food resembles what we call the "Mediterranean diet"—all fish, olive oil, and fresh veggies—think again. Greek home cooking is often very heavy, full of cheese and meat and animal fats of every variety. At least it was when Yaya (the Greek word for Grandma) was cooking.
I never saw eye to eye with Yaya on the topic of food. Long before my vegan sensibilities were formed, I had a tremendous squeamishness about animal foods. I stopped eating red meat early, and was wary of other flesh: I wouldn't touch chicken unless it was 100% breast meat and as unrecognizable as an animal part as possible; fish always tasted too "fishy"; I didn't like the texture of pork, I wouldn't eat anything with gravy or "jus" (I really shudder at this expression and what it signifies) on the plate. The smell of cheese turned my stomach (this is still true; I won't stand near a cheese plate at parties). In short, I had some fully formed vegan sensibilities as an eater before I had considered the ethics of animal consumption.
Needless to say, my tastes were a source of constant family scrutiny, and very often some family debate. To avoid red meat was, to my grandmother, absurd. To minimize the use of butterfat or sugar was also seen as preposterous: why would one, if taste might be compromised? (And it was always a given that more fat meant more taste.) Even when Yaya's cholesterol climbed, the notion of "healthy" cooking—or even preparing meals that didn't involve a kitchen full of butchered meat and melting kaseri–was dismissed. Our battles were intense, and my patient mother watched with exasperation.
If life imitated movies, the story would end this way: one day, I made a vegetarian dinner for my grandmother, and she loved it. So much so, that she realized why I eat the way I do. Or perhaps it would go the other way: over time, I realized that those big fat Greek dinners were my grandmother's way of passing down love and culture and tradition; I would appreciate them as such, and maybe even partake now and then, just to make her happy.
As it turns out, neither of those things happened. That is, she didn't taste vegan food, and I didn't eat bend on my veganism. My grandmother slipped into dementia before we could come to a detente. My family likes to joke that, if she realized I were vegan today, she would probably be horrified!
But isn't food supposed to be the glue that binds families together? Aren't grandmothers supposed to pass cherished recipes down to their granddaughters, who pass them on to theirs, and so on? Isn't food a language spoken by generations of women in the kitchen—as it is in Chloe's family?
Maybe it doesn't have to be. As I write, I find myself curiously elated by the retelling of my childhood food battles, and I know why: nothing could have exemplified my grandmother's and my personalities better than our kitchen wars. We are both spectacularly stubborn women, and we can both be a uncompromising to a fault. My grandmother's refusal to humor my vegetarianism without a fight was, for better or for worse, the perfect expression of her character, in and out of the kitchen: strong, unyielding, and traditional . Her refusal to cut down on butter or cheese was an expression of her character too: my grandmother is a true sensualist, a lover of food and drink and taste and pleasure, and she cannot be bothered to compromise any one of those things simply in order to be sensible. Meanwhile, my refusal to compromise my eating habits simply to minimize family tension was a perfect expression of me: equally stubborn, individualistic, and often anti-traditional.
Had we conceded to each other, we'd have created a set of memories that were a little more harmonious than the ones I carry around today. But we wouldn't have been faithful to our convictions. So while I don't have memories of digging into The Joy of Cooking with my grandmother, or rolling out Christmas cookies with
her, or serving as her sous-chef as she passed along the secrets of a perfect pot roast, I have memories that are even more important: I remember learning to define myself and my views. And I learned those things in part because my Grandmother set such an excellent example.
Now, twenty years later, I've found a way of eating that gives me joy. Of this, at least—my long and determined quest to find a style of eating that was spiritually and physically rewarding—my Yaya would be proud. She'd say, "Brava, Genaki!" and pat me on the back for having stood my ground.
One day, if I choose to have a family, I'll do the best I can to pass my favorite foods along to my children and grandchildren. I can't guarantee that they'll like everything, or that they won't have other things they like more. The best I can hope for is that they have the courage to eat thoughtfully, just as I do.
What about you all? Is eating an act of communion in your family? Do you and your relatives speak the same culinary language? Are you sorry, or glad?
xo