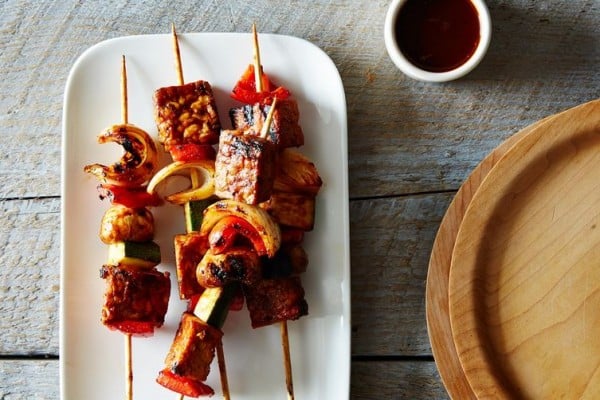 I'm writing from one of my favorite train rides: the scenic, two hour ride from New York City to Hudson, NY. My best friend's little sister is getting married this weekend, and my boyfriend and I are on our way to join in the celebration (snacking on medjool dates, corn chips, and green juice as we travel–a weird, but pleasant hodgepodge).
Anyway, as you head into the weekend, I thought I'd leave you with my latest column for The New Veganism at Food52. It's tempeh kebabs with a sweet, tangy, homemade vegan barbecue sauce. They are easy, delicious, and summery. If you don't have grill access, you can totally make them in a grill pan or an indoor, electric griddle.
Head on over to Food52 for the kebab recipe! I hope that you enjoy them, and that you enjoy the weekend. I'll be back on Sunday for Weekend Reading!
xo