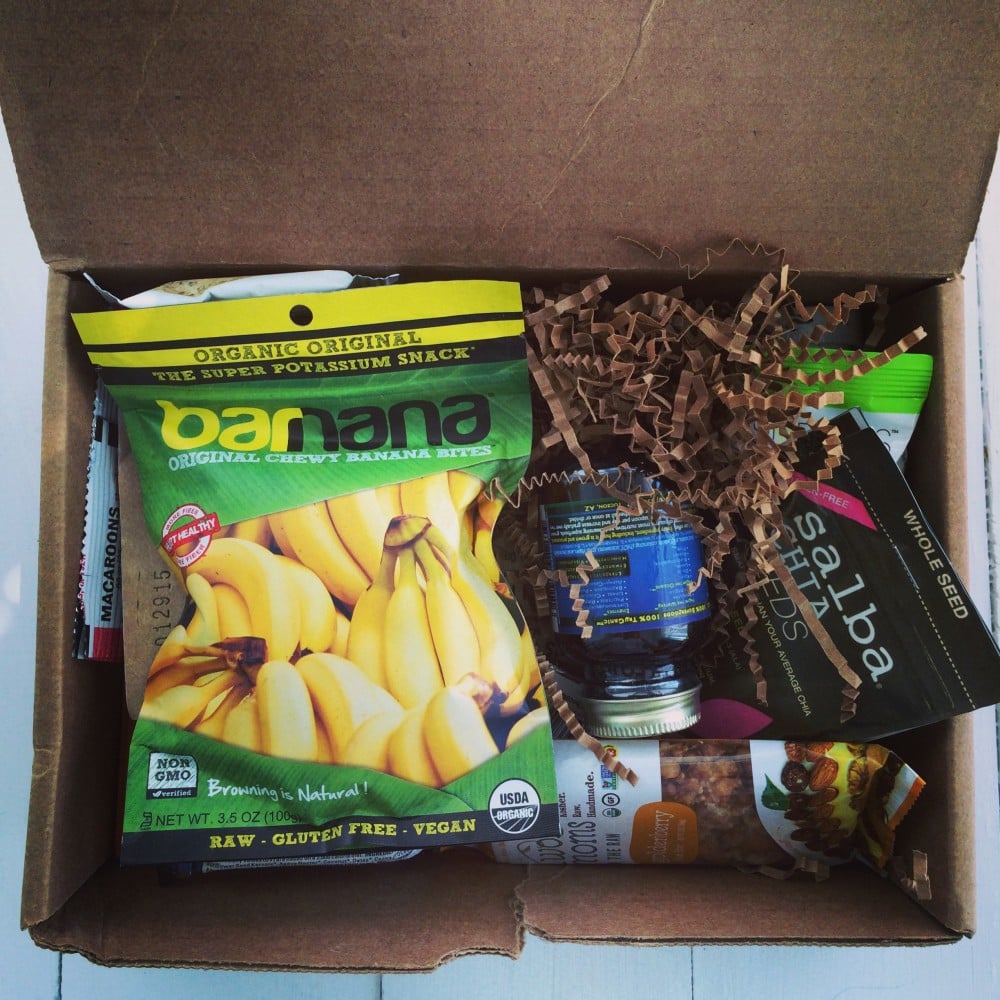 Last Monday, I posted an Instagram photo that got folks excited. It was a collection of raw snack bars, treats, and goodies from Vegan Cuts, everyone's favorite purveyor of new and upcoming vegan products/foods/beauty items. This is the company's first raw snack box, and I was lucky enough to collaborate with them as co-curator, helping to pick and choose the box's featured items!
So, what's in this baby? 10+ sweet and savory snack items, in both full and sample sizes. The fun thing about the box is that each one will be different! Here are some examples of products you might see–all of them lovingly selected by me and the Vegan Cuts team.
Barnana Chewy Banana Bites: Potassium-packed banana bites with the nutrient density and natural enzymes you'd expect to find in this super fruit
Garden of Life RAW Protein: Deliciously flavored raw protein powder that satisfies hunger while boosting energy
Living Intentions Gone Nuts!: Raw and sprouted nut blends seasoned with gourmet savory or sweet flavor combinations
HealthForce Nutritionals: Nutritionally dense green superfood powders that boost your athletic performance and overall health
Gnosis Chocolate Raw Chocolate Bar: Rich, raw chocolate bars that combine high quality ingredients to give your mood a boost
Rawxies Lemon Poppy Seed Mini: Delicately sweet and soft cookie infused with fresh lemon juice and finished with vibrant poppy seeds
Bearded Brothers Colossal Coconut Mango Energy Bar: Luxuriously smooth and satisfying blend of tropical flavors in a protein-packed energy bar
Starbars: Raw, organic food bars full of antioxidants, omega 3 fatty acids and superfoods to help you "get your glow" or "get your cleanse" on.
Salba Chia: Perfectly sprinkle-able whole chia seeds that can be poured onto a salad, into a smoothie or eaten as a snack
Two Moms in the Raw: Organic nut bars that combine Nuts, Fruit and Spices to provide a sweet, nutty treat for after a workout, during a long day on the job or to give you the boost you need for an over-the-top recess.
Raw Revolution: Chocolate Coconut Bliss Mini Bars that give you a whole lotta bliss for just 100 calories
Hail Merry: Gluten-free Strawberry Macaroons that are the perfect sweet little pick-me-up
Manitoba Hemp Harvest: Shakeable way to add omegas, protein & fiber to your salads or smoothies
Lulu's Chocolate: Raw chocolate paired with low-glycemic coconut sugar to give you a taste of chocolate bliss
Yup. It's a veritable party of today's coolest and tastiest raw, vegan snack brands.
A couple of particulars: not each and every single ingredient included in the box is 100% raw; it's a mix of raw snacks and snacks made with raw ingredients that aren't 100% raw (though the emphasis is definitely rawsome). The product value of the box is $30.00+, and the sale price is $24.95 (with free shipping to US buyers!).
Even though I'd been part of the brainstorming, I was excited to be surprised when my own snack box arrived. Here's what I got: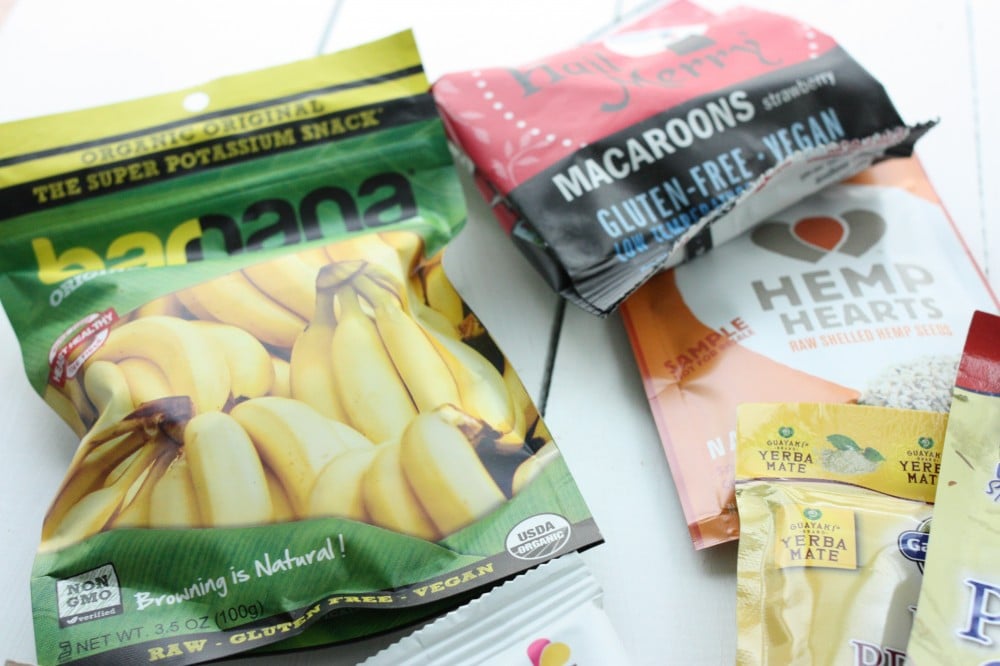 Barnana Chewy Banana Bites, macaroons from Hail Merry, hemp seeds from Manitoba Harvest, and protein powder from Garden of Life…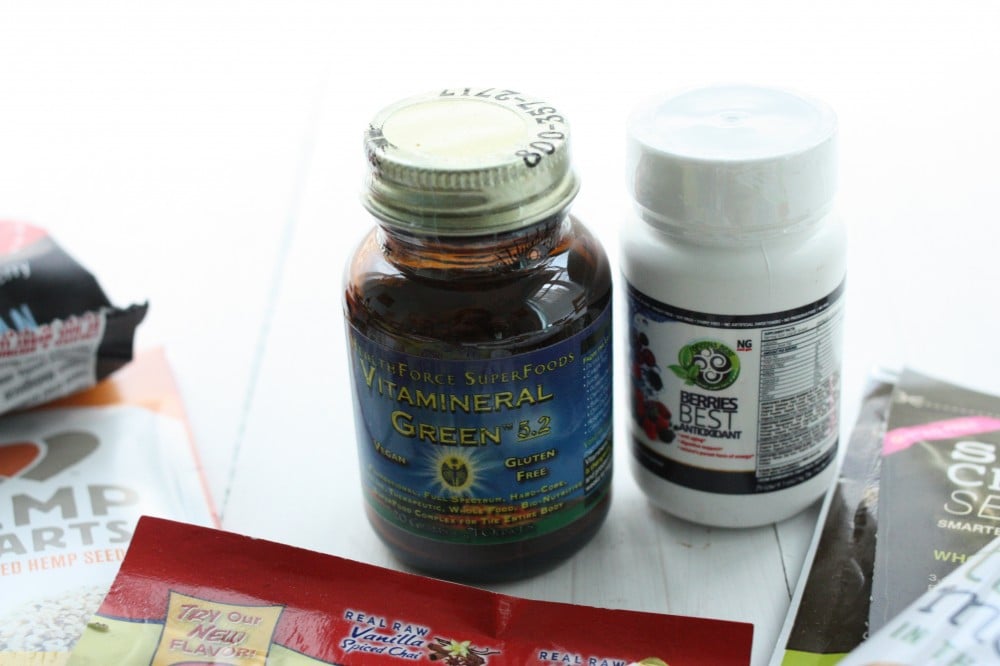 HealthForce Nutritionals Vitamineral Green and Mahima's Berries Best antioxidant powder.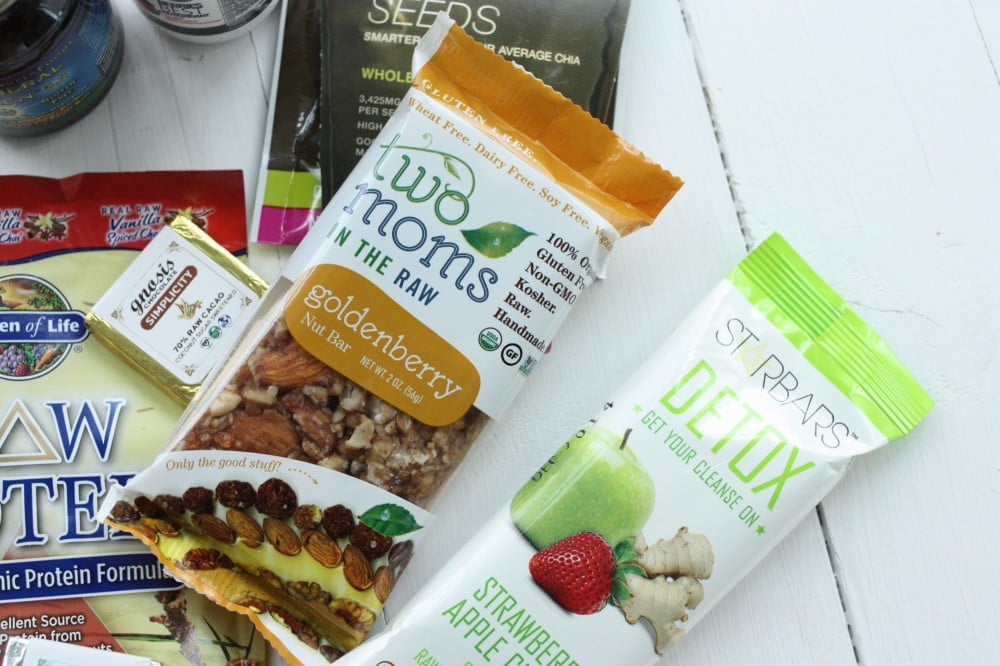 Salba chia seeds, a goldenberry bar from Two Moms in the Raw (so good! already gone!), a Starbar (new product, to me–excited to try), and two samples of Gnosis chocolate…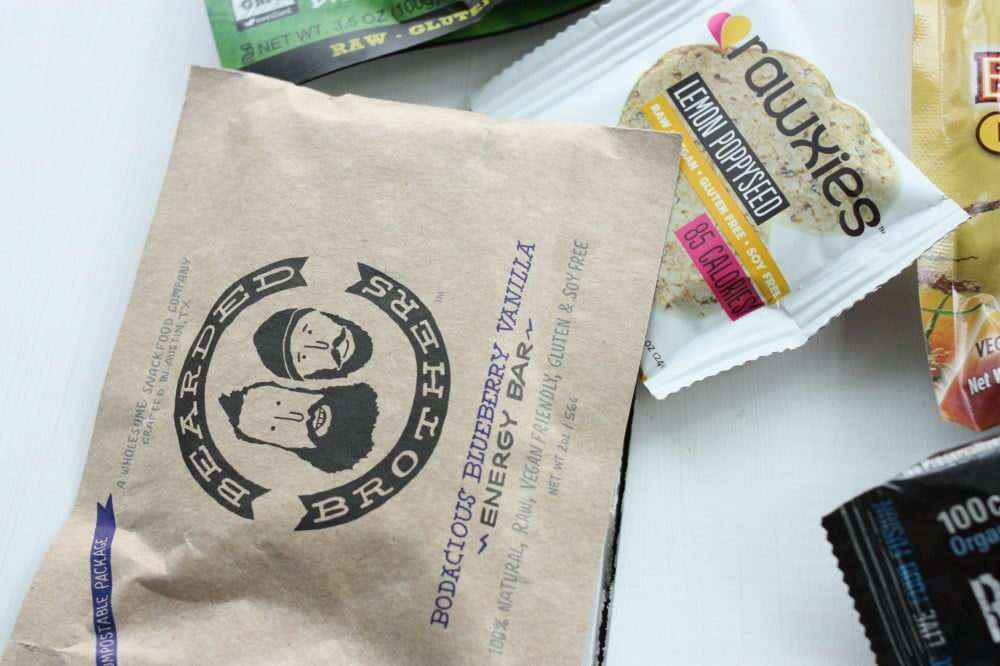 Rawxies cookies, a mini Raw Revolution bar, and a Bearded Brothers Bodacious Blueberry Vanilla Energy Bar (one of my fave brands).

Phew! What an awesome assortment of products! I've had a wonderful time eating through these treats in the last week, and I have a hunch that CR readers will be as pleased with them as I've been!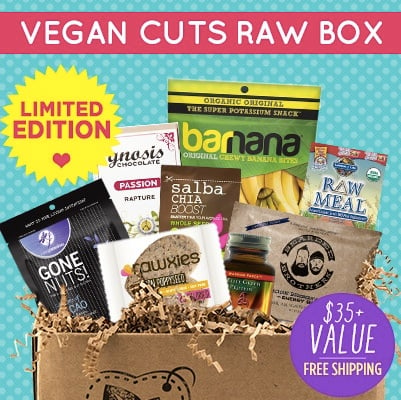 If you're curious, check out the Vegan Cuts Raw Snack Box today. It's a great gift for raw foodies or for anyone who's curious about more raw snack brands. And if you're wondered about any of the brands mentioned–some of which I've reviewed before, like Rawxies, Gnosis, and Bearded Brothers–this is a great place to start.
Happy Monday, all, and I'll return soon,
xo