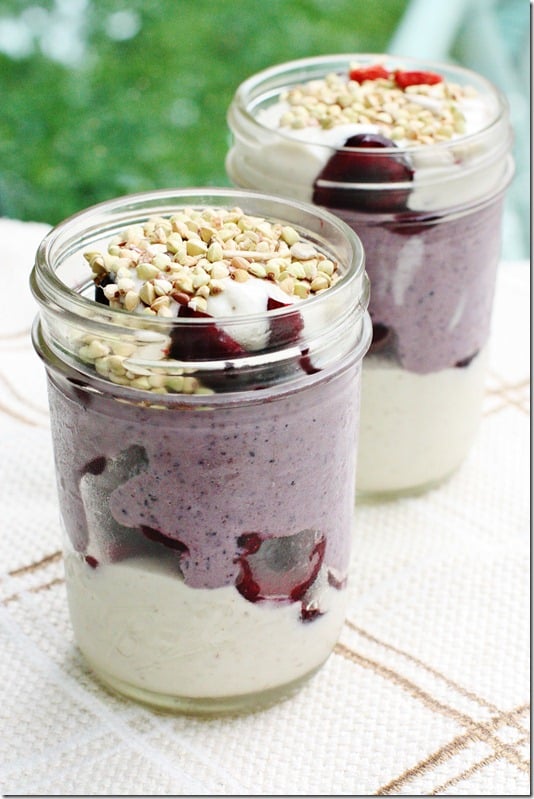 Looks like the blueberry ginger ice cream was a hit! Some of you have already tried it, and I'm so glad to hear I'm not the only one who flipped out. Since we're on a dessert roll, I thought I'd share another sweet treat that I created this weekend in preparation for July 4th.
Yep, J4 is tomorrow: oh, how the summer is flying. The holiday won't really exist for me, because my physics final is on Friday and I have two take home tests to tackle before then. Such is summer class! But I sincerely hope that most of you are not taking physics, and that you're planning to do something fun tomorrow. When this holiday was approaching last year, I cobbled together a post featuring 12 CR recipes that are suitable for Independence Day celebrations. Most of them were savory–sweet potato and edamame burgers, for example, or my cheesy stuffed peppers. This year, I'm featuring one little recipe, but it's a good one: a red, white, and blue dessert that's as delicious as it is festive.
This dessert is sort of a hybrid: it's half decadent trifle, and half healthy parfait. The inspiration came from one of my favorite simple raw desserts, which I posted way back when: berries and (raw) whipped cream. Additional inspiration came from my friend Heathy, who is the queen of raw desserts in general, but has a very special flair for puddings, mousses, and parfaits. She's taught me a lot about thickening, which fats to use in which proportions, and how to sweeten these blended desserts to perfection. And the coconut pudding in this recipe—half of which is blended with blueberries, half of which is plain—pays homage to the many mousses I've seen on her site!
I use Irish moss in the pudding here. If you missed my post on how to work with this stuff, you can get a full, DIY tutorial here. Irish moss requires some work, but it's fun to play around with, and it can help to lighten up raw puddings (which are often very heavy on the nuts). It can be found online (Amazon has it, as do many other purveyors), but if you're not ready to handle it, fear not: you can also use chia gel, which is simply 4 tbsp chia seeds and 1 1/4 cups water, left to thicken up. That's it! If neither of those options is for you, I suggest playing around with silken tofu; you may need to experiment with proportions, but you'll get there!
The rest of the pudding is as easy and as wonderful as can be: fresh, pitted cherries and a buckwheat/goji sprinkle (which is optional). Summer never tasted so sweet.
Raw, Vegan Red, White, and Blue Mini Trifles (Coconut and Blueberry Coconut Pudding Trifles with Fresh Cherries)
Serves 4
1 can full fat, organic coconut milk
1/3 cup cashews
1 tsp chia seeds
1/2 cup irish moss gel (instructions here) or chia seed gel
1 1/2 tsp vanilla extract (or contents of 1 vanilla bean)
1 cup blueberries
1/4 – 1/3 cup agave syrup or maple syrup (sweeten to taste; you can also use stevia)
1 1/2 cups pitted, halved cherries
Optional: 1/4 cup buckwheat cereal, cacao nibs, nuts, goji berries, or whatever else you like as a topping; I used my raw, vegan cheater's granola with gojis in place of raisins!
1. Blend the coconut milk, cashews, chia seeds, agave, vanilla, and Irish moss gel in a high speed blender till very smooth.
2. Transfer half of the mixture to a container. Blend the other half with 1 cup blueberries. If it's too soupy/thin, add another tablespoon or two of the Irish moss/chia gel. You now have two puddings: one white, one blue! Stick them in the fridge for a few hours to thicken up.
3. After the puddings thicken, set up 4 small glasses. Layer a small amount of the white pudding in the bottom of the glass. Add a generous layer of cherries. Now layer on some of the blueberry pudding. Top it off with some of the white pudding and a sprinkle of goji berries, buckwheat, cacao nibs, granola, or another favorite topper. Make sure to use even amounts of the puddings as you go along, so as not to run out! When you finish the process, serve the puddings cool. They keep nicely in the fridge for at least a few days.
All together, the pudding is blissfully sweet and filling: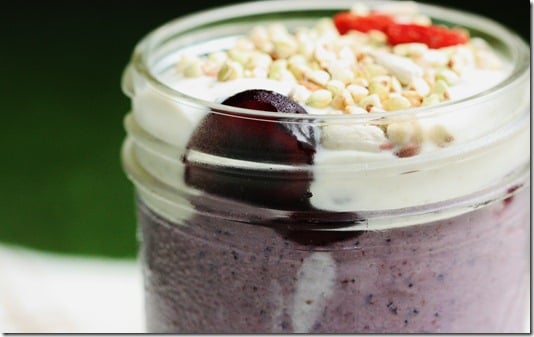 A seriously magical summertime treat!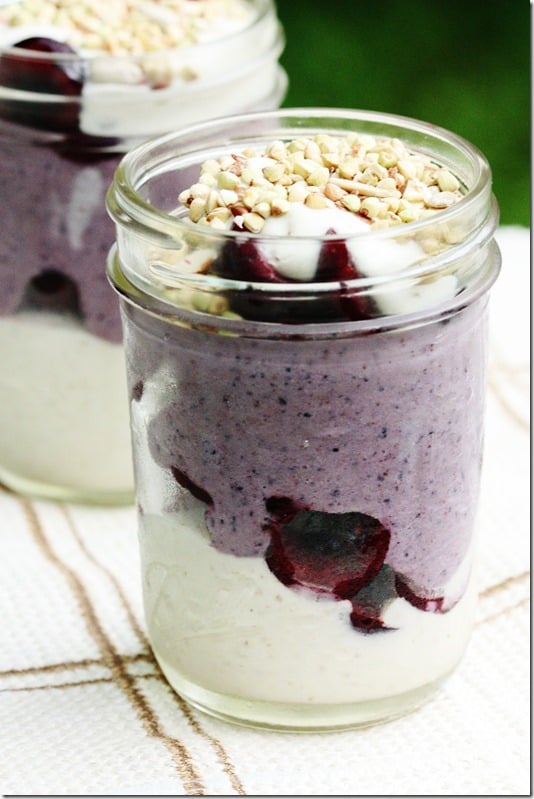 If you haven't worked with Irish moss yet, I triple dog dare you. It makes this kind of sweet treat a cinch. And believe me, the results are worth it!
If you're on the lookout for other Independence Day recipes, check out last year's top 12 recipes for July 4th entertaining!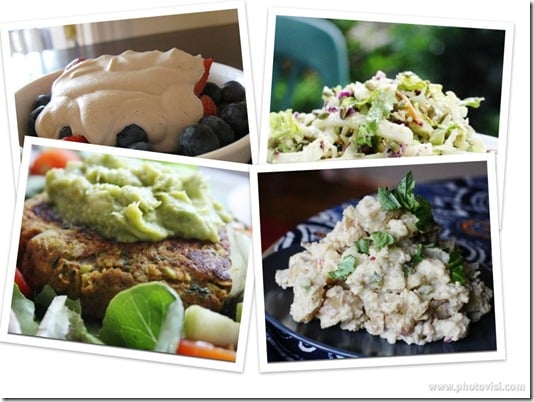 Before I go, I wanted to give a special shout out tonight to three posts from blogger friends recently that have gotten me thinking, and struck various chords. The first is from my friend Valerie, and it's about her journey toward reconciling a special diet (vegan and gluten free) with her restrictive past. As both a dedicated vegan eater and a person who has recovered from an eating disorder, I spend a great deal of time pondering how my selective choices now fit harmoniously with my recovery (it's part of what I hope to explore with Green Recovery). Valerie adds another layer of consideration by talking about being a person with food allergies, and learning to love foods that love her back. I recommend it!
The second article, also related to food choices and how we define them, is from the lovely Ali Seiter, who writes the beautiful blog Farmer's Market Vegan. Ali spends this post redefining her veganism (she's had a similar journey as mine, from someone who is motivated only by health, to someone who is motivated by both health and animal rights) and also reconsidering the word "locavore" in the context of its present usage. Read the post here. Keep in mind as you read that Ms. Ali is only just now graduating from high school! Her prose is powerful and wise beyond its years, as are her thoughts on veganism and recovery.
Finally, do you read Manifest Vegan? If not, you have to, because Allyson Kramer is a culinary genius. She also has a very harrowing history of diagnosis with Celiac, and in this candid, beautiful post, she tells the whole tale in searing detail. It's a tremendous story of healing (mind, body, and spirit).
If you read the post, you'll see that Allyson gave me a very unexpected and kind mention. She said,
The fortunate thing about that whole mess was that I had plenty of time to peruse blogs, what with my constant lying about on the couch. One of my favorites that I had just discovered was Gena's blog, Choosing Raw. I'm not sure what made me forget that I truly believed food was thy medicine—perhaps I felt like veganism for me should have been "good enough"—but Gena's crisp and encouraging writing and sensible advice brought it all back for me. And, a lot of desperation to regain my health gave me the drive I needed to do something different. Days within discovering Gena's blog, I decided to give "high raw" a try. I honestly couldn't fathom feeling any worse than I was at the time—and cutting out the baked goods, beer, and buttery spreads seemed like a sensible thing to do. My husband, also troubled by my rapidly declining health, joined me in my effort, to offer support and encouragement.

You guys, I shit you not when I say I was 90% better within a week. After 5 years straight of oftentimes debilitating symptoms, I finally felt fine. Great, in fact! I thought to myself, "this raw food diet is A. MAZE. ING. "
I've been reading Allyson's blog for years, marveling at her talent, and I had no idea whatsoever that my blog had any impact on her. I'm so humbled to hear that it did, and that a raw foods philosophy helped her toward better health and a renewed consciousness of what makes her body thrive. Thank you, Allyson.
If you're new to this community, I hope you already see that I do believe food is medicine: medicine for the body and soul. And I hope I can continue to help you all feel your personal best.
With that, I wish you a happy holiday!
xo