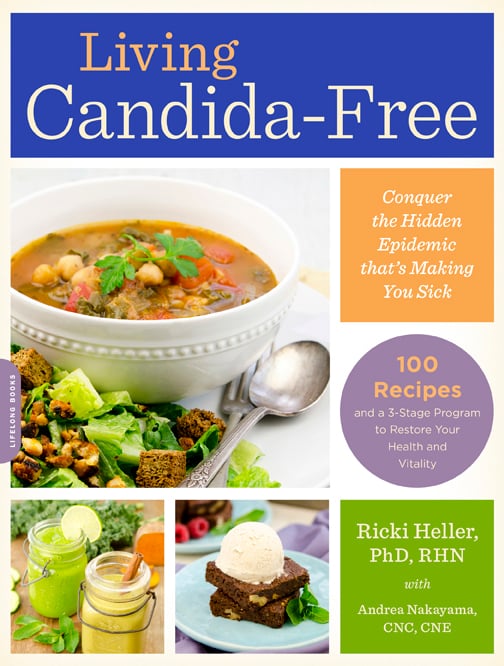 It is no great secret that I am a very longtime fan of Ricki Heller and her work. Ricki's website (formerly Diet, Dessert n' Dogs) was one of the first vegan blogs I found. I loved Ricki's literary writing style, the sweet and humorous narratives she used to introduce each recipe on her site. I loved her wealth of health knowledge (Ricki is natural nutritionist, as well as a cookbook author and recipe developer). And I absolutely adored her recipes. Ricki makes it look easy to create food that is hearty, tasteful, and evokes everyone's favorite meals (pancakes, casseroles, wonderful desserts) while also being health-oriented and mindful of special diets, including food sensitivities.
Ricki has also developed an incredible talent for using food and diet as a tool to manage candida overgrowth. Candida albicans is a microorganism–a yeast–that dwells in our digestive tracks. Some of it is necessary, but if it multiplies too much, it can cause a number of health problems. In cases of candidiasis, c. albicans causes a fungal infection in a particular part of the body. (In the mouth, it's commonly called "thrush," and in the vagina, we all know it as a yeast infection.) In other cases, there can be systemic candida overgrowth that becomes chronic. Symptoms attributed to this kind of overgrowth include skin rashes, fever, fatigue, vaginal and/or anal itching, and digestive issues.
In my nutrition work, I've seen clients with candida overgrowth. I also see many clients who have been told they have it, or who have self diagnosed, without any subsequent testing to confirm the diagnosis. Because the symptoms of candida overgrowth are similar to those of many other chronic health conditions, it's important to get tested, especially since following an anti-candida diet can be somewhat difficult and/or stressful.
Fortunately, those who are struggling with candida can now rely on Ricki's wonderful cookbook, Living Candida Free, which includes 100 recipes and a 3-stage health plan designed to help readers combat the immediate and longterm symptoms of candida overgrowth. Ricki's passion for crafting food that aids in the healing process has grown directly out of her own struggle with candida, and the personal sense of commitment that she brings to helping others is very clear. To manage candida, it's important to limit sugars and starches, which is no easy task. That Ricki has created 100 recipes that are both anti-candida diet friendly and also delicious–recipes that anyone would love to eat–is a testament to her unique blend of culinary experience and health awareness.
It's also worth saying that a great many–I'd actually say nearly all–of the candida resources available are not particularly easy to adapt for vegan diets. Most of them restrict grains completely, and many restrict legumes as well. Ricki's cookbook accommodates both of these foods (though she emphasizes moderation), which is great, because they're both important parts of well-rounded vegan diets. And the stages she's created are designed to help readers ultimately reincorporate a lot of the foods that are initially restricted, including fruits. This is the first and only vegan candida resource, in other words, and it's long overdue.
Lest you be wondering how an anti-candida diet can also feel abundant and totally fulfilling, let me share some images from Ricki's book (my friend Nicole Axworthy did the photos, and they are beautiful):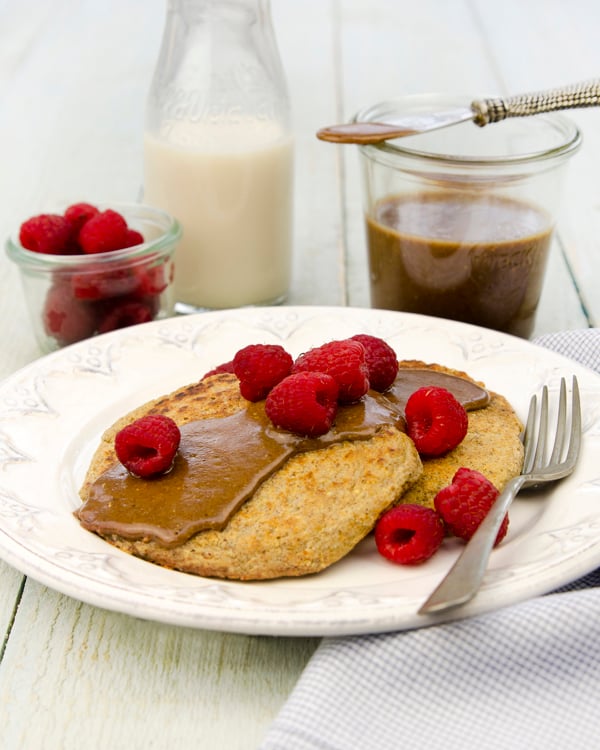 Single serve pancakes with gingerbread pecan butter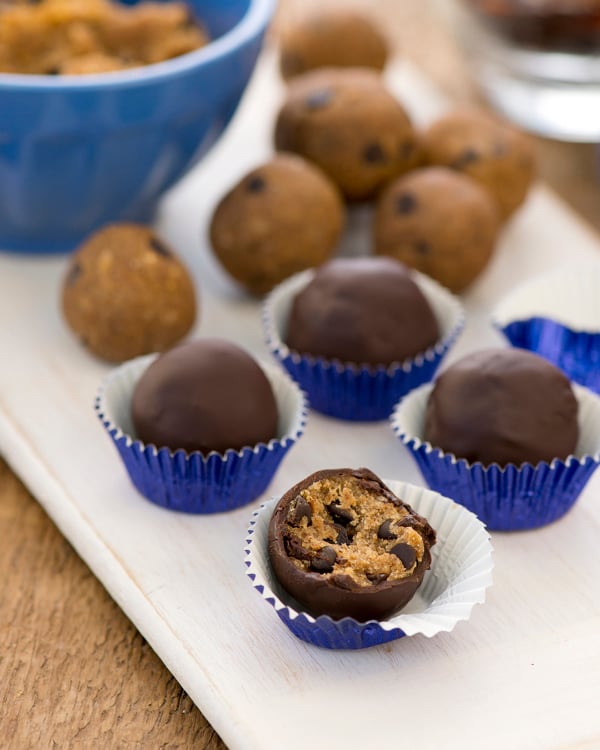 Raw chocolate chip cookie dough truffles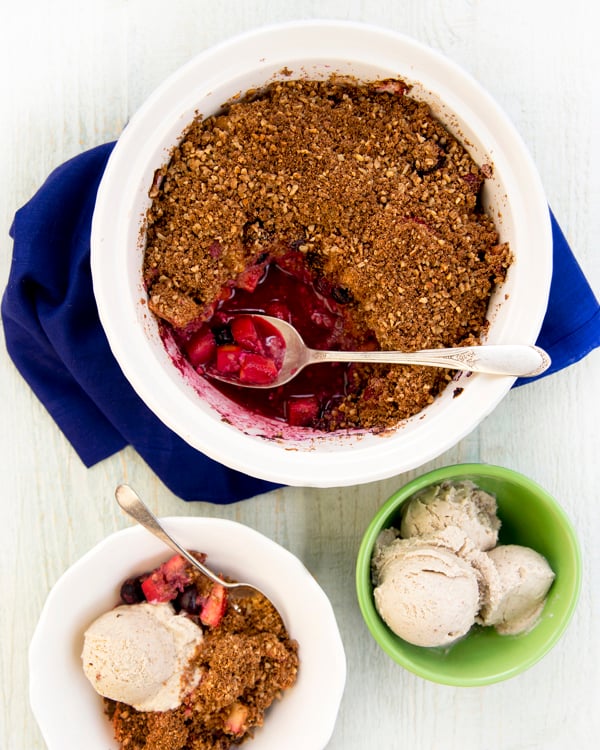 Grain free berry crumble
Yum!
As you can see, Ricki has a special talent for sweets and desserts; in fact her last book, Naturally Sweet and Gluten Free (which I reviewed here) is a dessert and sweets book. I should mention that many of the sweets in Living Candida Free contain stevia, which I am no great fan of. Plant derived or not, I consider it to be an artificial sweetener, and my own philosophy is to use natural sugars in moderation over artificial ones (I haven't bought it stevia in years, though I will occasionally still have it if it appears in a protein powder or another product that I like otherwise). Still, I don't have candida, and this book is designed for people who do; in their cases, sugar in moderation isn't an option, and stevia is the best alternative. Ricki is a wizard with using stevia in recipes, too, so you can rest assured that the taste of her sweets is entirely authentic!
Still, Ricki's savory recipes have always spoken to me the most, and so I wanted to choose one of her savory dishes from Living Candida Free to share with you all today.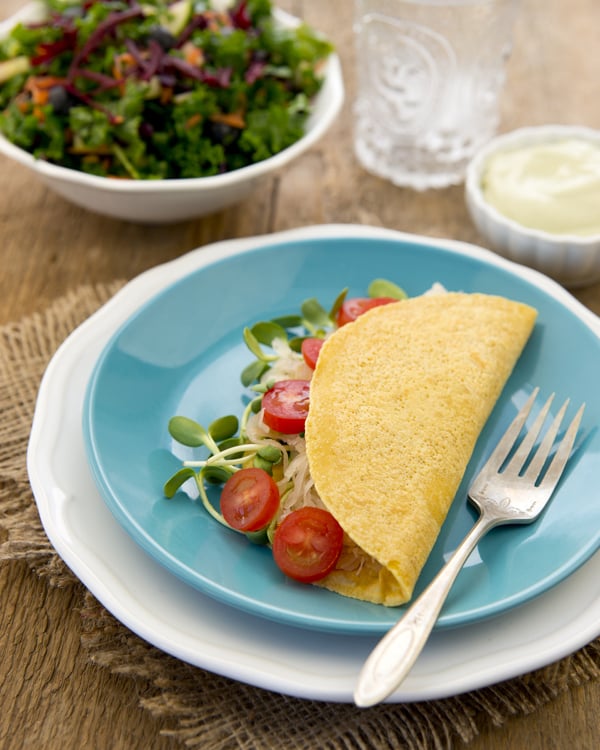 I chose her "Toronto Sandwich," a perfect example of how Ricki creates totally satisfying and simple meals that are also health-forward. This sandwich is really more of a crepe creation, and the base is a simple chickpea flour wrap. The filling is a wonderfully salty and satisfying mixture of sauerkraut, tempeh, and greens–just my kind of meal. I hope you'll all be as struck by the recipe as I am!
The Toronto Sandwich from Ricki Heller's Living Candida Free
Author -
*For the Wrapper*
1/4

cup

25 g chickpea flour

Pinch

of fine sea salt

3 to 4

tablespoons

45 to 60 ml vegetable broth or stock

Nonstick spray

or olive or coconut oil, for pan
*Filling Base*
2 to 3

slices

baked Tempeh

optional

2 to 3

tablespoons

30 to 45 ml well-drained sauerkraut, or kimchi

Handful of shredded lettuce or salad greens

or leftover cooked vegetables
*Creamy Topper*
1/2

avocado

peeled, pitted, and sliced, 1/4 cup (60 ml) hummus, or 1/4 cup (60 ml) creamy dip of choice
In a small bowl, whisk together the chickpea flour and salt. Add the broth and whisk until smooth and pourable but not watery (like pancake batter). If it's too thin, add a bit more flour; if too thick, add a touch more broth.

Grease a 6- to 8-inch (15 to 20 cm) skillet with nonstick spray, or brush with a little olive or coconut oil and heat over medium heat. Add the wrapper batter, spreading out to coat the pan, if necessary, and allow to cook until the top appears dry and the color has darkened, for 5 to 7 minutes. Flip and continue to cook for another 3 to 4 minutes on the other side.

While the wrapper cooks, prepare the fillings: Heat the tempeh, if using, in a nonstick pan and set aside. Drain the sauerkraut and set aside. If using lettuce, chop it now.

Assemble the sandwich: Once the wrapper is cooked, top half of it with the tempeh; then the greens and sauerkraut. Finally, add the avocado or drizzle with your choice of a creamy topper. Fold the wrapper over the fillings and consume immediately.

From Living Candida-Free by Ricki Heller. Reprinted with permission from Da Capo Lifelong, © 2015. Photograph by Nicole Axworthy.
Whether you're struggling with candida or not, Ricki's cookbook is a worthy addition to your collection. For me, this book has been a joy because it contains so many savory breakfast ideas; I adore savory breakfasts, but I get really lazy about preparing them sometimes (it always feels easier and more automatic to make oats), and I've so enjoyed her collection of hashes, fritters, sweet potato rounds, and other savory options.
So that one of you can experience Ricki's lovely book, too, Ricki and the generous folks at Da Capo are offering one CR reader a complimentary copy. Enter below to win! (US and Canada only, please.)
Good luck!
Before I go, I want to thank you all so much for the generous and kind responses to my own green recovery story. I was, of course, nervous to put it all out there, but your insights and kind words made me so glad that I did. I look forward to posting weekend reading tomorrow.
xo