Happy Saturday! I appreciated your enthusiasm over yesterday's new and improved quinoa buckwheat pancakes; if you haven't checked those out (along with the super healthy beet and berry sauce) please do!
I'm in the middle of a short day trip, which I'll recap for you guys later this week. In the meantime, I wanted to share my enthusiasm for two new vegan titles—one a cookbook, the other a weight loss guide.
I received a copy of Christy Morgan's The Blissful Chef from the lady herself back at the end of the summer, at Vida Vegan Con. I'm mortified that it has taken me so long to review, but I can assure you all that I've been using the book frequently in the many months it has taken me to write about it! I love Christy's food: it's simple, quick, easy to prepare, and tremendously healthy without ever tasting dry or bland. She's also what I like to think of as a "vegan fusion" chef, blending elements of raw foodism, vegan comfort food, and macrobiotics in her cooking. I consider myself a fusion chef of sorts—though I'd say my emphasis is more on raw foodism than any other "style"—and I really like cookbooks that cater to the various "faces" of vegan cooking.
Quick and easy recipes that I've taken away from Christy's book (and made so often that they're now second nature) are her soba noodle sushi with apricot ginger dressing (pictured on the cover, above), her citrus coconut kabocha bisque (outstanding!), her spring kale salad with sweet miso dressing, her mac n' kale salad, and her sushi rice bowl. All are incredibly simple, fresh, and delicious. Recently, my dear friend Ricki reviewed the book, too, and spotlighted Christy's fantastic broccoli salad with creamy mustard dressing. Delicious!
(Image courtesy of Diet Dessert and Dogs)
When Christy says "eating a plant based diet sets you down a path of bliss," it's easy to believe her. I can't recommend Christy's book enough as a vegan resource. It's user friendly, inspiring, and running throughout it is a welcoming, friendly voice that says "you, too, can make delicious vegan food easily." Two thumbs up!
Order your copy here, on Amazon.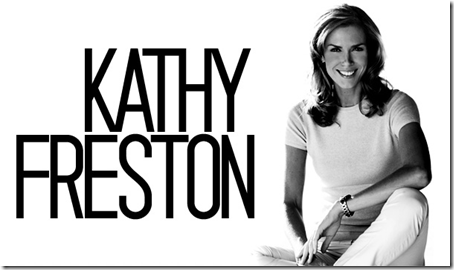 I'm sure that you guys are all familiar with OpenSky by now, right? It's a social network for shopping where you can connect with experts in health, food, style and design for exclusive information and product recommendations. I love browsing through OpenSky and seeing what my favorite health and wellness experts are recommending to readers like me, and I appreciate the many incredible deals that pop up on products from specialty spices and vinegars to candles and place mats. I haven't yet used my OpenSky account for clothing or accessories, but Valerie has a vegan handbag that she purchased through Kathy Freston's online shop that I absolutely love! It was therefore apt that the folks at OpenSky recently asked me if I wanted to interview Kathy Freston herself, and ask her a few questions about her new book, The Lean.
Kathy Freston is the NYT bestselling author of Veganist, a lifestyle guide and vegan primer that has so far inspired a lot of people to take the vegan plunge. I really enjoyed the book; the arguments were familiar to me, of course, but I appreciated how sensibly and accessibly Freston presented them. Her new book, The Lean, is a weight loss book, and I'll confess that at first I didn't review it for that reason; my blog is not a weight-loss oriented blog, after all, and in fact I often feel as though I spend a lot of my time as a blogger encouraging readers with restrictive tendencies to eat more! I realize, however, that my readers have a wide variety of goals and needs, and I don't doubt that many of them are hoping to lose weight and make smarter food choices. Sometimes, in my effort to spread an ED-conscious message, I forget that a chunk of CR readers are hoping to lose weight for the right reasons. I'd like to help them do that with a vegan, animal-conscious diet, and that's precisely what The Lean is all about–encouraging weight loss through a compassionate eating style.
As a full disclaimer, I have yet to read the book–I'm letting Kathy tell you in her own words what it's all about, since it may be months before I can read for pleasure. But I did try to ask Kathy to share tips that are relevant for anyone trying to eat healthier. I hope you'll enjoy her manageable advice, and that you'll appreciate the wisdom of her saying "perfect is the enemy of good" as much as I did!
1) Clearly, the title of your book carries a slight double entendre: what is "the lean" meant to signify?
The Lean
is about getting lean in the body, but it's also about "leaning in" to the process of losing weight.  So no tough rules or overnight changes, no hard core discipline that makes you hate your dietary changes.  If you are miserable with too many restrictions on a diet, you certainly aren't going to keep it up.  Life is meant to be lived and enjoyed – and that includes enjoying your food!
2) The title of your last book book, which I loved, was VEGANIST. How would you compare this new book to that one? How do they differ?
Veganist was about all the different reasons to choose plant based foods over animal based ones – for health, environmental or ethical reasons.  The Lean is ALL ABOUT weight loss!  It's full of tips and steps that move you toward your goals with ease.

3) THE LEAN is a weight loss and healthy eating guide that's focused upon small, everyday changes. I love this "micro" approach; in my own work, I often assert to readers that radical diets and unrealistic goals are the surest ways to get tired of–and abandon–healthy eating initiatives. Could you say a little more about why you think that small steps are the right place to start getting healthier (or leaner)?Love that we are on the same page with this!  I like starting with small, do-able steps because you build a momentum this way.  You can do a few easy things that actually make a big difference in how you feel and look, and then you are really inspired to take the next step.  And the next.  When you shake a sugar craving or shed a few pounds, you realize that you really can change.  That's esteem building!
4) What would you say are the three most immediate steps that anyone can take toward improved health?
Here are 3 super simple things you can do to get started:
1) Eat an apple a day.  The fiber fills you up and keeps your blood sugar steady.  The pectin from apples is actually twice as good as other fiber, because it leaves your stomach twice as slowly so you feel fuller longer.  Eat one before a meal and you'll eat far less calories!
2) Drink 8 glasses of water, 8 times a day.  This keeps your metabolism (and every other system in your body) running optimally.  In regards to weight loss, it's called pre-loading:  people who drink 2 cups of water before meals in a study lost 5 pounds of fat more than people who didn't drink water in a 12 week period.  Easy peasy!
3) Add 2 Tbs ground flax seeds to your food every day (in a smoothie or soup, for instance, or mixed in with oatmeal); the fiber adds volume to your food and fills you up so you are satisfied for hours.  And flax has a powerful antioxidant in it called lignans, which are cancer preventative.
Notice how weight loss and health go hand in hand?!

5) How does veganism fit into the overall scheme of THE LEAN? How does compassion for animals become integrated into your approach toward healthy living?
In the book, I tell you straight out that over the course of 30 days we are going to move away from eating animals and work in some delicious plant-based food, because the overwhelming amount of science and data say that this is the way to go if you want to lose weight healthfully and keep it off for good.  And there is nothing better to keep you on track than to feel good about the animals you aren't eating!
6) On my blog, Choosing Raw, I actually try not to talk about weight loss too much, as a good many of my readers are focused on moving away from weight loss initiatives; some are even trying to gain a little weight. Can people who aren't trying to lose weight still benefit from THE LEAN? How?
Oh sure, everything that someone would do to lose weight they would also do just to get healthy.  Remember, none of this is about calorie restriction or discipline; instead it's about a gradual lifestyle change. Perfect weight (along with clearer skin, improved digestion and huge energy boost) is just what happens naturally when you crowd out bad habits with better ones!
7) If you could offer a few inspiring words to Americans everywhere who are trying (and failing) to make healthier choices, what would you say?
Perfect is the enemy of the good, so just go easy on yourself and keep focusing on progress, not perfection!  Just lean in…
Fantastic tips
! And I especially like how Kathy demonstrates that healthy and humane choices go hand in hand. For those readers of mine who are looking for a sensible guide toward weight loss through a vegan diet, I hope this book serves as inspiration.
Signed copies
are available in Kathy's
Opensky store, here
!
Tomorrow, I'll be back with a review of my absolutely outstanding dinner at
Vedge
in Philly last night. Today, back to DC and back to the grind! Till soon.
xo