Good morning, friends. Thanks for all the enthusiasm about the Kathy and Gena show, episode 1! I'm glad you want to see more.
You may recognize the photo above as the telltale sun dappled brownstones of Manhattan's Upper West Side, one of my favorite neighborhoods, whence I write this post. New York City is sun-soaked and dry and beautiful this morning, and the last three days have been like a drink of cool water after a drought.
OK, that's icky hyperbole. But there really aren't any words to describe how good it is to be home. As well as (I hope) I'm adjusting to DC, this little sojourn has made me feel so refreshed, and reminded, somehow, of who I am.
My first priority upon arriving in NYC on Thursday night (after a brutal 2 hours trapped in Weehawken), was to soak in a few of my favorite things. These included friends, time with my Mom, great vegan food, some yoga, and some of my favorite juice spots. It'll take me more than a single post to wrap up the weekend, but I thought I'd start you off with the first thing I did when I got to NYC: I made my way to one of my favorite restaurants, Candle Cafe to see one of my favorite people, my friend Melissa.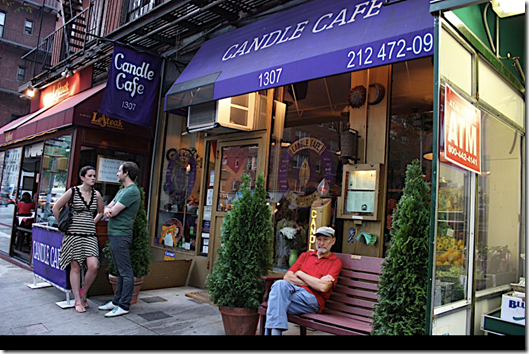 And as I waited for her to arrive (and chatted with Mark and Benay, the gracious Candle team) I replenished my travel-weary body with a giant green goddess juice. Fresh fruits and vegetables have never tasted better:
The dearth of juice bars in DC is a sad and sorry topic I'll get to in a dedicated post later this week, but let's just say that having a plethora of juice options at my fingertips is one of the many reasons I <3 NY.
Green juice, while exciting, was soon eclipsed by the Candle Café menu. I started with the summer rolls:
That's avocado, carrots, cabbage, marinated tempeh, and black sesame seeds, all with a peanut sauce that is to die for.
Next, and at the recommendation of our friendly waitress, I got the Aztec salad: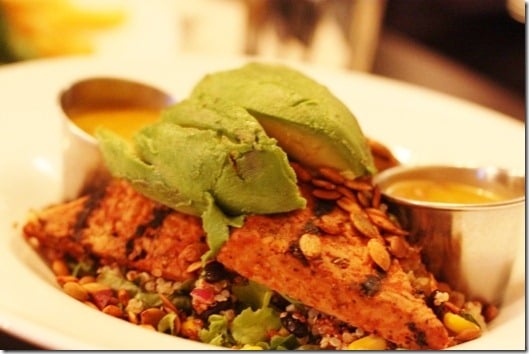 Black beans, corn, toasted pumpkin seeds, grilled tempeh, greens, avocado, and a cumin vinaigrette that was outstanding: I have to make this at home!
Melissa went with a "good food plate" (you mix and match simple sides) of steamed veggies, tempeh, greens, potatoes, and two dipping sauces:
This is all the kind of simple, brightly flavored, and honestly prepared food that I go crazy for. Eating at Candle really does feel like coming home!
After dinner, I made my way back to Mom's, where we watched my favorite movie. You guys know what it is, and no, I never do get tired of it:
The following morning, I woke up with a grin on my face. It's impossible to quantify what makes us love a place: so often it's not one quality or feature, but rather what that place evokes in us. When I wake up in New York, I wake up excited.
And when you have yoga at your favorite yoga studio to look forward to, who isn't excited?
I've been spending a lot of time at new yoga studios lately, as I get to know my new home. D.C. really is a yoga lover's dream! But I have to confess that no studio has captured my heart quite the way this one does. It's the perfect mix of hippie chanting and togetherness coupled with a vigorous and challenging workout: it's warm and fuzzy, but it's not cutesy or cloying, either. The teachers present you with challenges, but not for the sake of being stern, as it so often seems in other studios (ahem, Jivamukti). I have a bigger yoga post coming up (dedicated to my new fave DC spots) but for now, I'll just simply give Laughing Lotus my heartiest thumbs up.
After yoga, I was off to one of my favorite NYC places: Grand Central station, with its exquisite windows and its tacky, yet loveable, constellation ceiling. I like to pay homage to my birth month by gazing up at the twins:
I sat at Grand Central and had coffee with another one of my favorite people, my friend Jim, who made time for a get together in spite of the fact that he was dashing off to CT for the weekend and that hanging out meant shouting over the din of a group of French teenage tourists. Jim, you are a trooper.
And yesterday, after breakfast at my Mom's, I met my friend Nelly for coffee at my favorite coffee shop in NYC: Joe's.
There's a lot of great espresso and plenty of frothy beverages floating around Manhattan, but I am firm in my opinion that Joe's drip coffee is the best the city has to offer: bright, bold, and always brewed to perfection.
I have missed my morning Joe, as it were, now that I don't live across the street from it, though I'll admit that my wallet is glad for the distance! I got a small cup and savored it over a long, leisurely conversation on a bench in Central Park—which happens to be one of my favorite activities.
And weaved into all of these last few days have been quite a few jogs around the Central Park Reservoir, which is one of my favorite runs:
So many favorite things in such a very short time. Lucky girl, I am.
What are some of your favorite places? Favorite yoga studio? Favorite movies? Favorite books? For whatever reason, I've always enjoyed the picking and choosing of favorites, if only because the game is so inherently flawed. Try picking out a favorite book, and relish the pointlessness. But it's a fun reminder that our lives are populated by a lot of adored stuff.
On that note, it's time for me to enjoy lunch with the madre. More recapping of my NYC trip tomorrow!
xo