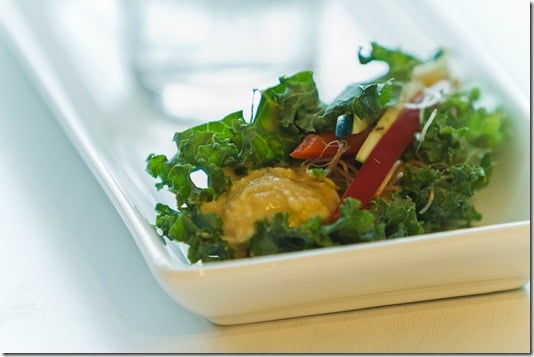 This year, I've been way behind the curve on nearly everything that has happened in the healthy eating blogosphere. I just found out about cauliflower crust. I've never made a cake pop (and let's be honest, I probably never will). I recently wrote a post about an article that's half a year old. Controversies come and go, recipes go viral and then retreat into standard rotation in most healthy kitchens, and I study on, largely unaware of it all. This is what happens when you live in a library carrel.
So most of you have probably heard by now about Thrive Forward, which is a new program spearheaded by my friend Brendan. It's a totally free program that offers educational videos and resources on healthy eating and living. The videos are perfectly timed (usually 3 to 10 minutes, not too long, not too short) and cover topics that range from sleep and stress to macronutrients to food labels to digestion. There's also a tremendous focus on how to stay healthy while on the road or very busy—a focus which I can appreciate in particular right now!
When I first discovered Brendan's work, it was—gosh, five years ago? I read The Thrive Diet, his original, and it really changed the way I thought about food. At the time, I was still a relatively new vegan (a year or two into the journey) and while I was loving it, I was also fairly reliant on a lot of packaged snacks and foods and trapped in a slightly monotonous rotation of rice, beans, tofu, and avocado sandwiches.
There is absolutely nothing wrong with some commercial snack foods—let me assure you that, as a student, I rely on these whenever I need to—but there's also a lot to be said for becoming more comfortable preparing foods from scratch, getting to know one's "raw materials" of nuts, seeds, vegetables, and legumes, and developing more comfort with fresh ingredients. Because of Brendan, I started eating a lot more raw vegetables, experimenting with green smoothies, and exploring "superfoods" I'd never really heard of before, like chia and hemp. Needless to say, this shifted my perspective on food significantly, ultimately inspiring me to get into raw food recipes, and compelling me to think more consciously about concepts like nutrient density. Long after Brendan and I had become "real life" friends, I have remained grateful to him for introducing me to a new way of looking at food.
Now Brendan is turning his focus to the thing he's always been most passionate about: education. I love that the Thrive Forward program is a free resource, and that the content—informative videos and materials—can keep on giving. A lot of you CR readers are pretty nutrition savvy as it is, but for those of you looking for refreshers, as well as plenty of videos that can benefit even nutrition pros, the Thrive Forward site is a great place to explore.
The folks at Thrive Forward asked me if I'd like to share some of the recipes and materials with the CR audience, and I said that I would, of course. When I was thinking about which Thrive Forward recipes I wanted to share, I decided on those that have the most relevance to me right now—recipes that can be made in a hurry. I'm happiest when I have a healthy chunk of time in which to cook, but lately, it's just not possible, and any "hurry up" meal is an ally.
In keeping with the theme, I wanted to share 10 Satisfying, low-prep mini-meals from the Thrive Forward series. These are great ideas for snacking, whether you happen to be a student like me, a professional, or someone who's on the road a lot. You can check out all ten recipes in the Thrive Forward "whole food eating in the real world" section. All of the supplementary materials are on the right side of the page—not just the 10 low-prep mini meals, but also a PDF on healthy eating within a busy schedule and five healthy snack ideas for road trips.
And by way of a preview, here are two of my favorite mini-meal ideas. No cooking required!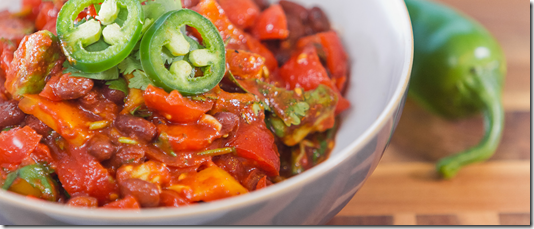 Cold Chili
Recipe makes 1 serving | Takes 15 minutes to prepare
WHAT TO USE:
1 can black or kidney beans, rinsed BPA‑free cans
1 can tomato paste or sauce
1 Tbsp olive oil
1 tsp chili powder
1/2 tsp ground cumin
1/2 tsp cayenne powder
1 clove garlic, chopped
1 lime, juiced
1 tomato, diced
1 bell pepper, diced any color
1 or 2 green onions, chopped
Sea salt and pepper to taste
optional 1 to 2 Tbsp fresh cilantro, chopped
optional 1/2 avocado, chopped
HOW TO USE IT:
Mix all ingredients in a bowl. Season to taste. Let it sit to allow the flavors to mingle. Serve cold as a chili, or use as a hearty bean salsa served with gluten-free crackers or whole grain tortilla chips. Can also be heated and served as a hot chili.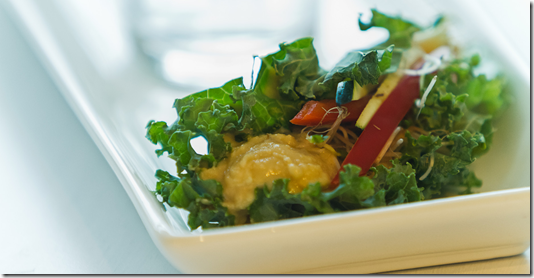 Lettuce/Kale/Chard Wraps
Recipe makes 1 serving | Takes 5 minutes to prepare
WHAT TO USE:
1 or 2 large leaves lettuce, kale, or chard stems removed
2 to 4 Tbsp hummus or bean dip
Sprouts your choice
Zucchini, sliced into long, thin strips
1/2 red bell pepper, julienned
HOW TO USE IT:
Rinse lettuce, kale, or chard leaves and pat dry. 2
Spread hummus or bean dip on leaves. 3
Layer slices of zucchini, sprouts and bell pepper on hummus. 4
Roll up, burrito-style, and eat.
Yum! I especially love the idea of a cold chili. I make a lot of cold bean salads, but I've never thought to mix them with cumin, chili, and tomato—what a lovely idea that is!
One of Brendan's PDF descriptions reads: "Eating a clean, plant-based diet focused on whole foods does take commitment (and time), but with some forethought and easy planning, you can incorporate healthy nutrition into your life – without letting it rule your life." I like this sentiment (aside from the expression "clean eating," which isn't my favorite). It's true that healthful, nourishing food demands some time and planning. But in the last two years, I've seen firsthand that it's possible to eat wholesome foods without letting the idea of healthy living dominate your life. I no longer have the time to cook and prep as much as I used to, but that hasn't stopped me from eating a diet that has supported my health through the post-bacc. And a lot of the tips that have helped me are similar to those Brendan's sharing.
Check the series out, and enjoy! I have a snack recipe, a review of a new vegan chocolate brand, and more in store for you this week.
xo